Birkenstock, Germany's largest footwear manufacturer, is now a bedding producer and will unveil its sleep systems at the IMM Cologne, Jan. 16-21, 2017. More ...
advertisement
Tupelo Furniture Market

January 5, 2017 - January 8, 2017

Tupelo, Mississippi, US

Heimtextil

January 10, 2017 - January 13, 2017

Frankfurt am Main

Frankfurt, Germany, DE

Atlanta International Gift & Home Furnishings Market

January 10, 2017 - January 17, 2017

AmericasMart

Atlanta, Georgia, US
More
advertisement
Top 100 City Furniture marks 20th year at Leadership Conference

City Furniture President Keith Koenig says conference is a great opportunity to recalibrate and refuel the team with enthusiasm and new ideas. Post-election numbers have been strong for City, and Koenig is looking for the momentum to continue in 2017.

More Videos
On the Slant

Erin Berg

December 7, 2016

Maybe you've heard this interesting statistic: Each day 10,000 people turn 65. That's a lot of birthday candles. It's also potentially a lot of sales in the power lift recliner category. An aging population of Baby Boomer and Silent generations is certainly a legitimate reason the category has seen growth not only in sales but the number of suppliers and variety of products, but there are many reasons why someone might need help getting in and out of a chair. From meeting a short-term need such as recovery from injury or surgery to providing an aging ...

One Stop Shop

Alex Milstein

December 6, 2016

Why your furniture company needs a blog and how to accomplish it

It may be hard to remember a time when blogs weren't a thing, but it's generally agreed that the first blogs started showing up around 1994. Their purpose evolved as their popularity grew, and before we knew it, personal help blogs, mommy blogs and cooking blogs were popping up left and right. Then business blogging came into play and opened up a new world. These days if you don't have a blog for your business, you're going to fall behind. Blogs build confidence, relationships and sales, spark conversation and sharpen your business focus. In the furniture ...

Furniture Everyday

Bill McLoughlin

December 2, 2016

As I sit here writing this, the Furniture Today Leadership Conference has just concluded. The focus of the conference this year was transformative change and leading organizations through it. Day one was packed with speakers describing the increasing pace of change the industry confronts and offering a plethora of strategies to confront it. Day two concluded with three bright, passionate and knowledgeable future leaders laying out a vision for tomorrow that cannot help but make one optimistic about the industry's future. We will have complete coverage in next week's paper. But sometimes the most profound learning takes place ...
View all blogs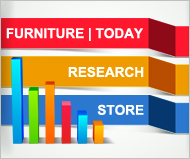 In Furniture/Today's Research Store you will find in-depth, specialized home furnishings research.
Click Here
to see more.
View All Press Releases
Furniture Today's Senior Retail Editor Clint Engel asked retailers for their take on the best products they saw during the October High Point Market. Here's a look at what they liked.
View All Slideshows
The company's newest contemporary home theater group features a raspberry leather cover. USA PREMIUM LEATHER
C-1440, C-1432