advertisement
Jennifer Adams Explains the Power of Bold Neutrals

  More Videos
advertisement
Art Van talks about bedding success

David Van Elslander, president of Art Van PureSleep, talks to bedding editor David Perry about how his company sells sleep systems. He was attending Furniture/Today's Bedding Conference.

More Videos
View all blogs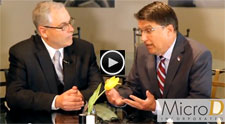 Bill McLoughlin, editor-in-chief of Furniture/Today, sits down with North Carolina Governor Pat McCrory, Congressman Mark Walker, High Point Mayor Bill Bencini and George Jordan, president of MT Company to discuss new programs aimed at helping support furniture industry growth. Start Watching! Coverage sponsored by MicroD.
Who is Singing the Blues at Showtime?

The consumer's love affair with blue is not slowing, and new blues at Showtime are modern, traditional, casual and available in hues that range from indigo to peacock.
View All Slideshows
The company's newest contemporary home theater group features a raspberry leather cover. USA PREMIUM LEATHER
C-1440, C-1432
Canadian Furniture Show

June 4, 2015 - June 7, 2015

International Center

Mississauga, ON, US

The Canadian Furniture Show

June 4, 2015 - June 7, 2015

The International Centre

Toronto, CA

Canadian Furniture Show

June 4, 2015 - June 7, 2015

International Centre

Toronto, Ontario, CA
More