You set a Guinness record for what?!

Just back from the Furniture/Today Bedding Conference F/T's Dave Perry reveals details behind the setting of a new Guinness Book world record. Cindy Hodnett previews upcoming Showtime Coverage and Tom Russell reveals details on some out of the box case goods coverage.

More Videos
View all blogs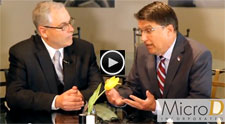 Bill McLoughlin, editor-in-chief of Furniture/Today, sits down with North Carolina Governor Pat McCrory, Congressman Mark Walker, High Point Mayor Bill Bencini and George Jordan, president of MT Company to discuss new programs aimed at helping support furniture industry growth. Start Watching! Coverage sponsored by MicroD.
View All Slideshows
The company's newest contemporary home theater group features a raspberry leather cover. USA PREMIUM LEATHER
C-1440, C-1432
Showtime

May 31, 2015 - June 3, 2015

Downtown High Point

High Point, NC, US

Canadian Furniture Show

June 4, 2015 - June 7, 2015

International Centre

Toronto, Ontario, CA

The Canadian Furniture Show

June 4, 2015 - June 7, 2015

The International Centre

Toronto, CA
More