Complete information source for the furniture industry featuring retailer and manufacturing news, plus product trends and market analysis.
King Koil talks about global comfort

King Koil President Owen Shoemaker gives Bedding Editor David Perry an update on how King Koil sells comfort around the world – and in the United States. (Video series sponsored by Symbol Mattress.)

See Video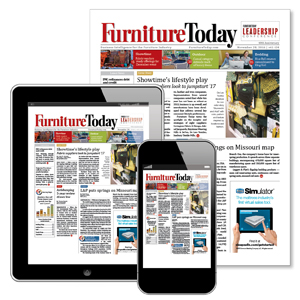 See the digital edition of Furniture/Today, which allows you to flip through the pages, click on any underlined area to visit a website or send an e-mail, search to find content in the magazine, or share pages with your friends. See the latest issue!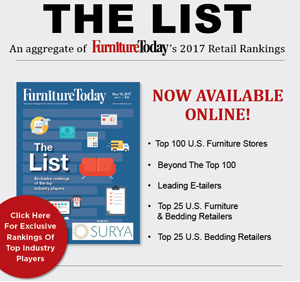 Get exclusive rankings of Furniture Today's top industry players including Top 100 Furniture Stores, Top 25 Bedding Retailers and leading e-Tailers. Get the stats now! Sponsored by Surya.
Bedding Today

David Perry

November 21, 2017

Aggressive online prediction comes true … 13 years later

Talk about a blast from the past. I was working on some stories on Furniture Today's first 40 years, flipping through past issues, where an ad jumped out at me. "She found comfort online," the ad said. "Wire your bedding business to capture 10% market share." That was an ad by 1-800-Mattress, the owner of the powerful mattress.com website, which had a robust omnichannel strategy long before that term was coined. The ad ran in our 2004 Bedding Yearbook and was dated Nov. 29, 2004. Now, almost exactly 13 years later, it is clear that 1-800-Mattress was well ...

On the Slant

Erin Berg

November 20, 2017

What's a thankful tree and how do you grow it?

It's the week of Thanksgiving and a perfect time for my turn in the column rotation because I have been thinking a lot lately about gratitude. One of my family traditions this time of year is called the Thankful Tree. A branch taken from our yard is placed in a vase and adorned with cut-out paper leaves on which family and friends who come over can write something for which they are thankful. One of the leaves I will be writing this year expresses my immeasurable gratitude for a few outstanding individuals who have served as mentors during my ...

Furniture Everyday

Bill McLoughlin

November 16, 2017

Did furniture stores not get the retail apocalypse memo?

I keep reading about this retail apocalypse thing. Apparently brick and mortar is dead. It's time to turn all that space into condos or something. Just yesterday I received an e-mail asking if we were working on any year-in-review/looking-ahead stories focusing on the retail apocalypse. It seems there's a cottage industry of experts just waiting to share their thoughts on this seeming inevitability. Who knew? I was already to call and find out what they knew that I didn't. Then the U.S. Department of Commerce released its October results, and it seems it might not ...
Furniture Today Leadership Conference

November 28, 2017 - November 30, 2017

Four Seasons Resort

Orlando, Florida, US

Showtime Fabric Fair

December 3, 2017 - December 6, 2017

High Point, N.C.

Tupelo Furniture Market

January 4, 2018 - January 7, 2018

TFM Convention

Tupelo, Miss., US
More