Complete information source for the furniture industry featuring retailer and manufacturing news, plus product trends and market analysis.
Automated trucking, final mile and what's new with Amazon

With a wrap up from the 2017 Logistics Symposium, Editor in Chief Bill McLoughlin says automated trucking technology is around the corner, everyone is focused on the final mile and, with Amazon's recent Whole Foods buy, it is one step closer to bringing furniture into the fold.

See Video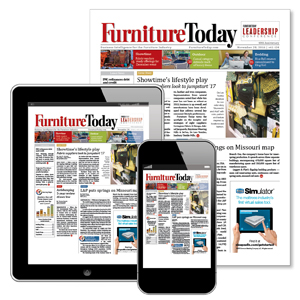 See the digital edition of Furniture/Today, which allows you to flip through the pages, click on any underlined area to visit a website or send an e-mail, search to find content in the magazine, or share pages with your friends. See the latest issue!
Furniture Everyday

Bill McLoughlin

June 22, 2017

Organic eggs, Swiss chard and sofas, oh my!

What do Swiss chard, organic eggs and sofas have in common? They could all soon be ordered on and delivered by Amazon.com within a day or two, possibly within hours. The e-commerce giant's recent acquisition of Whole Foods opens up a whole range of possibilities for Amazon, not the least of which are more than 460 potential new distribution points across the U.S. in the form of Whole Foods store locations. (For more, see story on page 1). Now exactly how "soon" is soon and how fast the delivery will ultimately be are details that remain to ...

From Fabric to Frame

Cindy W. Hodnett

June 22, 2017

Retail shout out: Sheely's Furniture "gets it" with a tweet

It's a simple enough concept: create posts that generate follower engagement on social media. But as anyone who has ever contended with embedded algorithms will attest, it's not always easy. Twitter, Facebook and Instagram have teams working around the clock to determine which users get what content and when, complicating what many people think is a simple process of post, click and share. And for businesses trying to utilize social media to enhance their brands, the process becomes even more daunting as the behind-the-scenes techies work to continue the transformation of a "free" resource into a monetizable marketing ...

One Stop Shop

Alex Milstein

June 20, 2017

What Jimmy Johns can teach the furniture industry

Back in college I applied for a job at the chain sub shop Jimmy Johns. There were two parts to the application: the basic application form, background check, etc., and memorizing what was on each sandwich. Before securing the job, I had to take a test and write out what each sandwich had on it. As I stood in Jimmy Johns buying a sandwich the other day, I thought about how useful this technique could be to furniture retailers. It's obvious that having salespeople memorize your product's details means they can be more helpful to customers. In fact ...
Atlanta International Gift & Home Furnishings Market

July 11, 2017 - July 18, 2017

AmericasMart

Atlanta, Georgia, US

Atlanta Home Furnishings

July 11, 2017 - July 18, 2017

America's Mart Atlanta

Atlanta, Georgia, US

Atlanta Rug Market

July 12, 2017 - July 15, 2017

America's Mart Atlanta

Atlanta, Georgia, US
More