Complete information source for the furniture industry featuring retailer and manufacturing news, plus product trends and market analysis.
From the desks of Furniture Today's editors ...

A quick trip around the newsroom highlights stories ranging from rising raw materials costs and exchange rates to AR apps and preparing information about market introductions at High Point. Plus, David Perry hints that the direct-to-consumer channel has made a significant shift in this year's Bedding Distribution Report.

See Video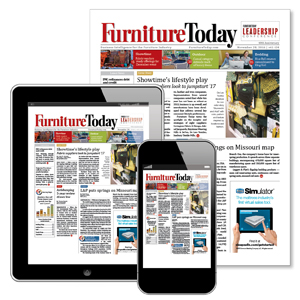 See the digital edition of Furniture/Today, which allows you to flip through the pages, click on any underlined area to visit a website or send an e-mail, search to find content in the magazine, or share pages with your friends. See the latest issue!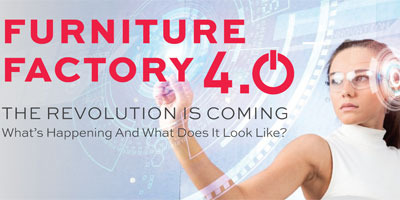 If you missed our recent webcast with Lectra on what the furniture factory of the future will look like, then you can click here to watch the recorded version. Topics include what trends and challenges are affecting furniture factories in the US & Worldwide and how these challenges are changing furniture production.
View Now!
Furniture Everyday

Bill McLoughlin

September 21, 2017

Now is the time for leadership

In times of uncertainty or challenge, the difference between success and failure can be slight and often comes down to a single intangible quality — leadership. Defined, somewhat inadequately, as "the capacity to lead," true leadership is easily distinguished by its absence and immediately recognized by its effective application. Within most any gathering, it will quickly become apparent where leadership resides, although many institutions and even industries struggle with creating a culture capable of nurturing and developing it. There are traits, however, that all leaders seem to possess. Where some see obstacles, leaders see opportunity. While some rest on their success ...

Bedding Today

David Perry

September 19, 2017

Matt Firm leads strong pack of retail bedding standouts

Mattress Firm continues to lead the pack in bedding, standing high above its competition and continuing to set a sizzling growth pace. But several other bedding retailers are also doing well, a look at Furniture Today's list of the Top 25 Bedding Retailers reveals. Each year we update that list, and each year Mattress Firm finds new ways to post spectacular sales gains. Last year's increase, a 27.8% jump in bedding revenues, was fueled largely by the addition of Sleepy's to the Mattress Firm portfolio. Sleepy's added about 1,050 stores and more than $1 ...

Furniture Everyday

Bill McLoughlin

September 14, 2017

How to win the Internet in 3 easy steps

If only it was that easy. Every retailer today is wrestling with existential questions around the integration of e-commerce and digital marketing into established business models. There is no longer a debate about the need to play in these spaces, but many questions remain about the most effective steps to execute against that need: How can the store experience be integrated with the digital one? Does a larger digital footprint mean a smaller brick-and-mortar one? How can you own your market when consumers are free to shop across a national, even international, landscape? The retail furniture business today faces unprecedented ...
More