Complete information source for the furniture industry featuring retailer and manufacturing news, plus product trends and market analysis.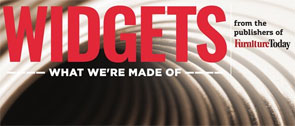 See our new publication Widgets, which is dedicated to the parts and pieces that make up the products your customers buy. This issue includes details about Hickory Springs, Leggett & Platt, Atlanta Attachment, Jones Nonwovens, Lectra, Saba and HFMSE. Get the latest!
Furniture Everyday

Bill McLoughlin

January 16, 2017

How someone doing everything 'right' can cost you a sale

My wife and I purchased a new home recently and gradually have been buying new furniture. We've visited most of the local furniture stores and made a few purchases, some at a local brick and mortar and others via the Internet. On a recent trip to a local furniture store, we found a particular chair we liked in an outlet/clearance area of the store. (Full disclosure: I love a good value and am not averse to shopping closeouts on our preferred brands — and, yes, I shop by manufacturer brand as well as retailer) . Our goal was to find ...

Clint's Notes

Clint Engel

January 11, 2017

As Amazon Go goes so goes furniture?

Should furniture stores worry about Amazon Go, the grocery store of the future introduced via YouTube last month? If you are just a little afraid of Amazon, this could be scary stuff at first glance: A customer walks into the store, scans his smartphone at a turnstile like he's about to get on the subway, and then he starts shopping away. If he picks up a box of cereal, say, it's automatically added to his virtual cart. If he changes his mind, he puts it back, and it's instantly removed from the cart. When he's done ...

One Stop Shop

Alex Milstein

January 10, 2017

3 little things that can have a big impact

We've all heard the saying, "It's the little things in life that matter." Well, the same applies to your website, too. If you go to a website and see a word spelled wrong, what's your general impression of the website? You might think they are lazy, and you might even question how much time they put into their product or if their brand is worth buying. In fact, studies have shown than a single spelling mistake on a website can cut a company's online sales in half. And considering that more than half of website visitors ...
Dallas Total Home & Gift Market

January 18, 2017 - January 24, 2017

Dallas Market Center

Dallas, Texas, US

Maison + Objet

January 20, 2017 - January 24, 2017

Paris, France, FR

Las Vegas Market

January 22, 2017 - January 26, 2017

World Market Center

Las Vegas, Nevada, US
More