Rooms with a view
Outdoor living spaces often include all the amenities of the indoors.
The growing importance of the outdoor room as a consumer lifestyle benefits both the homeowner and the casual furnishings industry, key industry players agree.
     "The outdoor room and outdoor living are moving from trends to a way of life," said Walter R. Perkins, CEO of The HammockSource. "We are seeing larger decks, bigger patios and remodeled homes that are being set up for the outdoor lifestyle. New homes are being built with all of the amenities of the indoors in the outdoor living spaces. The outdoors is becoming more than an extension of our home, but part of our home."
     Jan Trinkley, VP, Gensun Casual Living, said the outdoor room "is one of the most considered rooms in renovating and building today. What I love most is that furniture sells on two fronts - a furniture product and an entertainment product. The casual furnishings industry continues to show beautiful designs in product, fabric and color. We have never had more to offer the consumer. The future looks very good."
     Ajay Gupta, president of Housewarmings Outdoor, said customers are showing strong interest in outdoor rooms, outdoor kitchens, fire pits and pergolas when visiting his retail and manufacturing facilities in Lexington, Ky. "Customers enjoy sitting outside and relaxing," Gupta said. "Outdoor grilling is gaining even more popularity."
     Peter Ryan, category manager for outdoor business at Wayfair, one of the nation's largest online retailers of home furnishings, was equally enthusiastic in describing consumers' response to the outdoor room. "At one point in time, outdoor kitchens and living rooms were depicted as the highest level of luxury and only a possibility in warmer climates," Ryan said. "Over the years, the rise of home makeover shows, affordable stylish outdoor furniture and people trying to make the most of their summers in four-season climates led to the outdoor room not only being an attainable feature in a home, but also a very popular one. Based on our breadth of products on Wayfair, we've seen firsthand the surge in interest in every part of the outdoor room."
     Kyle Johansen, merchandise manager for Coon Rapids, Minn.-based HOM Furniture, agreed. "The popularity is no doubt growing as consumers are becoming aware of the advancements that have been made over the past five years in the industry," he said. "I think it's been building in the southern regions and working its way up north to colder climate areas. I have family and friends who live in Florida and Arizona and they all have outdoor rooms, which are natural for that climate. However as colder climate regions like the Midwest and Northeast learn more about these rooms, those consumers are also desiring to have these great outdoor living spaces. Even though the season is shorter, people in the Midwest really want to take full advantage of the warm weather season and spend as much time outdoors as possible before hibernating in the winter."
     David Barish, president and CEO of The Chair King, said growth of the outdoor room lifestyle depends on its definition. "If you're defining the outdoor living area as an extension of the inside home, yes I think the consumer is responding to that idea and absorbing it into their lifestyle," Barish said. "I think that popularity will continue. The outdoor living space will continue to be an extension of the indoor living space. At least in certain areas of the country, and in particular to where we are in Texas, people spend a lot of time outdoors. Many of the newer homes have very large windows opening onto the backyard so you can't have furniture in the backyard that is of lesser taste than what you have in the inside. There would be an incongruity that wouldn't work in someone's lifestyle or the look of the home."
     "Without question it is becoming more popular," said Chris Carmicle, President of Brown Jordan. "Everyone's definition of what an outdoor room actually is may not be as clear cut as a theater room or kitchen for instance, but that is not such a bad thing in many ways. Varying opinions provide us all more tools with which to work."
      Eric Parsons, president of Gloster Furniture and 2012 chairman of the International Casual Furnishings Assn., said Gloster's deep seating sales volume reflects the growth of the outdoor room. "It is truly that extension of what they're used to indoors," he said. "As a general rule, folks are more active and are wanting to be outdoors. They're investing in their landscaping and in their entertaining, and with that comes a need for furniture that is a reflection of who they are and the way that they're living."
      "At Lane Venture, we see the growth of the outdoor room as one of the driving forces of our business," said Gary McCray, the manufacturer's president. "We're seeing it manifested in larger tickets coming in from our dealers and more involvement by interior designers."
      "I think we're still scratching the surface and the idea of an 'outdoor room' has not been fully adopted by the bulk of Americans," said Ward Usmar, senior VP of sales, TUUCI, and incoming ICFA chairman. "There has undoubtedly been a larger focus on the outdoor room as is evidenced by the proliferation of publications dedicated to the outdoors, many of which are committed to ongoing consumer education on the value of developing their outdoor space."
TENDING THE GROWTH
     Consumers' desires to take it outside, combined with the ability of the casual furnishings industry to fuel this movement with products for increased comfort outside the traditional boundaries of the home, help this lifestyle to spread.
     "As the features of an outdoor room continue to expand so will the tangible benefits," Brown Jordan's Carmicle predicted. "Whether it be entertaining, relaxing, cooking or even other uses we have not yet discovered, we believe the concept will maintain growth momentum.
     "Awareness is increasing rapidly, which is a good thing for all of us," Carmicle said. "As consumers and buyers alike find new ideas for creating an outdoor room, our industry will grow."
     When asked where he sees the outdoor living trend headed, Gupta said, "This segment will grow for us. As a manufacturer of outdoor rooms, our dealer base is growing. We are introducing several new design concepts at the Chicago market in September. Custom room sales are up!"
     "Sales continue to climb and the overall trend that we are seeing is customers increasing the length of the outdoor room season by purchasing a broad range of products related to the space," Wayfair's Ryan said. " It starts with planters and garden décor in the spring, moves forward to grills, dining and seating sets in the summer, and then fire pits and patio heaters in the fall to extend and get the most out of their outdoor time as possible."
     Consumers can rarely buy all components to furnish their outdoor rooms in a single season. "The outdoor room is a project customers do over a few seasons," Johansen said. A common plan may be: "Year one, patio set; year two, deep seating; year three, pergola. It just grows and grows over time. Not many customers want to or can afford to invest $20,000 in one season to do it all at once."
     Gloster is among the vendors responding to consumers' demand for value at all price point levels and is seeing tremendous growth in fire elements sold in the marketplace, Parsons said. "We see many more participants in that segment of the market today than you did just two or three years ago," he said. "When there's fire there's deep seating, there's a more casual, relaxed environment that people want to live in - that's reflective of the deep seating that drives our business. One of the segments that continues to grow for us at a high rate is what we refer to as outdoor lounge, which is our outdoor upholstery. I think what's driving that is No. 1 that we use waterproof fabrics so the need for the consumer to take cushioning in and out - or the perceived need to do that - is lessened. It fits what we see as an increasing lifestyle of 'use it when you want it and then you walk away from it when you don't need it.'"
     As for other lifestyle trends, Usmar said, "It seems like people are spending more time having friends over for meals rather than going out and will spend increased time in their outdoor spaces and around the pool."
      Perkins noted a number of factors encourage people to spend more time outdoors. "We need fresh air, we enjoy the sights and sounds of the outdoors, and we feel better out in nature. The green movement and the health movement also push us outdoors. Our indoors became closer to the outdoors years ago with larger windows, open floor plans and spectacular views of the outdoors. We pay big money for homes that have a view of the ocean or rest on a mountainside overlooking a beautiful valley so why just look at the view? Get outdoors and be a part of it."
     "Outdoor rooms are a natural progression from large windows," Perkins said. "We are cooking, eating and socializing outdoors. We are relaxing and entertaining outdoors. We want an outdoor room to do these activities in."
     McCray expects the outdoor living trend to continue for the next few years. "The biggest factor in my opinion is that Americans have resigned themselves to staying in their current homes longer," he said. "With that has come more interest in investing in their existing homes, resulting in projects like outdoor rooms. Surveys have consistently rated outdoor rooms high on homeowners' shopping lists. Now, with the upgrades going on, they're becoming more of a reality."
     "Nothing will stop the phenomenon of the outdoor room,"
Agio
President Bob Gaylord said. "What I call the 'modern age' of the casual furnishings industry started a little less than 30 years ago. Before that, only the top 1% of homeowners ever thought about their backyards, beyond a few folding chairs and an inflatable pool for the kids. The outdoor room bandwagon is no different than the laptop or iPhone lifestyle. Thirty years ago they were also a novelty, today a necessity. The outdoor room's future is the same thing. It is just a matter of priorities."
Related Content By Author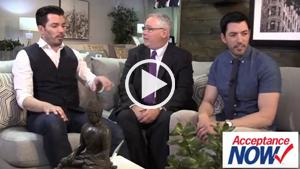 See our videos from the Spring 2017 High Point Market featuring coverage of the Scott Brothers, Christopher Guy, 3D furniture printing, and our Habitat for Humanity building project. See videos! Video coverage sponsored by AcceptanceNOW.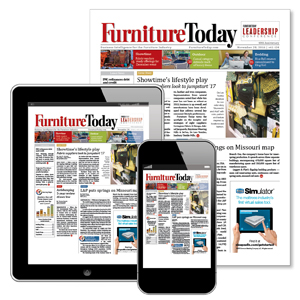 See the digital edition of Furniture/Today, which allows you to flip through the pages, click on any underlined area to visit a website or send an e-mail, search to find content in the magazine, or share pages with your friends. See the latest issue!