Educational seminars set for market
LAS VEGAS - The Las Vegas Market once again offers an extensive agenda of educational seminars and panels. Except where noted, all sessions are free to marketgoers and all locations are in the World Market Center.
Monday, July 30

Philip Gutsell
9-10 a.m.
How to sell value instead of price
Philip Gutsell, Gutsell & Associates
With or without the advent of social media shopping, competing on price is increasingly becoming a race to the bottom. Most salespeople are ill equipped to deal with these challenges, especially the average to below-average performers. They end up competing only on price instead of establishing value. If they understood Gutsell's Value Creation Formula offered in this seminar, they would close more often with larger average tickets. The net result: more volume, more margin and most importantly, more enduring customer relationships. Sponsored by WHFA. Retailer Resource Center, C-496
10-11 a.m.
First time buyers orientation
Attend this orientation designed to h
Monica Pedersen
elp maximize buying time and learn about the resources, destinations, seminars and events that Las Vegas Market has to offer. Sponsored by WMC. C-368
10-11 a.m.
First look.
Monica Pedersen, HGTV, and Julie Smith Vincenti, Nine Muses Media
Pedersen and Smith Vincenti will discuss the newest looks in home furnishings in this fast-paced, visual presentation. Companion products guide will be given to attendees. Visit www.pinterest.com/lasvegasmarket for a First Look preview. Sponsored by WMC. World Forum, Floor 16, Building B
Crystal Vilkaitis
10:30-11:30 a.m.
What the bleep do I say on Facebook?
Crystal Vilkaitis, social media expert
Does Facebook have you feeling lost? Frustrated over what to say to your customers? Snap-Retail is here to help. In this session you'll learn what content to post and the best time to post it in order to get the most engagement on your page. Worried you don't have time in your busy schedule for Facebook? You'll learn some time saving tips to use daily. Sponsored by WHFA. Retailer Resource Center, C-496
11 a.m.-noon
Hollywood style by Woodson & Rummerfield's House of Design
Ron Woodson and Jamie Rummerfield
Woodson and Rummerfield, co-owners of Los Angeles interior design firm Woodson & Rummerfield's House of Design, will share some of their most stunning Hollywood projects along with chic home décor tips and tricks. Presentation to be followed by a book signing for their "High Style," published by Chronicle Books. 0.1 CEU credit. Sponsored by WMC and Las Vegas Design Center. C-176
11 a.m.-noon
How to leverage the power of Small Business Saturday to drive more traffic and profit
Patricia Norins, Gift Shop Magazine
In 2011, more than 100 million consumers shopped on Small Business Saturday, a national initiative that encouraged customers to support independent community-based businesses the day after Black Friday. This seminar will include more than 50 innovative marketing ideas that retailers can use to drive current and new customers into stores that day. Find out how to incorporate this event into your 2012 holiday marketing strategy to give big box stores a run for their money. Sponsored by WMC and Gift + Home. C-344
12:30-1:30 p.m.
Joe Milevsky
Delegate unto others or they will delegate unto you
Joe Milevsky, JRM Sales & Management
Milevsky will help answer questions such as "What are the secrets as to why some companies do not achieve the level of success to which they aspire while other companies are able to excel?," "How do you develop and have everyone respect your lines of communication?," and "Why is it important to have appropriate job descriptions and what should they look like?," among others. Sponsored by WHFA. Retailer Resource Center, C-496
1-2 p.m.
Integrating mobile platforms
David Rodnitzky, founder and CEO, PPC Associates
Rodnitzky presents "The Seven Habits of Highly Effective Search Engine Marketing." The seminar will cover how to create pay-per-click campaigns that contain the right search engines, keywords, copy, tracking and targeting. He will also address topics of promoting a known brand, establishing a new brand, optimizing landing pages for conversion, and the marketing channels that work at different points of a customer's buying cycle. Sponsored WMC. World Forum, Floor 16, Building B
1-2 p.m.
Hospital gift shop management
Cindy Jones, consultant and designer
Jones sets the agenda for state-of-the-art financial reports, revenue enhancers and operational upgrades. Learn all the newest and hottest tips for greater profitability and improved management. Sponsored by WMC. C-344
2-3 p.m.
Love at first blush: How well is the bedding industry connecting with female consumers?
Moderated by Julia Rosien, WithIt president and chief idea officer at Social North
Join for a heated debate between two groups of influential panelists split into teams by gender. Followed by a reception in the Ergo Bedroom showroom, C-184. Sponsored by Las Vegas Design Center, WithIt and Ergo Bedroom. 0.1 CEU credit. C-176
2-3 p.m.
Brad Huisken
Stop whining & step it up
Brad Huisken, WHFA
Furniture retailers can no longer sit back and wait for things to happen. With the competition increasing from the mass merchandisers, other retailers, the Internet, catalogs, and other areas where customers can spend their disposable income, retailers today have to learn how to sell themselves and the store. Attend this session and learn the 25 most powerful ways to maximize your sales. Details on how salespeople can help "brand" the store, telephone campaigns, the three responsibilities of a salesperson, handling objections, company stories, customer follow-up, analyzing lost sales and more. Sponsored by WHFA. Retailer Resource Center, C-496
3-4 p.m.
The impact of trends in the marketplace
Liezel Munez, stylist and contributing editor, O, The Oprah Magazine
Topics discussed will include trends for holiday and spring 2012, how to acknowledge trends and maximize sales, as well as merchandising your product to incorporate trends. Sponsored by WMC. 0.1 CEU credit. C-344
3:30-4:30 p.m.
Stu Greene
Building a successful CRM for your retail business
Stu Greene, Storis
Customer relationship marketing has played a significant role in reaching the next generation of consumers and providing the best shopping experience. Building relationships by offering incentives while obtaining referrals can go a long way. With so many channels available, such as e-commerce, coupons, sales events, target mailings, etc., it is important to properly manage and execute efficient CRM with the correct technology in place. Join us in a discussion of how to manage customers effectively by tracking sales and lead follow-up activity. We will also explore how the Internet provides the best channel to reach your customer base, while understanding what your customers really want. Sponsored by WHFA. Retailer Resource Center, C-496
Tuesday, July 31
9-10 a.m.
New trends in store design: Capturing the interest of the savvy consumer
Martin Roberts, Martin Roberts Design
Store design has become an important factor in customer satisfaction. Internet-savvy customers are a different breed of consumer. With less time for leisurely shopping and easy access to information, customers want to find what they are looking for easily. The opportunity to create one-of-a-kind customized designs can provide a memorable in-store experience that will keep the customer coming back. Unique merchandise, moneysaving packages, new concepts like "drive-through" sales, personal face-to-face attention and virtual imaging are opportunities that online retailers cannot offer. Martin will share stories and "before and after" photos from completed projects as well as some currently in progress. Sponsored by WHFA. Retailer Resource Center, C-496
10-11 a.m.
Gender-Blending
Tom Hazzard and Tracy Leigh Hazzard
Gender-Blending co-designers Tracy and Tom Hazzard discuss the value and process of tailoring product and interior design based on the reality that most U.S. purchases are made by women but used by both genders. Session includes Hazz Design's specific GenderBlend principles of design, manufacturing, marketing and sales. Sponsored by WMC. World Forum, Building B, 16th floor
10-11 a.m.
Customer perception and visual merchandising strategies
Paul Thompson, visual branding and store planning professor
The use of imaginative and inspired product presentations is key to generating the customer's impulse to purchase. Understanding various merchandising styles and formats can refine and define your visual presentations, making your store a must see. Join Thompson as he shares his vision for merchandising and visual display. Sponsored by WMC. C-344
10:30 -11:30 a.m.
Meghan Wier
Are you in the driver's seat? Directing traffic to your retail site with search engine marketing
Meghan Wier, MicroD
Why is my website not on the first page? What is SEM? What is Google+ Local, and do I really need analytics? These questions and more will be answered in this SEM seminar. This presentation will include general terminology, benefits and the basics of search engine marketing and optimization for the furniture retailer. Focus will be on the core elements of a great website strategy including title tags, description, content, link building, blogging and social media. Attendees will walk away with real-life action items they can use today to get their sites found with first-page placement on Google. Sponsored by WHFA. Retailer Resource Center, C-496
11 a.m.-noon
Opposites attract: The 2013 Sherwin-Williams Colormix Forecast
Laurie Clark, senior designer account executive, Sherwin-Williams
Join us for Sherwin-Williams Colormix 2013. Clark puts today's color mood under the microscope to reveal its dueling influences that are shaping four divergent color directions. Sponsored by WMC, Las Vegas Design Center and Sherwin-Williams. 0.1 CEU credit. C-176
11 a.m.-noon
Caroline Kennedy
Marketing and store event ideas from award-winning retailers
Caroline Kennedy, editor-in-chief, Gifts & Decorative Accessories
In today's challenging retail environment, reaching current customers and attracting new ones requires a savvy blend of traditional advertising and promotion, e-mail marketing, social media outreach, and of course, store events, especially those that support charitable causes. Join Kennedy and two award-winning retailers as they share ideas that have built community and boosted profits. Sponsored by WMC. C-364
12:30-1:30 p.m.
Don't sell, help them buy
John Egger, Profitability Consulting Group
He who talks the most buys. This seminar will show you how the million dollar writers do it every year. Egger, CEO of Profitability Consulting, will make this the most profitable hour of your time at market. Sponsored by WHFA. Retailer Resource Center, C-496
1-2 p.m.
Pure space: Elegant minimalism
Jessica Post, Post Inc.
Join for a presentation and book signing with designer Post, principal and visionary of Jennifer Post Inc. Post's celebrity client list includes Matt Lauer, John Hannan, Simon Cowell and Jennifer Lopez. The youngest designer ever to be included in Architectural Digest's "Top 100 List," Post has been featured in the New York Times, House & Garden, Elle Decor, Metropolitan Home, Architectural Digest, Luxe and The Robb Report. Sponsored by WMC and Las Vegas Design Center. 0.1 CEU credit. C-176
2-3 p.m.
Maxing your merchandising mix: How to make fashion, accessories and jewelry sell well in your store
Linda Cahan
Women's eyes light up when they spy wearable goodies in your shop. Merchandising these items can be a challenge in a store. You want to make sure they are stocked and displayed in a way that enhances your store's image. In this seminar you'll see a wide variety of creative ideas on how to merchandise and display jewelry, clothing and accessories including bags, hats and scarves. The handout will list all the ideas along with vendors for display props. Sponsored by WMC and Gift + Home. Building C, fifth floor
2-3 p.m.
Special event campaigns
Ron Cooper, Profit Management Promotions
Many retailers rely on running special events throughout the year to draw the traffic that brings steady sales volume. If you want to get in on the action and start incorporating special events into your advertising campaign, or if you just need fresh ideas, join us and learn how you can double or triple your sales this year. Sponsored by WHFA. Retailer Resource Center, C-496
3-4 p.m.
Ryan Trainer
Sustainability and recycling and the future of the mattress industry
Ryan Trainer, president of International Sleep Products Assn.
Trainer will discuss the sustainability and recycling plans for the future of the mattress industry. Sponsored by WMC and ISPA. World Forum, Building C, 16th floor
3-4 p.m.
Design trends and the role of technology
Panel discussion with Susanna Salk, iVillage and Today Show contributor; Margi Kyle, The Designing Doctor; Sheilah MacSporran, CEO, Olioboard; and Bob Chin, manager of digital technologies, Benjamin Moore
Join this panel of design technology trend experts as they discuss how technology is affecting buying decisions and trends and is driving certain demands. Attendees will leave with an understanding of how to embrace and harness the power of technology in their day-to-day business. Sponsored by WMC. C-344
3-4 p.m.
Insider secrets revealed: How to stand out from your competition
Holly Stiel, Neon Signs of Service
Stiel's mission is to reveal the mysteries of hotel concierge-style service to retailers and designers looking to build customer service into your company's culture. She has worked with The Black American Express Centurion Card, Aveda, Singapore Airlines, Coldwell Banker, Audi, Auberge Resorts and more. Stiel teaches that personal awareness leads to responsibility; that real service occurs from the inside out. Stiel's techniques are illustrated with humorous anecdotes from her 17-year career as a concierge and 20 years as a trainer and consultant. Sponsored by WMC. 0.1 CEU credit. World Forum, Building B, 16th floor
3:30-4:30 p.m.
Social media panel discussion
Join us for a panel discussion on social media and get all of your questions answered by retailers that are successfully using it. Sponsored by WHFA. Retailer Resource
Center, C-496
Wednesday, Aug. 1
9-10:30 a.m.
Ahead of the curve
Panel discussion moderated by Susanna Salk, iVillage and Today Show contributor. Presented by Betsy Burnham, designer; Darren Henault, designer; and Philip Gorrivan, designer
Ahead of the Curve returns for its fifth installment, giving attendees the best in new products and trends found during market week. With their fingers on the pulse of what's hot and trendy, these three top designers will scour the 5 million square feet of showrooms and share their best finds during their panel discussion and webcast, which will include a question and answer segment. Following the presentation will be a book signing for Susanna Salk's new book, "Be Your Own Decorator: Taking Confidence and Cues by the World's Leading Designers." Sponsored by WMC. 0.1 CEU credits. C-352
9-10 a.m.
Everything social for brick-and-mortar retailers and the brands they carry
Bill Napier, Napier Marketing Group
Our local brick-and-mortar stores are facing some tough challenges, as are the brands they support. Having a website is no longer good enough. Retailers must engage the consumer with content - where they want it, when they want it and how they want it. With this presentation, we will address all the relevant social plat-forms to help retailers and brands engage consumers everywhere relevant in this ever-changing retail environment. Sponsored by WHFA. Retailer Resource Center, C-496
10-11 a.m.
Building a brand from the beginning
Kiersten Hathcock, Mod Mom Furniture owner and product designer
Hathcock will share tips on what worked and what didn't work while building a brand with no money and running a company despite roadblock after roadblock. She'll also share how she learned to trust her intuition. Sponsored by WMC. World Forum, Building C, 16th floor
10-11 a.m.
Pinterest: How many buyers are Pinning?
Barbara Wold, international retail speaker and consultant
Pinterest is a fabulous social marketing tool for retailers and will help them drive traffic to their business faster than Facebook or Twitter. How many of your buyers are not "pinning" yet or have not heard of Pinterest? Join Wold to explore how your business can benefit from this new tool. Sponsored by WMC. C-364
10:30-11:30 a.m.
A perfect match: Integrating social media and email marketing to increase foot traffic
Crystal Vilkaitis, SnapRetail
We will teach you how to create a cohesive marketing plan using email and social media to drive feet from the street - and into your store. Find out how to catch casual browsers' eyes and make the connection that could lead to gaining a lifelong customer. Sponsored by WHFA. Retailer Resource Center, C-496
11 a.m.-noon
Rest easy with a knockout specialty sleep program in your store
George Topping, vice president of merchandising, Innovative Mattress Solutions; Jeff Klein, president, Sleep, etc.; Michael Nermon, president and CEO, Ergo Customized Comfort; Dave Chandler, director of marketing, Innomax; Scott Smalling, chief of specialty innovation, Simmons
Our expert panel will share insider tips for successfully launching and managing one of the highest profit margin opportunities in retail today. Learn about product mix, pricing, marketing and RSA training from every perspective. Listen to speakers representing specialty sleep retailers, one-store owners, furniture retailers, sleep chains and more. Sponsored by WMC and Specialty Sleep Assn. C-344
12:30-1:30 p.m.
Andy Bernstein
How can we turn the World Wide Web price war into the full service, full margin local store Web?
Andy Bernstein, Furnituredealer.net
It's no secret that the World Wide Web has become a worldwide price war. Anyone with a website can now hire a shipping company and do business in your market - against you. Local stores have higher overhead. Can you turn your showroom, inventory, sales staff and community involvement into competitive weapons, or will the extra overhead drive you out of business? We will talk about strategies for local stores to compete and win in the new world we operate in. The seminar will share case studies and examples from FurnitureDealer.net's relationships with its clients, and will show the new free DoBizBuzz Furnishing Network. Sponsored by WHFA. Retailer Resource Center, C-496
1-2 p.m.
Sustainability essentials: Textiles
Patty Grossman, O Ecotextiles
Grossman explores the latest offerings for environmentally friendly textiles available to interior designers in this presentation. With an emphasis on new developments in both organic and synthetic materials, Grossman will cover innovation, craft, authenticity, value and social responsibilities. Sponsored by WMC and Sustainable Furnishings Council. 0.1 CEU credit. C-176
2-3 p.m.
Furniture, food and fashion: The perfect marriage
Virginia VanZanten, coco+Kelley, and Cassandra LaValle, editor at W Magazine
Join this conversation on the blurring line between furniture and fashion and discover the latest creative synergies you can take back to your business. 0.1 CEU credit. C-176
2-3 p.m.
Displays - from dull to dazzling
Susan Wagner, editor, Smart Retailer
In this seminar you'll learn how to create eye-catching displays that stop customers in their tracks. Plus, you'll discover added tricks and elements to incorporate into your displays to really turn them into selling superstars. Sponsored by WMC. C-364
2-3 p.m.
Calculating actual delivery costs
Kevin Truett, Speedy Delivery
Do you know what you're spending on deliveries? Let us help. This seminar is completely interactive. As you complete our cost analysis exercise during the seminar, you'll go away with real numbers and a good look at what you spend to offer delivery to your customers. Sponsored by WHFA. Retailer Resource Center, C-496
3-4 p.m.
Is your website poised to sell?
Kevin Richards, owner, Ventura Web Design
Join Richards as he addresses topics including consumer experience optimization including basics of Web design principles and good e-commerce website practices. Explore real-life examples where wording or design elements can cause confusion and how to remedy to make the sale. Sponsored by WMC. C-344
3:30-4:30 p.m.
Dr. Samantha Kurtz
Literally improve your bottom line overnight
Dr. Samantha Kurtz, PeopleLution
Forget standard furniture industry practices about how to attract new customers and grow your home furnishings business. Kurtz explains how a revolutionary twist on an old idea will better expose your full business potential and maximize your competitive advantage in the marketplace. This radical departure from conventional thinking supplies all the information you will need to develop a multi-year organizational and marketing strategic plan. Escape ordinary thinking and discover the joy of extraordinary outcomes. Sponsored by WHFA. Retailer Resource Center, Building C, C496
Thursday, Aug. 2
9-10 a.m.
Perfect delivery every time
John McCloskey, Profitability Consulting Group
The sale is not complete until the delivery is done. This seminar will focus on how to achieve 99%-plus perfect deliveries. Learn how to delight your customers and lower your costs. Sponsored by WHFA. Retailer Resource Center, C-496
10-11 a.m.
How to pin down customers with the power of Pinterest
Christi Tullis, Puttin Out
Learn how to pin customers to your brand and stay ahead of your competition utilizing the fastest-growing website and social site in history. Tullis will share how brands like Zappos, Bergdorf Goodman's and Martha Stewart are pinning their customers to increase brand awareness and sell products. C-344
10:30-11:30 a.m.
Merchandising your store in today's ever changing business climate
Bob Moorman, JRM Sales & Management
Does your merchandising engage customers through a better understanding of their preferences and behaviors? How should your merchandise lineups be structured? What does the first 500 square feet near the entrance of your store tell the customer? How are you merchandising your floor; what's new? Your product tagging strategy; is it customer friendly? Your customers; what demographics are you merchandising to? Merchandising must enhance the customer experience and create environments that make customers want to buy. Sponsored by WHFA. Retailer Resource Center, C-496
Friday, Aug. 3
10-11 a.m.
How to get on TV: The ultimate marketing for your brand
Lori Dennis, head counselor, Design Camp
Join celebrity interior designer Dennis to learn the secrets of how to get on television as an interior design guest expert, host or even star on your own show. Dennis has been a regular on programs for HGTV, Food Network, NBC, Oxygen and is the star of soon-to-air series, "Real Designing Women on HGTV." Sponsored by WMC and Las Vegas Design Center. 0.1 CEU credit. C-176
Noon-1 p.m.
Renovate your interior design revenue: Learn to comfortably sell yourself, your services and our designs
Chelsea Coryell, director of Design Support Program for LHI and founder of Design for a Living
Successful Interior Designs know how to sell confidently and naturally. It's important to market yourself, create professional partnerships, create solid client relationships based on trust and loyalty, and discuss your fees and contracts without worrying about your competition. Learn an insightful system for selling yourself, your services and your designs to build a stronger and more profitable design business. A light lunch will be served. 0.1 CEU. C-176
Related Content By Author
RSA Insights & Intelligence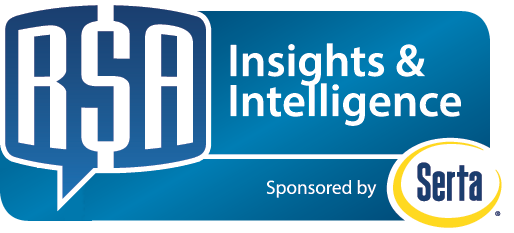 RSA Insights & Intelligence gives you, the retail sales associates, critical intelligence and insights. We make it easier for you to sell by providing actionable tips and key takeaways you can and should use for every sale. Check out our latest two articles:
* How to use an implied close
* The low cost of mattresses