New guides will affect marketing of bonded leather
Heath E. Combs, Carole Sloan, November 8, 2012
HIGH POINT - Marketing a bonded leather item as recycled or eco-friendly?
     You might want to take a look at the Federal Trade Commission's new Green Guides, released in October.
     The guides are general principles for environmental marketing claims and give guidance for clearly qualifying and substantiating claims with consumers.
     When it comes to content, the guides say that items containing pre-consumer recycled content diverted from the waste stream - such as claims like those sometimes seen on bonded leather - should have that claim substantiated.
     For recycled content, the FTC guides say that "material that undergoes minimal reprocessing and is normally reused by industry within the original manufacturing process is not recycled content."
     They also state that if materials were not destined for a manufacturer's waste stream, it would be deceptive to call them recycled content.
     The FTC has specific leather guides saying that for imitation leathers, product containing ground, pulverized, shredded, reconstituted or bonded leather that is "not wholly the hide of an animal should not be represented, directly or by implication, as being leather."
     The guides do say that marketers can give a percentage of leather fibers and the percentage of non-leather substances contained in materials.
     According to Laura Koss, a staff attorney with the FTC's Bureau of Consumer Protection, sellers marketing goods as recycled must indicate that materials have been diverted from the waste stream.
     "If you're basically just collecting - if the leather falls on the floor - the scraps from the original manufacturing process and you're not really doing much to it and you're just throwing it back in the hopper, then that's not recycled content," Koss said. "That's what you'd normally reuse and it wouldn't have entered the waste stream; you always would have stuck it back in the hopper."
     Koss added that if a recycled content claim isn't almost 100%, marketers would need to quantify the partiality of the claim.
     "You could say: 'Our leather chair is made from 80% recycled leather,'" Koss said.
     Vicki L. Worden, president of Worden Associates, which consults with the Specialty Sleep Assn., said some bedding claims for recycled content may come under scrutiny with the FTC's strict recycled content definition.
     For example, she said if a company picks up scraps of latex and repurposes it into a different product - something those companies would have done anyway - it isn't justification for a recycled content claim.
     "I think there is a lot of use of the term 'recycled content' that technically according to the FTC wouldn't qualify as recycled content because it's not truly being diverted from the waste stream," Worden said. "If the content is considered, for instance, a spilled raw material or a scrap, that doesn't undergo a lot of reprocessing and is normally reused in the manufacturing process, it would not qualify as recycled product."
     Additionally, if a leather product is presented as "eco friendly," the Green Guides look for qualification with specific attributes of environmental benefits that are not negligible - so consumers don't think a green benefit is more significant than it really is, she said.
     In its guides, the FTC said that the term "eco-friendly" likely conveys that a product has far-reaching environmental benefits or no negative impact, a claim that marketers are unlikely to substantiate, making it deceptive.
     If a marketer implies a product is eco-friendly because it is made with recycled content, they may need to prove it provides an overall net environmental benefit, Koss said.
     If a marketer is saying that a product is eco-friendly because it is made with recycled leather, the Green Guides recommend further analysis, she said.
     "(If) you say it's eco-friendly, but by making it with recycled leather you have to import that leather from Indonesia, or you have to use some other kind of leather that takes a whole lot more energy to make - well then it may not have a net overall benefit," she said.
     Koss said responsible marketers will look at the FTC's guidelines for both leather and green marketing claims.
     "Without that, the seal seems to elevate a product but it doesn't necessarily provide a consumer with the ability to really differentiate between the two," Worden said. "You can't anymore just have a general seal of approval that a consumer has to draw their own conclusion as to what it's saying."
     The FTC did not to address the terms sustainable, natural and organic. Worden said the FTC decided "sustainable" has too many different meanings to be able to address, and must be substantiated specifically.
     For organics, the FTC opted not to duplicate government efforts by other government agencies. Guidance for those claims are defined by through the U.S. Department of Agriculture's National Organic Program.
     That information is online at http://www.ecfr.gov/cgi-bin/text-idx?c=ecfr&SID=61a915bc 2327b8a3c90518e1b3fe5231&r gn=div5&view=text&node=7:3. 1.1.9.32&idno=7.
     Sandra Marquardt, the Global Organic Textile Standard representative in North America, said that not having the terms sustainable and natural clearly defined is a weakness, when there is such extensive specificity by the USDA for production and terminology in organics.
      "I don't know why they didn't (define the terms). They've already taken years to address natural or sustainable so it seems to be an oversight," Marquardt said. She added that, for example, livestock and produce have specific legal definitions spelled out for "organic."
     Most farms and businesses that grow, handle, or process organic products must be certified, according to the USDA.
     The FTC said it did not have the legal authority to define the terms natural and sustainable since they convey a wide range of meanings, not all environmental. They said no consensus had been reached on how to measure that those qualities.
     The FTC did say that if marketers use "sustainable" and if a consumer perceives a general environmental benefit claim, marketers should be able to substantiate the claims.
     "With the increasing amount of organic furniture out there such as mattresses, chair coverings, fabrics - you want to know what you're getting. With the word 'organic' you can. With sustainable and natural, particularly with natural, there's no definition," Marquardt said.
     Having a strict set of rules in place raises the question of whether the guides may have a chilling effect on companies that decide making a green claim is too difficult.
     Worden said the guides should help ensure the marketplace isn't overwhelmed with claims that can't be defended.
     The rules could create a need for cross functional teams to work on marketing campaigns that include legal counsel familiar with Green Guides, along with product designers and marketers who can agree on what claims a company can make, Worden said.
     "It has the potential to dissuade those that wouldn't jump into the market with both feet. This type of scrutiny by the federal government could dissuade those who just want to dabble," Worden said.
     "For those who are serious about going after this niche - a potentially high dollar niche market - it's going to provide more incentives for that group to ensure that they have their third party certifications in place and have fully thought through their marketing programs," she said.
     The Global Organic Textile Standard's Marquardt said that the role of the guides is to have an enabling effect.
      "If it has a chilling effect it means that the companies were doing something wrong," Marquardt said. "I think if anything this gives liberty to companies to make claims that are truthful and accurate that consumers can believe in and that are the right things to do by the environment."
Related Content By Author
RSA Insights & Intelligence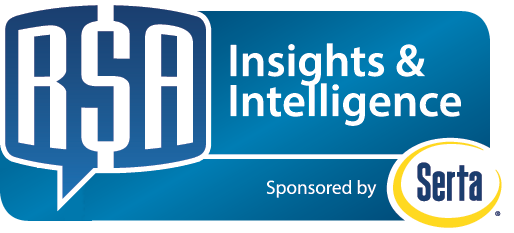 RSA Insights & Intelligence gives you, the retail sales associates, critical intelligence and insights. We make it easier for you to sell by providing actionable tips and key takeaways you can and should use for every sale. Check out our latest two articles:
* How to use an implied close
* The low cost of mattresses