Leather grading system sets price guides, varies by vendor
Joan Gunin, September 17, 2001
When is a leather sofa a pricey $2,599 or a more modest $799? When the leather that covers it makes the grade.
The leather grading system employed by leather upholstery manufacturers and suppliers is used as a means of differentiating and marketing individual types of leather by price, based on quality or style.
The grading system is the method manufacturers use to present their pricing structures to retail dealers. Leather suppliers also use a grading system to distinguish their leathers and prices to manufacturers.
This classification works efficiently and is simple to understand within the context of each individual leather line, but problems crop up if one attempts to compare or contrast leathers from line to line or from manufacturer to manufacturer.
With lower grades typically beginning at "A" or "1", one producer's "C" may be another's "5" or "6". Problems arise because the system is far from uniform.
While some leather manufacturers, including Harry Cierler, director of U.S. marketing and sales for Chateau d'Ax, argue that standardized regulations should be instituted, others contend such standardization will never be instituted due to the segmentation within the leather industry. Since not all resources deal in splits (a lesser-quality leather covering), eight-way hand-tied construction or larger scaling, for instance, opponents argue that such inconsistencies in application forgo any ranking considerations.
"The thing about grades that makes it confusing is there is no industry standard," said Bruce Schronce, Century's manager of merchandising and product development for leather. "Everyone has a different grade. Basically each grading system serves the company's own standards. It would be too difficult to organize a standard for everyone."
Luana Davis, vice president of product development for LeatherTrend, which runs four grades/four price points, agreed. "Everyone grades based on their own needs and their own price points."
While leather producers can rework their grading systems and add or subtract at will, typically, new grades are added at either the highest or the lowest end of the ranking tables. In other cases, new leathers are often mixed into the current pricing strategy by merely moving current leathers within set price points. An article can be bumped up or down a grade to reflect a new price level in order to capitalize on a manufacturer's preference.
Grading is done to make sense for product risers — "the in-betweens," Century's Schronce said. "Prices don't change at the low end or the high end, you can just bump the article into the next grade."
Making adjustments
Such adjustments are not uncommon, with recent shifts being instituted at Century, Divania, Lane Leather and others.
Century utilizes eight grades and eight price points to distinguish its 250 SKUs of leather. Wholesale pricing on a sofa increases from $150 to $200 from grade to grade.
Century has created a new top-of-the-line grade for its exotic leathers. This newest category proved Century's best-selling leather following its introduction at the April market.
"We fill in grades if we find something new and exciting to round out the line, as we did here," Schronce said.
Similarly, this market Divania's graded offerings will welcome a sixth grade — and a sixth price point — with the addition of its newest leather. Old Tuscany, a rich-looking quality leather, becomes Divania's leadoff leather in terms of quality and pricing, said John Sellers, president of the U.S. division.
Conversely, Lane Leather is making an effort to simplify its grading/pricing system by cutting back from five grades to four. Lane's four grades, enveloping 20 leather articles, are stretched across four price points. The ranges reflect pricing of a $50 differential per grade (DPG).
The fifth grade has been dropped from the top spot. "We're keeping it as simple as we can, and it's much appreciated by the dealer," said David Wormald, merchandise manager for Lane Leather.
The inherent quality of leather as a natural product makes the situation even more problematic, Wormald said. "Every manufacturer is trying to present their hides in the best way, but everyone grades differently."
American Leather, too, is paring down from seven grades to six this market. "We consolidated our lower-end offerings into one price point," said Cary Benson, vice president of sales and marketing. "People told us $50 lower on a sofa was nicer than a step-up, so we combined our two lowest grades into a single price point."
Now American Leather's six grades reflect 11 distinct leathers and six price ranges.
Home Impressions, an Asian-based leather manufacturer and tannery, also opts for bare bones classification. The company offers seven grades but concentrates chiefly within the parameters of three grades, three price points. "Basically you can get any leather we have on any frame — with some exceptions," said Gary Furnas, general manager.
Offering choices
Jaymar offers a broad choice with nine grades, encompassing 18 different leather articles within nine price points.
In explaining how leathers are eliminated or replaced, Gary Zuckerman, Jaymar's vice president of sales and marketing, noted, "If it doesn't work you get rid of it. You make a calculated judgment beforehand that you have the right frame and the right cover application. If it is wrong, you investigate the cover, the frame or the price point."
Such headaches can be reworked by modifying a multitude of variables. "In our case, " Zuckerman added, "we show a rainbow of styles, grades, price points and concepts because we don't have a singular customer base. We're not focused on a single price point or a single design category."
DeCoro U.S.A. highlights seven grades and seven price points, which incorporate a series of articles that change seasonally.
"The grade represents the cost that the manufacturer pays for the leather." said President Jeff Baron. "Leathers can look distinctly different but reflect the same price.'
Keith Feuerhaken, vice president of sales for Flexsteel, said grading is purely to address cost factors. "Just like fabric — the system reflects the cost of the leathers." Flexsteel, which works off a $75 differential per grade, adds 12 middle-grade leather articles this market.
The grading system "gains margin incrementally through grades," explained Dick Posey, vice president of Clayton Marcus. "It allows us to do special orders that some of our competitors are not doing. It also gives dealers flexibility to merchandise their floors."
At Omnia, "Depending on the price of the type of leather, each grade has its own price point," said Peter Zolferino, vice president of marketing. We don't like to make a lot of changes. We review the line, and every six months we make minor adjustments."
Omnia offers five grades, with 15 different leather articles tapping into five price points.
Leathercraft's grading system features five grades, but 90% of the line primarily addresses its four lower grades and contrasting price points, encompassing 350 SKUs and 40 patterns.
The lower grades represent various different leather qualities ranging from pigmented hides to corrected hides to anilines.
But the fifth or top grade is reserved for select European premium skins — not its typical tonnage, said Jack Donahoe, president.
Ashley's Millennium division takes a different spin, with Ed Schneider, vice president of sales, leather, calling grades "a fallacy."
As a married house, Ashley offers three types of leathers — everyday protected, natural pure anilines and nubucks. "We're not an a la carte house," Schneider said. "Grading is only a merchandising device."
Related Content By Author
RSA Insights & Intelligence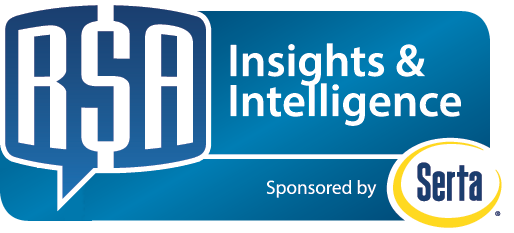 RSA Insights & Intelligence gives you, the retail sales associates, critical intelligence and insights. We make it easier for you to sell by providing actionable tips and key takeaways you can and should use for every sale. Check out our latest two articles:
* How to use an implied close
* The low cost of mattresses