First-quarter sales rise 1.4%, but profits fall at Culp
HIGH POINT — Fabric supplier Culp Inc. said sales rose 1.4% in the quarter ended July 28, but profits slipped 8.3% to $3.23 million.
Sales of upholstery fabrics were up 2.4% to $32 million, while mattress ticking sales edged up 0.5% to $38.2 million.
Companywide sales for the quarter totaled $70.1 million, up from $69.2 million in the same quarter last year.
The most recent quarter's net income, which equals 26 cents per share, was down from $3.52 million, or 28 cents per share, in the comparable quarter.
The company said the most recent quarter included a one-time charge of $206,000 for the tentative settlement of litigation related to environmental claims at a former factory site. The company noted that pre-tax income of $5.5 million was the highest in the company's history for the first fiscal quarter.
"We are pleased with our first quarter performance, marking an excellent start to fiscal 2014," said Frank Saxon, president and CEO. "These results reflect strong operating performances in both of our businesses. We continue to experience favorable customer response to our designs and wide range of products, and we are excited about the progress we are making in product innovation and creativity."
Saxon said upholstery fabric sales were better than expected, and said he was pleased with mattress ticking sales, as well, given last year's unusually strong first fiscal quarter sales.
"We have continued to be on par with the industry during a more challenging business environment that we experienced a year ago," added Iv Culp, president of the mattress fabrics division. "These results reflect our ability to keep pace with changing customer demand across all price points and fabric styles in the mattress industry."
Saxon said the balance sheet remains strong, and pointed out the company generated $1.9 million in free cash flow after investing $4.3 million in capital expenditures and working capital.
"Maintaining a strong financial position and generating free cash flow will continue to be top priorities for fiscal 2014," he said.
For the second fiscal quarter, Saxon said he expects overall sales to be flat to 4% higher as compared to last year's second quarter. He said mattress fabric sales should be flat to slightly below the comparable quarter, while upholstery fabric sales should be "moderately higher" than the comparable quarter.
He projected pre-tax income at $4.1 million to $4.7 million. In last year's second quarter, pre-tax income was $4.5 million.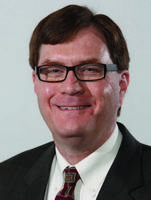 Larry Thomas
|
News Editor, Furniture Today
lthomas@furnituretoday.com
Related Content By Author
Frontline Friday hot on trail of industry issues … despite cold weather

More Videos