Aaron's revenue inches up 1.6% in first quarter
ATLANTA — Rent-to-own powerhouse Aaron's Inc. said first-quarter revenues edged up 1.6%, reflecting slower than expected growth due to the January payroll tax increase and delayed income tax refunds.
The company said lease revenues and fees rose 8% in the quarter, but non-retail sales, which primarily are sales of lease merchandise to Aaron's franchisees, tumbled 21%.
Total revenues for the quarter ended March 31 were $595.1 million, up from $586 million in last year's first quarter.
Net income totaled $51 million, or 67 cents per share. That was down from $71.2 million, or 92 cents per share, in the first quarter of 2012. Last year's figure, however, included $35.5 million in non-cash income from the reversal of an accrued lawsuit expense.
Without the reversal, after-tax earnings would have been 64 cents per share in last year's first quarter.
"Demand by customers in both our company-operated and franchised stores has been less than anticipated," said Ronald Allen, chairman, president and CEO. "We believe results for the quarter were affected by the overall difficult economic conditions for our middle to lower income customers, including increases in their payroll taxes and delays in their income tax refunds."
Allen said same-store revenue and customer count growth were solid, but less than planned.
As a result, Aaron's has trimmed its revenue and earnings forecasts for the year. The company is now projecting revenues (excluding revenues of franchisees) of $2.35 billion, down from a January forecast of $2.4 billion.
Earnings per share are now projected at $2.11 to $2.23, down from the January forecast of $2.25 to $2.41.
As of March 31, the company had 1,230 company-owned at 748 franchised Aaron's Sales and Lease Ownership stores. In addition, Aaron's had 78 company-owned and one franchised HomeSmart store, as well as 20 company-owned and six franchised Rimco stores.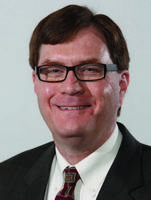 Larry Thomas
|
News Editor, Furniture Today
lthomas@furnituretoday.com
Related Content By Author