Generation Y versus Baby Boomers
Baby Boomers have dominated the retail scene for the past two decades. Makes sense — at 78 million, the Boomers are the largest generation ever. And, even better for the furniture industry, Boomers are notorious for their acquisitive habits.
The retail scene is beginning to change, however. The oldest Boomers are currently 59 and their nests are empty or emptying rapidly. They're still in their peak earning years, but for older Boomers, retirement is just around the corner, while younger Boomers are facing high college costs for their kids.
So, though Boomers are still consumers worth courting, even in the near term, furniture marketers need to look to the next wave of furniture buyers.
Who's going to take over the retail landscape? The Boomer's kids, of course, Generation Y. Born between 1976 and 1994, more than one-third of Gen Y is still under 18. Totaling 76 million, Gen Y appears to be emulating their parents' free-spending habits. Retailers must understand all they can about this generation and learn how to most effectively market to them. Since the oldest member of Gen Y is 29, this group will be a target consumer for decades to come.
What demographic and lifestyle traits do Boomers and Gen Y share? How do they differ on their attitudes about the shopping process and types of furniture stores? This and more is presented here in Furniture/Today's exclusive survey.
There are several obvious demographic differences between the two groups, mostly due to lifestage and age.
More Gen Y households make less than $40,000 a year, more are members of a minority, fewer are married, fewer live in a house and fewer own or are buying their home.
Generation Y also is more transient than the Boomers. More than two-fifths of Gen Y has moved within the last year, compared with only 15% of Boomers.
At the other end of the spectrum, 42% of Boomers have lived in their home for 10 or more years, compared to only 3% of Gen Y.
Gen Y is more highly educated than their parents. Even with approximately one-third of the over-18 portion of Gen Y still in college, it still has more members with a four-year college degree than the Baby Boom. And, while 38% of Baby Boomer households earn $75,000 or more a year, a whopping 34% of Gen Y does, too.
Boding well for the furniture industry, Generation Y entertains at home more often than their elders. Three-fifths of Gen Y entertains at home once a month or more, compared with only 31% of Boomers.
Top products
While more Gen Y households made a furniture and/or bedding purchase during the last 12 months than Boomer households, Boomers spent more on their purchases. Exactly three-fifths of Baby Boomers purchased at least one piece of furniture and/or bedding during the last 12 months, spending a total of $24 billion.
Furniture and bedding was purchased by 65% of Generation Y during the same period, with Gen Y spending $17 billion. The top three furniture products purchased for both groups were bedding, stationary sofas and entertainment equipment furniture.
The shopping and purchasing patterns of the two generations are different, however. Take stationary sofas — 18% of Boomers and 29% of Gen Y bought one. Boomers spent more, a median of $800, compared with a median of $600 spent by Gen Y.
Traditional furniture stores snared the most sales from both groups, but captured fewer of Gen Y purchases. Fifty-five percent of Boomers bought their stationary sofa at a traditional furniture store, compared with only 49% of Gen Y. The purchase price of the two groups came closer together in traditional furniture stores, a median of $900 for Boomers, $850 for Gen Y.
The biggest alternative to traditional furniture stores for Gen Y are lifestyle furniture stores such as Ikea, Pottery Barn, Pier 1, and the like,where nearly 20% shopped for a sofa and 11% made their purchase, spending a median of $250. On the other hand, 10% of Boomers shopped for a sofa at a lifestyle store, but less than 1% actually purchased one there.
Flying in the face of conventional wisdom, more Gen Y households made a sofa purchase at department stores than did Boomer households and more Boomer households made their sofa purchase at direct-to-consumer channels, such as the Internet, TV and catalogs, than did Gen Y.
More product and price point data, including where each generation shopped and bought, will be presented in the January 30, 2006, issue.
Approaches to furniture shopping
Three-fifths of furniture buyers from each generation strongly prefer to shop at a store that carries several manufacturers or brands over one that carries only one brand or furniture made by one manufacturer. The furniture's brand or designer's name doesn't hold much weight. Less than 10% of both Gen Y and Baby Boomers thought it was important to have a name brand or to know the designer.
When asked whether households were more concerned with the reputation of the manufacturer or the store, the reputation of the store has the edge. Nearly half of furniture buyers thought the store's reputation was more important, while about one-fourth were more concerned with the manufacturer's reputation.
No doubt about it, both groups comparison shop. More than three-fourths of furniture-buying Gen Yers ardently compare prices and 87% of Baby Boomers comparison shop. Both generations also think that furniture shopping is time consuming and prefer a store that sells more than furniture.
In-store financing is not a critical factor to either generation. A mere 5% of Baby Boomers only shop at stores where financing is available and only 15% of Generation Y does.
The good news for retailers though, is that neither generation is confused by the choices of product or is frustrated or stressed with furniture shopping.
Generation Y is more apt to do online research before shopping, to shop with a spouse, to describe furniture shopping as fun, to shop a lot of different kinds of stores, to describe themselves as adventurous, to be open to trying new things and styles and to think that furniture, in general, is expensive. Baby Boomers, on the other hand, better know what they want and have a particular style in mind when shopping.
In the last 12 months,
Generation Y
Baby Boomers
Source: Furniture/Today Consumer Buying Trends Shopping Attitudes Survey, 2005

% of households buying furniture and bedding
65%
60%
Total $ spent on furniture and bedding
$17 billion
$24 billion
% of households buying lamps, area rugs and wall décor
55%
48%
Total $ spent on lamps, area rugs and wall décor
$1.5 billion
$3.1 billion
Defining the generations
Born between
Generation Y 1976 and 1994
Baby Boomers 1946 and 1964
Source: U.S. Census Bureau

Current age of adult members
18–29
41–59
Total number
76 million
78 million
% of the population
27%
28%
Are African-American
17%
13%
Are of Hispanic origin
17%
11%
Top purchases
Generation Y
Baby Boomers
$ median spent
Mattress/boxspring
$500
$500
Stationary sofa
$600
$800
Entertainment equipment furniture
$115
$200
Computer equipment furniture
$100
$100
Other adult/youth bedroom
$200
$180
Household income

| | Generation Y | Baby Boomers |
| --- | --- | --- |
| Under $30,000 | 36% | 23% |
| $30,000 – $49,999 | 13% | 20% |
| $50,000 – $74,999 | 17% | 19% |
| $75,000 – $99,999 | 13% | 19% |
| $100,000 or more | 21% | 19% |
Household income
Home ownership
Generation Y
Baby Boomer
Source: Furniture/Today Consumer Buying Trends Shopping Attitudes Survey, 2005

Own or are buying
44%
77%
Rent
44%
19%
How do the generations feel about traditional and lifestyle furniture stores?
Generation Yers think
Baby Boomers think
Traditional furniture stores
Lifestyle furniture stores
Traditional furniture stores
Lifestyle furniture stores
are more likely to...
are more likely to...
*Households that purchased furniture/bedding within the last 12 months were asked to rate on a scale of 1 to 5 how well several phrases describe the furniture selection in traditional furniture stores and lifestyle furniture stores. Examples of traditional furniture stores include local furniture stores, as well as Ethan Allen, Rooms To Go and Havertys. Examples of lifestyle furniture stores include Pottery Barn, Restoration Hardware, Crate & Barrel and Ikea. This table shows where store types are rated higher according to each generation.
Source: Furniture/Today Consumer Buying Trends Shopping Attitudes Survey, 2005

Carry exclusive product
√
√
Be easy to shop
√
√
Be exciting to shop
√
√
Be fun to shop
√
√
Have good values
√
√
Be trustworthy
√
√
Have a limited selection of styles
√
√
Be old-fashioned/stodgy
√
√
Be over-priced/expensive
√
√
Be posh
√
√
Have products of poor quality
√
√
Be stylish
√
√
Be up-to-date
√
√
Have products well made for the money
√
√
Be well-priced
√
√
Have a wide selection of styles
√
√
Related Content By Author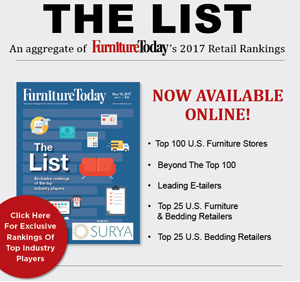 Get exclusive rankings of Furniture Today's top industry players including Top 100 Furniture Stores, Top 25 Bedding Retailers and leading e-Tailers. Get the stats now! Sponsored by Surya.
RSA Insights & Intelligence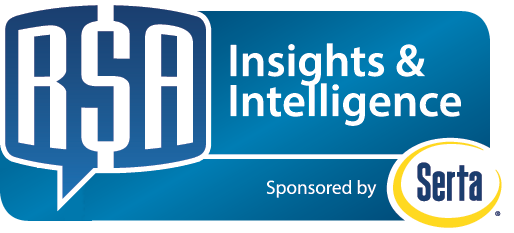 RSA Insights & Intelligence gives you, the retail sales associates, critical intelligence and insights. We make it easier for you to sell by providing actionable tips and key takeaways you can and should use for every sale. Check out our latest two articles:
* How to use an implied close
* The low cost of mattresses