Millennials, Money... and You
Paris Love Sofa from Prime Design
Mention the "M-word" (Millennial) to suppliers and retailers in the home furnishings arena and the odds are good that they might begin picturing debt-laden young adults who are either unemployed, underemployed or living in their parents' basement.
     Truth be told, that would be a fairly safe wager. According to the Pew Research Group, about a third of the 80 million Millennials are currently living with their parents.
     But the good news for retailers and suppliers of upscale goods comes in the form of the Ipos Mendelsohn Affluent Survey which concludes that almost 12 million Millennials aged 18-30 currently live in U.S. households with annual incomes sharply exceeding $100,000.
     Even better, according to Duke Greenhill, founder and CEO of Greenhill & Partners, an agency for luxury brand marketing, shoppers between the ages of 18 and 29 years old are the most rapidly growing segment for the luxury market.
     Greenhill has reported that in 2011, for example, this group boosted by 31% their spending on luxury goods compared with the prior year, and did so paying full price.
    By comparison, he noted that while Baby Boomers bumped their spending by some 28% for the same period, they purchased the majority of their luxury goods on discounted fl ash-sale sites.
     Meanwhile, market research firm Kelton Research has reported that affluent Millennials between the ages of 18 and 34 have the largest current and potential spending for luxury goods, with a potential of almost $200 billion annually.
     According to Jason Dorsey, chief strategy officer for the Center of Generational Kinetics, a consulting and research firm, by 2017, there is a strong likelihood that Millennials could outspend Baby Boomers.
     Unity Marketing, meanwhile, has conducted a predictive study on the growing segment of affluent Millennials. The company has concluded that by 2020, Millennials will begin to reach their peak earning years, and says that the wealthiest Millennials will enter a "window of affluence" that is expected to last for 20 years.
     If Unity Marketing is on the money, then the obligatory question for suppliers and retailers hoping to target Millennials is at once simple and complex: Are you prepared to sell to this unique group of consumers?
     In its study, Unity Marketing maintains that affluent Millennials are very different from previous generations of luxury consumers in a number of ways.
     For example, the Unity study determined that Millennials tend to reject their parents' status symbols.
     Specifically, the report says, "Millennials find status in their achievements rather than their purchases."
    Underscoring that finding, the report suggests that Millennials proved to be much more satisfied by earning a degree or completing an athletic event than by purchasing what would be considered status symbols.
     Millennials also see luxury only as a marketer's label. The Unity study concluded that "Millennials are savvy to marketing, and they perceive the term luxury as another tool to entice them to buy rather than a descriptive adjective that conveys something important about the product or service."
The most important feature when buying a new furniture piece
Source: Furniture/Today and Apartment Therapy Consumer Survey, 2013
     So, then what motivates Millennials to buy luxury goods? For Greenhill of Greenhill & Partners, it is things such as superior quality, craftsmanship and design.
     Not surprisingly, the best way to connect with them is to find them where they live, which when it comes to shopping, tends to be online. According to American Express, affluent Millennials prefer one-click shopping.
     Millennial spending grew the most in full-priced online luxury retail by 31% in 2011, over the prior year, American Express confirmed. According to Peter Niessen of American Express Business Insights, "Flash sales sites served as an entry point into the world of luxury, placing brands that were not previously accessible or on Millennials' radar, top of mind."
     He added that fl ash sale websites clearly left affluent Millennials wanting more. Niessen said this has been confirmed, in part, by the fact that Millennials are now at the head of the pack of consumers paying full price for online luxury fashion items.
     But the challenge to selling upper-end goods to Millennials, observers note, is that while they enjoy and embrace luxury items, they still have a sharp sense of value. As a result, they routinely look for better goods at big-box stores such as Costco and Sam's Club.
     So, what else do you need to know about Millennials if you plan to sell them home furnishings?
     The vast majority of Millennials, some 75%, are single, and about two-fifths of this group bought furniture or bedding last year, according to Furniture/Today Consumer Buying Trends Survey, 2013.
     But knowing which home furnishings categories Millennials plan to buy is just half the battle.
     To win their business, you need to win their trust. And your biggest challenge - and perhaps your biggest opportunity - is that Millennials probably don't necessarily trust you or your brands.
     According to The Talking to Strangers Survey, released by Bazaar voice in association with Kelton Research and The Center for Generational Kinetics, some 44% of Millennials tend to trust user-generated content from experienced consumers, who are often strangers. In fact, some 51% of Millennials claim that consumer opinions found on a company website has more clout with them than does input from family and friends.
     The report gives sound advice for those looking to sell Millennials when it notes that winning Millennials takes a whole new way of selling.
     Do your homework, then take your shot at your biggest opportunity since the Baby Boomers.
Related Content By Author
RSA Insights & Intelligence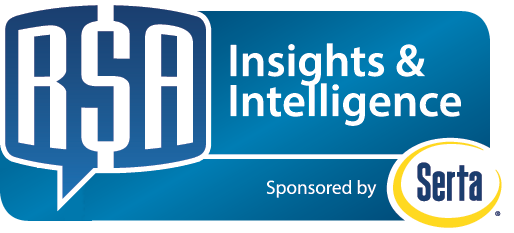 RSA Insights & Intelligence gives you, the retail sales associates, critical intelligence and insights. We make it easier for you to sell by providing actionable tips and key takeaways you can and should use for every sale. Check out our latest two articles:
* How to use an implied close
* The low cost of mattresses