Look for three C's in upholstery this market
Temple's cuddle chaise introduction to the sectional category adds seating flexibility for family rooms.
HIGH POINT - Cuddle, chrome and color are key ingredients for several upholstery suppliers' fall market recipes, and they are accompanied by High Point's version of cue cards for the retailers.
     "Retailers have to have a story to tell," said Meredith Younger Spell of Younger Furniture. "You have to give them something to get people excited about, but you can't just throw things in a showroom and expect them to relate to it."
Spell said Younger's business is up 20% from 2012, and expects the trend to continue into the fourth quarter based on dealer response to Avenue 62, the company's edgy collection inspired by mid-century modern design.
     "Avenue 62 has had a huge impact for us," she said. "It made us a bigger player and helped define our brand. For market, we're showing new pieces in Avenue 62 as well as a lot of bright, bold colors and a lot of velvet. We also have two new chairs that feature polished chrome, and that's a new category for us in price and looks."
Family-friendly sectionals are a strong category for the fall market, several with dual chaises like this one from HGTV Home.
     Miles Talbott/Michael Thomas is also incorporating metal into its market lineup of introductions. The combined collections will feature 25 new SKUs.
     "Metal is used in place of wood on accent chairs and will be featured in more subtle ways on other styles," said George Jordan, president. "Buyers will see it in varying uses in both the Michael Thomas line as well as with the Joe Ruggiero collection.
     Jordan said he expects a stronger fourth quarter in 2013 as well as a "very positive" market. "We are slightly ahead for the year and Q4 will be much better than last year," he said. "We've added 10-12% capacity that will kick in late Q3 and Q4, and our backlog is strong. Business has been wonderful since mid-spring."
     Lazar Inds. is introducing 30 new SKUs at market. Sofas retail in the $1,399-$1,999 range and include "intricate detailing, complex curves and patented new designs," said Rob Luce, president of Lazar.
     Lazar's showstopper for market is likely to be the Flirt sofa, Luce said. He added that the company's growth in 2012 has been slightly slower by design.
     "We are looking for quality companies to sell to that want to make us an important part of their offerings to consumers," he said.    
Temple Furniture
has expanded the Tailor Made collection to include a cuddle chaise, or wedge chaise. Sectionals continue to be a strong category and upholstery suppliers are creating new configuration possibilities with pieces like the cuddle chaise.
     "We're introducing 38 new SKUs, including five sofas and matching pieces, an oversized chaise, six chairs with matching ottomans and the cuddle chaise," said Kim McRee, marketing director for
Temple
. "Our business was up 9% for the third quarter and we anticipate continued growth in the fourth quarter. Our fabric/leather selection is above most as we introduce a little over 100 each market - 113 this time - so we expect a great market and record-breaking fourth quarter."
Libby Langdon adds deep, vibrant color accents to this sectional for Braxton Culler.
     Pearson has experienced double-digit increases this year over last and expects to finish strong, according to Jennifer McConnell, vice president of design. She said that Pearson is introducing more than 25 new upholstery SKUs, including a new sectional program and a new custom ottoman program, as well as the company's first mirror program and a "robust" collection of exclusive new textiles sourced worldwide.
     "Our upholstery this season features a new traditional, relaxed look," McConnell said. "Fabrics are very livable, yet unique and luxe. The silhouettes feel familiar and inviting without being fussy. Color is still important, but it is becoming softer, deeper, less jarring and more sophisticated."    
Marshfield Furniture
is returning to High Point after a 10-year hiatus. Bill Mork, president, said that the company is making a "significant" investment in showing here.
     "We feel it is necessary to expand our national presence in the East," he said. "Having a showroom for retailers to see, sit and feel the product is necessary to help them understand Marshfield's quality and design."
     Marshfield's retail price points range from $999 to $1,799. One of the key introductions for market is the Brandon sofa, featuring a larger scale that pays homage to cuddle time.
     "Brandon is our widest and deepest style to date and is designed for family relaxation and cuddling with the kids," Mork said. "The silhouette features two-over-two seat, back and seat cushion design and loose-back styling with five assorted size accent pillows. We listen to our retailers and they say consumers are looking to create a safe haven in their living rooms that keeps the family close. One way to do this is to create seating capacity that is sufficient for family gatherings."
      2012 was a record year for Mayo, and Don McCoy,
Pearson is introducing a new custom ottoman program and is launching a mirror program.
senior vice president, said that 2013 business is up 20% over the same period. Barring any unexpected "worldwide economic event," McCoy thinks the fall market looks very strong.
     "I believe the October market will be our best ever
High Point Market
primarily due to the expansion of our product line, including a large number of leather and fabric selections," he said. "I also think without question that the Made in the USA story that Mayo offers is more important than ever before. The fact that we ship everything we make in three weeks or less is a game changer for most retail dealers. The special order side of our business continues to grow by leaps and bounds."
      Mayo's introductions include 12 chairs, some with swivel function. Four new fabric groups will also be offered, along with a leather group and two decorative table-size ottomans.
     "We're adding a significant number of new fabrics and leathers to our line - proba
Younger Furniture is showing mid-century modern-inspired designs updated for 21st century interiors.
bly 20% more new than in any previous market," McCoy said. "Color and selection is the story for Mayo this season, and we made a major effort to broaden our line."
     American Leather's introductions for market include collections that "range from modern to transitional in style," according to Bruce Birnbach, president, and range from $3,999 to $5,999 retail. Birnbach adds that American Leather is also focused on providing strong support to the company's retailers.
     "Our offering will focus on classic design with a twist, so retailers can expect a fresh approach to some very timeless elements," Birnbach said. "We are also making more efforts to help our retailers stay focused on their bottom line and drive more value for our offering on the sales floor. This is being supported with some robust marketing efforts that will help educate the retail salesperson and provide them with hand son tools that make their job easier.
     "More manufacturers are trying to move up and capture the higher end of the market and take over more space on the retail sales floor," he said. "However, we feel that as a brand that can provide made-to-order customization of high-end design and deliver it to the consumer in 30 days, we have a solid position. We have very solid, consistent traffic every market."
Related Content By Author
Trashed In Vegas? Here's a new take on reclaimed materials

More Videos
Furniture Retail Solutions

Over the past year, our editorial team has been on the road, studying retail – what's working and what challenges even the most established retailers face. Born from these studies is Furniture Retail Solutions – a multi-part series addressing common problems retailers face. Read our first two articles:
* Ergomotion increases retailer's profit potential with Motion Bedroom Furniture
* REM-Fit, by Protect-a-Bed, Outlines the Benefits of a Brand Store
RSA Insights & Intelligence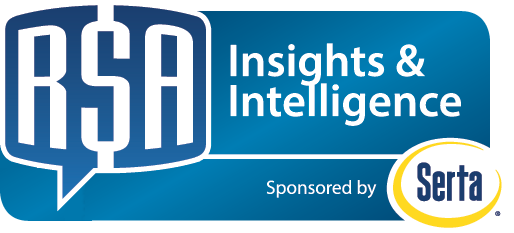 RSA Insights & Intelligence gives you, the retail sales associates, critical intelligence and insights. We make it easier for you to sell by providing actionable tips and key takeaways you can and should use for every sale. Check out our latest two articles:
* Why buying mattresses online is harder than consumers think
* How RSA can capitalize on the adjustable base boom