Wesley Allen meets challenges
Wesley Allen CEO Victor Sawan shows a group of bed frames in the plant that are almost ready for finishing.
LOS ANGELES - Like most domestic furniture makers, iron beds producer
Wesley Allen
has faced its share of challenges during its 36-year history.
     But this latest recession was perhaps the toughest. The company lost half its customers and sales fell as much as 35%, forcing some painful choices, including worker layoffs. Peak employment in its Los Angeles factory was about 300 in 2003-2004 and today is just under 200.
     Yet things could have been even more difficult had the company not chosen to invest in its facilities over the past 10 years or more.
     Furniture/Today visited the company's Los Angeles production facilities earlier this month. The tour gave a first hand look at some of its key investments and how these have helped
Wesley Allen
remain competitive as it faced a wave of low-priced imports.
     Victor Sawan, the company's CEO, started the business around 1976. Early on, he had some financial backing from Martin Bender, an area retailer who was impressed with Sawan's designs.
     Sawan, 64, is a native of Lebanon who moved to Brazil with his family at a young age and immigrated to the U.S. in 1970.
     As he surveyed buildings his company has occupied for as long as 34 years - it moved to the current location in 1978 from a smaller facility nearby - Sawan reflected on a strategy that has helped the company remain one of the last domestic producers in the metal beds category.
     The company has invested in energy-saving technology and has paid off much of its real estate debt, and in 2010 it acquired certain assets of Elliott's Designs, another California producer of iron beds.
| | |
| --- | --- |
| | Renaldo Salgado, a 30-year employee of Wesley Allen, assembles part of a bed at the plant. |
| A worker brings frames through the factory on the way to be finished. | |
     Among the other remaining U.S. metal bed producers are Corsican, which also manufacturers in the Los Angeles area, and Benicia Foundry and Iron Works, based in Benicia, Calif.
     Wesley Allen's plant is in an industrial area known as the Goodyear Tract, a 208- acre site in South Central Los Angeles. The area got its name from the cluster of suppliers to a former Goodyear tire plant once located there.
     Today, Wesley Allen has four main buildings that total around 190,000 square feet. These include a multistory building that houses offices, finishing, packaging and shipping operations. This building also handles upholstering operations for upholstered headboard and footboards.
     A separate building houses the machining department, where metal tubing is shaped into headboard and footboard designs. Another houses a foundry that produces castings and a fourth building produces bed frames and rails.
     Sawan declined to disclose the privately held company's sales. He did say sales stabilized in 2010 and grew by about 5% last year. This year Wesley Allen plans to boost sales by about 20%, he said.
     "Based on economic conditions, we are very happy with the outlook right now," he said, adding that the company also had a strong Las Vegas Market, with every one of its appointments coming by the showroom. "That has never happened before.... They were very receptive."
     Sawan also said he's confident in the business for other reasons, not the least of which are his workers, sales reps and management team. Terry Steed is president and Victor's son Wesley Sawan, who joined the company in 2006, is executive vice president.
     During the tour, the elder Sawan also pointed to numerous equipment purchases and processes he said have kept the company competitive.
     A solar panel system installed around 2003 for about $2.5 million saves the company around $200,000 each year in energy costs. Skylights in parts of the production facilities let natural light in, which also cuts the electric bill.
     "We only turn on the lights as needed," Sawan said. "You save a lot of energy that way."
| | |
| --- | --- |
| | These solar panels, installed about nine years ago at Wesley Allen's Los Angeles plant, save the company $200,000 a year in energy costs. |
     During the past 10 years, the company also has invested in robotic machines that bend and weld metal tubing used in its beds.
     "Before it was all done by hand," Sawan said. He added that production runs were once smaller and did not require automation. "Then we saw the invasion from overseas and we had to compete."
Competition from overseas has grown over the past 20 years.
     A key event in the category took place in 1991, when Leggett & Platt formed its Fashion Bed Group division. The division grew out of the consolidation of three domestic brass bed producers the company purchased in the late 1980s. After the consolidation, Leggett gradually shifted to a mostly overseas sourcing model, said Herman Tam, a vice president of marketing for L&P's Consumer Products Group, which includes the Fashion Bed line.
     Imported metal beds can retail as low as $299. Wesley Allen does compete directly in that arena with its own import line, called Amanda Sutton, with beds priced from $299 to $699.
     But the domestic beds remain core of its business and account for about 85% of sales. The U.S.-made Wesley Allen line starts at $500 retail and tops out at about $2,500, with most falling within the $800 to $1,500 range.
     To succeed in its price point, the company has to stand apart from its competitors and this means continuing to develop new, fashion-forward designs. Sawan said the company has about 80 styles of beds and 45 finishes.
     To compete more aggressively in the domestic realm, the company purchased about 20 bending machines as part of its late 2010 purchase of Elliott's, which specialized in Victorian and antique style beds. The machines have diversified Wesley Allen's design capabilities.
     Victor Sawan remains highly involved in product design as well as in the design of decorative castings that are produced in the foundry.
     "When you are in manufacturing, one has to design a product at a price the consumer wants to pay," he said. "And you have to design a product based on your mechanical capabilities.... By having access to more elaborate machinery, you can do more elaborate designs."
The Hamilton bed is one of about 80 designs in the Wesley Allen line. Retailing at around $999, it is shown here in a textured copper moss finish.
     The company also purchased a half dozen new spray booths about seven years ago, which helped to not only expand capacity, but also to speed up delivery, Sawan said.
     Under the direction of Wesley Sawan, the company also restructured its production process toward a method known as Quick Response Manufacturing. Wesley Sawan said this essentially organized the production line into an operational cell in which workers are cross trained to handle various tasks based on the needs at the time.
     Through this flexible approach, the plant has been able to reduce set up times by altering the flow of material. Lead times were cut nearly in half as a result of the efficiencies, the younger Sawan said.
     On the financial front, the company borrowed money for expansion at low interest rates and has paid down much of its debt, Victor Sawan said. It is mortgage-free on two of its buildings and expects to have the others paid off in six years or less.
     "We knew foreign competition was going to come," he said. "We decided to accomplish all these things and get ready for the future."
     Thanks to these efforts - and the recent sales increases - Sawan said he believes the company is on firm footing, which should provide stability for his work force. He said he has no plans to abandon his domestic model.
     "I am an immigrant and don't understand how American industry can shoot themselves in the foot and depend on foreign suppliers so faithfully," he said. "To me there is always a place for imports, but there is always a place for domestic production. My employees, they brought me to the dance and I don't want to leave them without a partner."
Related Content By Author
RSA Insights & Intelligence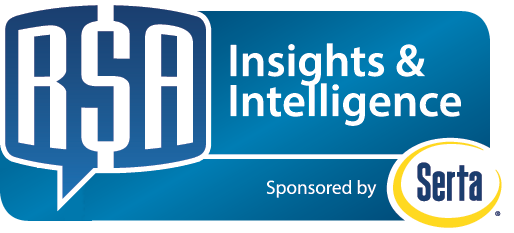 RSA Insights & Intelligence gives you, the retail sales associates, critical intelligence and insights. We make it easier for you to sell by providing actionable tips and key takeaways you can and should use for every sale. Check out our latest two articles:
* How to use an implied close
* The low cost of mattresses