Hot Products At Tupelo
All prices retail · TC = Tupelo Complex, MC = Mississippi Complex
Staff Staff, February 18, 2002
A&C INTERNATIONAL TC 3-3202
This manufacturer of classic looks introduces four fabric sofa groups, one of which will be a featured market promotion.

Two new cocktail groups.

A redesigned bedroom set.
APA Marketing MC E-4310
Introducing three new casual dining sets and one master dining. Special 20% discount on new floor placements.
Artisan collection, 13 pieces in asiac hardwood with contemporary finishes; retails for $599.

Tile Art collection, eight pieces in pine, traditional; retails $699.

Hollywood collection, six pieces in maple, contemporary; $499.

Normandy collection, 22 pieces master dining in cherry; $899.
Introductions include six sofas retail priced at $399.

Also, two DuraPella suede (microfiber) recliners retailing at $399 each, boost recliner choices to 12.

Offering a package promotion with 240 choices available for immediate shipping. Dealer selects upholstery, occasional tables and lamps for $999 retail. Ashley unveils extensive advertising program for dealers, with coordinating circular, newspaper, TV, radio, banners and hangtags, set for May, June and July.
Athens Woodcrafters TC 4-2021
Expanding their product line of oak all-wood entertainment centers, TV stands and bookcases. Pieces include an 8925 corner TV stand and a 6675 corner entertainment center. Bookcases will be stocked for a quick-ship program; also, custom variations of all products may be ordered for your customer needs.
Bary Alan Leeman & Assoc.TC 1-1400
Frame introductions include a traditional sofa (style #9000) and a contemporary pub back (style #7000), retail priced at $498 and $348, respectively. Presented in a variety of cover choices.
Quick-ship program provides seven-day turnaround.
BenchCraft
Six new sectionals, including two stationary, two leather and two reclining models at $999 to $2,400.

Adding a pillowtop sofa to the Vera Pelle leather collection at $999.

Adding a series of transitional and traditional styled family room pieces at $599 to $799, plus a correlated wood trim group with matching corner table.

Introducing a series of large scale "Big Man" recliners at $499 to $699.
BROOKS FURNITURE TC 3-3028
Unveiling a pair of glider rockers at $399 and $499.
Style 1759, in oak, features traditional styling with a casual sleigh back and fiber-wrapped foam cushions. Also available in cherry (style 1659) and honey (style 1159) finishes.

Style 1689, in cherry, has casual contemporary styling. It's also available in natural (style 1289) and light oak (style 1789) finishes.
CAMBRIDGE CHAIR TC 3-3039
Introducing a glider rocker with Mission styling at $399, including matching ottoman. It's available in oak and maple finishes.
CELLINI FURNITURE CRAFTERS MC D-3005
Carlotta, an eight-piece dining room in antique white with veneers.

Francesca, a three-piece exposed frame upholstery group with solid wood frames.

1019, three-piece exposed frame upholstery group with solid wood frames, $3,995.

Venezia, a six-piece wood bedroom in 890 finish, $4,995.

Promotions on Mola bedroom, and 1000 series and Queen Anne living room sets. Expanding into imports to give better price points.
Claude Gable TC 1-1043, 1045,1412
Introducing Gable/Express, a five- to 10-day quick-ship program.
CRAMCO TC 4018
Thirteen new casual dining and pub set collections added to Michael Aaron "Old World collection" and Design Line by Cramco, also nine baker's racks and an occasional table group. Introductions include:
Infinity collection, three dinette groups with 45-inch round laminate and metal pedestal tables; fully welded chairs in choice of three powder-coat finishes, espresso, textured white or textured black; $299.

Chili, a five-piece dinette special for Tupelo with 36-by-60 antique laminate top table; fully upholstered steel frame, powder-coated chairs; $199.

Monarch/Regal collection, eight casual dining configurations in choice of three half-inch, chiseled edge glass-top tables; upholstered hand-finished metal chairs, or skirted steel-frame parson's chair; $599 to $899.

Major introduction of bar and counter stools: Six new styles for Michael Aaron Old World collection and five new styles for Design Line by Cramco.
DONIE CHAIR CO. TC 3-3163A
The "1902 for 2002" rocker in celebration of Donie's 100th anniversary, the largest rocking chair the company has made.
Eagle Inds.TC 1-1034
New Sean Michael unfinished collection at 15% off; has fluted details and tiny rosettes. Three-piece bookcase unit is part of a nine-piece home office and occasional group with arched top design, solid oak doors and adjustable shelves; retails for $699.

Expandable bridge wall unit, eight pieces with rosettes and fluting, lighted piers, unfinished only; $759.

Curio line has been redesigned; 36 curios and five gun cabinets will be shown with introductory price points. The curios are available in six finishes or unfinished; five glass shelves on a ball-and-claw base, $699.

Snack bar, two occasional pieces, deluxe oak bar and storage shelf with brass foot rail; in six finishes or unfinished, $595.
FOUNDERS FURNITURE TC 1-1024, 1028
Showcasing the Jewel collection, a contemporary/transitional bedroom with high-gloss facet green finish on case fronts contrasted with ebony black stipple finish on top and end panels. Features arched bases for adding height and visual interest, and bright-brass v-shaped "jewelry" hardware on case fronts, with corresponding trim on mirror and headboard. Four-piece set, $399.
GLOBAL MC E-4307-4309
Bordeaux, an eight-piece French traditional bedroom in solid pine; $599 for choice of dresser/mirror or bed or armoire.
HIGDON TC 1-115, 116
Three new bedrooms, all with roller drawer guides, retailing from $399 to $599:
Seven-piece Shaker-style Manchester in rich pine finish.

Seven-piece contemporary oak Autumn Sun with door chest.

Eight-piece contemporary Trilby in mahogany finish with pewter accents.
Higdon offering limited-time promotions while supplies last: Market special pricing on 3 ½-inch post solid wood bunk bed; free coordinating table set with any futon frame purchase; and free coordinating baker's rack with 944-668 dinette purchase. Also strengthening $399 retail price point. Introduced 25B bedroom suite with a $799 retail in solid wood fronts and molding.
Three new floor clocks and a collectors cabinet; all with adjustable levelers under all four corners.
Canton clock has three spires above a quartz, dual-chime movement with a vine and leaf design to clock face; three shelves hidden behind a front door with painted scene and a Crackled Tamara finish; retails for $1,185.

Acadia clock has a flared base design, decorative joint dowels and a locking door in knotty pine hardwood and veneer in a rustic finish; laser-cut design in the front shows the cable-drive pendulum movement; hidden storage in the base with a pull-down door; retails at $2,655.

Mealla clock has a slender style, standing 77 inches tall and 14¼ inches wide at the base, with a "pinched waist" up to the quartz dual-chime movement; Antique Sienna finish with floral and vine patterns to the waist, base and top and bottom of the bezel; $839.

Hubbard cabinet, part of the Mission collection, made of select hardwoods and veneers with a Heritage Oak finish; antique brass detailing on front glass, locking side doors, eight shelves with plate grooves, and touch lighting; $1,560.
Livingston Furniture TC 1-1402
Introductions include a traditional hand-tufted high back sofa ($799) and a casual traditional apartment-scaled sofa ($699), both outfitted in Culp.

Also featured are a traditional stationary frame and a casual-transitional sofa group, both priced at $799.
The Sofa Club quick-ship program is available.
Magnolia Furniture TC 3-3005
Introducing traditional three-over-three group in jewel plaid at the retail price of $399.

New line-match transitional tapestry fabric cover updates existing style #4000, also a $399 value.

Style #2000 combines contour front rail, antique nailheads and soft chenille cover on semi-attached three-over-three.

Style #4600, a two-over-two frame redressed in Panama Tortilla, a woven velvet from Showtime Fabrics, is a $499 retail.

Oversized chaise lounge complements #700 scatterback sofa ($499). Outfitted in Showtime's Can't Complain, with rope trim and fringe, on bun feet, for $399.
Mayo TC 4-4030
The Texarkana, Texas, manufacturer adds a selection of press-back chairs, featuring recliner backs with matching free-standing ottomans, to its lineup. Also, new fabrics from the Showtime event, particularly Quaker's Cadalini chenille tapestry, will be featured.
Three leather frames will be shown.
Meadowbrook TC 1-1438, 1442
Eight introductions include a two-over-two transitional sofa frame with Southwest accents, featuring nailhead trim, bun feet and Quaker cover. Available in sofa ($599), loveseat, chair-and-half and ottoman.

Three-piece sectional chaise dressed in Culp chenille, $999 retail.

Three-over-three transitional sofa outlined in nailheads, covered in Milliken's Sensations (suede microfiber). Retail, $599.
ORLEANS FURNITURE TC 1-1428
Eight-piece Louis Philippe bedroom in cherry finish on solid wood and veneers; six-pieces $1,299.

Eight-piece Louis Philippe bedroom in harvest pine finish on pine solids and pine veneers; six-pieces $1,099.

Eight-piece country-style bedroom combining wrought iron looks with wood solids and veneers; six pieces, $1,499.

Five-piece country-style bedroom, storage-heavy collection in oak or cherry finish; four pieces, $1,199.

Two traditional entertainment armoires with 36-inch screen capacity in oak or cherry veneers; $499.

Two traditional-style curios with sliding doors in cherry- or oak-finish wood solids and veneers; $399.

The Liberty collection, three country-style curios in red, white or blue finish on wood solids and veneers; $349.
Debuting an import leather program that features a three-piece sectional at $1,599. The contemporary sectional, Monte Carlo, includes recliner and sleeper units.

Also introducing Sierra, a three-piece collection featuring a reclining sofa at $799.

Another three-piece collection, Nova, features a reclining sofa with a contemporary pub-back design at $699.
PERDUE WOODWORKS TC 3031,3121, 3123, 3127
Two six-piece 18th-century bedrooms with antique brass Hepplewhite pulls retailing from $449 to $499: 6000 series in cherry and 7000 series in oak finish.
POWELL CO.TC 4-4418
To Powell Kids, adding new pieces to the Ontario collections of youth furniture in burnished brown solid pine, $99 to $699.

To Powell Beds, adding the Andover and Burkina beds in elegant cast iron with multi-step hand-applied finishes; $139 to $299.

Highlighting the existing Kensington Cherry collection of media/computer cabinets and accents in English Country wood solids and veneers, $79 to $299.

In Powell Ltd., highlighting the existing Vintage Pine collection of items in wood veneers and solids, and wicker, $99 to $299.
Restonic Mattress Corp. TC 4-4414
Offering new dealer price incentives and market order specials on premium goods for current dealers.
Introductions span the gamut, from the Continental collection, a value-priced lineup, to the Futon collection, retailing from $199 to $399.

The Comfort Care line, featuring that group's Marvelous Middle construction, retails from $499 to $1,499.

At the high-end, the producer is debuting the Healthrest Latex line, featuring a 100% latex core. It retails from $999 to $1,299.
The Rose Hill Co. TC 2-2102
The zip-ship program gains updated frames, bringing to 15 the number of frames now available to customers within seven days of ordering.
Featured introductions include four sofa, loveseat, chair groups in contemporary ($399), shabby chic ($499) and traditional ($499) styles.
Smith Furniture MC-C1011 & D3012
New frames include a reverse camelback, shown in chenille with tapestries, traditional fabrics or other new ShowTime covers. Retails of $599 to $699.
Stein World TC 5-5117, MC D-3306
Expanded its space in the Tupelo building to be the same size as its showroom in the Mississippi building. Largest market showing ever. Introducing four new collections:
Royal Palm, 16-piece collection with South Seas appeal, bombé chests, armoires, credenzas, pedestals, dinette sets, screens and accent tables. Sinuous lines and tawny hues complemented by granite tops and wicker inlays displaying hand-painted palms. Retail prices range from $199 to $1,199.

Monaco, 12-piece collection with Old World charm, featuring convex shapes and elegant curves, bombé chests, credenzas and lamp tables;
unique hand-painted crackle finishes and solid granite tops. Retail prices $199 to $799.
Orleans, 12-piece collection with a French Country motif finished in a wash of cream and pale blue; the chests, credenzas, armoires, mirrors and accent tables are accented with curvaceous fronts, vintage-look pulls, bun feet, and scalloped trim; retail prices from $249 to $699.

Mediterranean, spotlights a heavily textured smoked-olive finish on four hand-painted chests with one featuring a black solid granite top; retail prices range from $599 to $799.
Timbercrest Furniture TC 4-4413
Introducing a bedroom armoire to its solid-pine bedroom groups; 10-step finish and a lifetime guarantee.
Offering quick-ship program on in-stock goods.
Pineapple lamp table, three pieces in traditional handpainted style, $199.

Golf series has five occasional pieces

including a sliding top bar with golf motif, $499.

Copper, seven-piece occasional with traditional style, ash construction and hand-painted copper finish, $499.

Fishing Pond bedroom group has three hand-painted pieces for $199.

Offering a 10% discount on new floor placements.
VAUGHAN-BASSETT TC 3-3234, 3230
The Carlisle 18th century bedroom in solid wood; bed, dresser/mirror and chest, $1,999.

Barnburners 6 and 7, lifestyle bedrooms can retail at $999 for bed, dresser/mirror, nightstand.
VIGNETTES
Showcasing Northern Lights, a unisex youth bedroom in blend of Shaker, Arts & Crafts and European styling. Richly grained Northern Oak finish, its solid construction details with antique-finish metal knobs accenting drawers. Dovetail drawer joint construction with center-mount drawer guides.
Mission collection, a 10-piece solid pine youth bedroom in light apple finish with more headroom on bunk and chests with side roller glides; bunk bed, $299; five-drawer chest, $225.

Roll-A-Way bed, with solid metal castered frame, assembled with mattress in one box; $99.

Bunk bed in black finish, $299.
New lower pricing on Mission collection. Extending product line with black bunk and rollaway bed.
Related Content By Author
Training RSAs starts with knowing the benefits, says Acceptance Now

More Videos
RSA Insights & Intelligence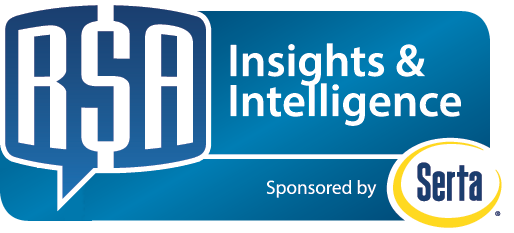 RSA Insights & Intelligence gives you, the retail sales associates, critical intelligence and insights. We make it easier for you to sell by providing actionable tips and key takeaways you can and should use for every sale. Check out our latest two articles:
* How to use an implied close
* The low cost of mattresses