New bedding product on tap for Las Vegas
All prices retail except where noted. Showrooms are in the World Market Center unless otherwise noted. In depth stories on Las Vegas bedding intros and business strategies will appear in Furniture/Today's July 29 issue.
AC PACIFIC
A-816
     Showing line of memory foam mattresses.
BLU SLEEP PRODUCTSC-1565
     Launching a Blu Goes Pink donation program in support of the American Breast Cancer Foundation. Company will donate a portion of the sales of every Wellness Airflow Pink pillow, body pillow and topper to support cancer screening, diagnostic testing and cancer treatment programs.
     The company is also introducing its new line of Blu Sleep Body Pillows. These pillows are designed to improve sleep quality by gently cradling and supporting the stomach during side sleep. When placed between the knees, the pillow relieves pressure on the spine, back and hips, the company said. Retails range from $199 to $249.
BOYD SPECIALTY SLEEP
B-901
     Introducing new bedding and sleep accessory programs under the Broyhill and Thomasville brands. The company licensed the trademarks in April from Furniture Brands International.
     Under the Broyhill name, Boyd will present a seven model Sensura Collection of gel and memory foam beds to retail from $399 to $1,499. The specialty line is designed to fill a void in the industry's gel/memory foam offerings with branded beds that offer patented features, quality components and standout aesthetics.
     Among other exclusives, the Broyhill Sensura line includes a patented edge support system, phase change fabrics for temperature neutrality and looks that blend a variety of stretch knits, textures and colors. Boyd also will roll out a new Broyhill pillow program that uses combinations of memory foam, gel memory foam and solid gel layers from $59 to $99 in standard size, plus a Broyhill 2-, 3- and 4-inch topper program that employs tri-zoned and perforated gel memory foam layers.
     Under the high-end Thomasville brand, Boyd will present two new latex programs: the Thomasville Natural Flex Ultra and Natural Flex Supreme collections. Both lines feature several patented designs and components, as well as unusual knit fabrics and treatments, the company said. Retails range from $999 to $3,999.
     New Thomasville Natural Flex-branded sleep accessories include a pure Talalay latex pillow and two latex toppers at $399 and $699.
     Also on tap is a new seven-model Thomasville Synchrony air bed line that uses both two- and six-chamber air cores, plus combinations of high density poly, memory and gel memory foam layers. Synchrony models ($1,399 to $3,999) come with both auto-fill and memory features that are activated with a hand-held control.
     Finally, Boyd is showing a new 10-inch Responda-Flex memory foam model at a $399 value price point; a contemporary, all-steel black and brushed nickel platform bed ($299); plus two new inflatable occasional beds with inset pumps, each at $199.
CAROLINA MATTRESS GUILD
B-946
     Cool Flex line includes three beds, Plush, Luxury Plush and Ultra Plush, with new feels, a new aesthetic and a supporting marketing and POP campaign focused on the contemporary look of the line. Company touts the line as "the next generation of natural latex mattresses." It uses a number of cooling features, including Airvent fabric technology and Cool Breeze gel.
CHILI TECHNOLOGY
C-1565
     Introducing its new passive technology, ChiliGel. Its formulation of gel maximizes the heat load absorption and dispersion to optimize the cooling effect. It comes in a pillow pad version, retailing at $19.99, and a body pad version, retailing for $49.99.
     Showing ChiliBed, a 14-inch mattress in plush, medium and firm versions with prices that range from $2,199 in twin to $3,499 for a California king.
CLASSIC BRANDS
B-970
     Showing memory foam mattresses, latex mattresses, gel foam mattresses, gel toppers, gel pillows, latex toppers, latex pillows, memory foam toppers, memory foam pillows, an Instant Foundation and a sofa bed mattress.
COMFORT REVOLUTION
B-808
     Hydraluxe Cool Case is a pillowcase with built-in cooling gel technology to add soothing comfort to any pillow, company says. The gel lining zips in and out for easy cleaning of the outer cover.
DORMEO OCTASPRING
B-922
     Launching an online sales training and incentive program called Octaspring University. The program was created to help retailers take more responsibility for the education and training of sales associates. It includes a series of short videos designed to educate RSAs on key Dormeo messsages and brand and product benefits.
EMERALD HOME FURNISHINGS
B-1350
     Complementing the launch of Cool Jewel line with Dawn mattress, the new flagship of the line. It features Airflow foam, Cooling Gel memory foam and Cooling Mesh, and also has a Re-Act Surface, a high-tech top layer that offers the resilience and support of latex feels.
    Introducing two new motion bases as additions to the Cool Jewel line. The Wave is a wired-remote base offering a range of motions, a heavy-duty steel frame and synch feature, which enables simultaneous head and foot motion. The Light wave has a wireless remote and has a black mesh design. Additional features include an LED nightlight, a wall glide design, a heavy duty steel frame, dual massage, zero gravity position and a lounge feature.
ENGLANDER
C-1596
     New Posture Support Plus collection for athletically built or plus-size sleepers will be offered in three models and two comfort choices, from $1,599 to $1,999. Available in both pillow top and tight-top styles, the foamen cased beds use Englander's patent-pending Dual Coil construction, a three zone, fabric-encased coil unit that is fastened to a second heavy-gauge coil unit underneath. The upholstery layers, which include combinations of extra-firm, high resilience poly foams, natural latex and gel memory foam, are firmly attached to the Dual Coil unit at the bottom to minimize material shifting and body impressions.
     Also new is the Energy Health Solutions collection, a four-model innerspring line expected to retail from $299 to $599. The beds feature multiple poly foam layers and densities.
ENSO SLEEP SYSTEMS
A-801
    Introducing National Breast Cancer Awareness mattress.
E.S. KLUFT & CO.
C-1501
     Building on the success of its Aireloom Aspire line with the introduction of an expanded collection with four models. The entry level collection features three additional mattress constructions, with retails ranging from $2,000 to $3,000. A companion foam line matches the $2,000 price point of the original Aireloom Aspire. A step-up model offers a hybrid foam and innerspring mattress option using "airegelle" and temperature regulating technology. And a step-up to the $3,000 price point offers the benefits of temperature regulation with the added benefit of a hybrid latex and foam construction, the company said.
     The producer is also updating two of its Aireloom collection, creating two all-foam lines designed to appeal to consumers who are looking for the same looks in specialty bedding that they are accustomed to seeing in innerspring lines. The Synchronized Support Collection retails from $5,000 to $20,000, while the Adapt-and-React Collection starts at $1,799.
FOREVER FOUNDATIONS
C-1565
     Featuring its new lifestyle storage line, which includes the Store More Metro model, touting a "Live Easier" message, and the Store More Max, which has a "For the way you live today" marketing theme. Retails will range from $399 to $529. Both foundations offer storage space for apartment or condo dwellers, with maximum surface support for high performance mattresses.
     The company is also reintroducing its hospitality and resort line with a showing of the Store More Hotel line.
GLIDEAWAY SLEEP PRODUCTS
C-1537
     Debuting its T9 Millennial bed frame, with an extendable rail that adjusts to fit queen, king and California king mattresses. It features heavy-duty steel, cross rails and center support, with extra-wide glides to distribute weight. It uses the company's Easy Lock System, which allows for simple set up, the company said. Retails range from $139 to $169.
     Introducing the Revive Performance Series from Sleep harmony. Models include the Vitality, Invigorate and Energy+, which feature U.S.-made memory foam and Silpure and Feran Ice-treated ticking to provide a cooler and healthier night of sleep, the company said. The polyurethane foams are CertiPUR-US certified. Retails are in the $999 to $1,799 range.
Also adding four models to its Intuition Collection from Sleep harmony, all made with CertiPUR-US-certified memory foam and available in various comfort feels. Retails range from $699 to $1,499.
KING KOIL (COMFORT SOLUTIONS)
A-546
     Introducing all-new iMattress2 line featuring both all-foam and encased coil hybrid designs. The all-foam series, retailing from $1,399 to $2,999, has a new anatomically correct Perfect Response comfort core that's pre-cut and shaped to deliver superior levels of pressure relief, body conformance and support. The hybrid models, retailing from $799 to $1,599, utilize an encased eight-inch coil core in combination with a seven-zone perforated foam layer to deliver many of the same benefits and sleep characteristics of the Perfect Response core. The new iMattress2 beds all feature Excellent Edge foam encasement and combinations of King Koil's iFusion gel memory foam, latex or other premium specialty foams, the company said.
     Designed to appeal to today's fitness-conscious consumers, the Perfect Contour specialty line has been expanded to include three new latex-centric models that feature vertical and horizontal air circulation chambers in their latex layers. The high-density foam-core beds also use layers of King Koil's iFusion foam, Perma Soft high density foam, super soft foam, plus other specialty foams. Perfect Contour's new latex models, retailing from $1,699 to $2,399, are foam-encased and bring additional feels and new sportswear-inspired looks to the line. The complete eight-model collection - set to retail starting at $799 - remains focused on attracting athletic-minded shoppers who want a healthy but affordable night's sleep.
     Also targeted for market is a redesigned Laura Ashley collection that features three promotional beds, encased coil models at the middle price points, and the company's new Perfect Response core in the higher end models. At $599 to $2,499, the new Beautiful and Smart Laura Ashley line offers varying layers of gel foam, memory foam and other specialty foams, and sports the brand's plum, blue-green and lavender color ways in new fabrics, stitch patterns and cover treatments.
     King Koil also will present a new version of its Sleep ID diagnostic mattress selection program that uses an advanced photo scanning and imaging function created collaboratively with the International Chiropractic Assn. over the past two years. The new technology relies on photo-captures of a consumer's standing posture - particularly the shoulders to mid-thigh section - to determine weight distribution and to recommend the right mattress for ideal conformability and body alignment.
     The producer is announcing a new "by appointment" program for its Dr. Breus Bed line. The collection will be shown to retailers exclusively at King Koil's Willow brook, Ill., headquarters or at regional showcase events. The specialized nature of the Dr. Breus program and its unique House Call follow-up service and advanced Sleep Match diagnostic option, is better served and best presented in smaller settings that promote discussion and improve demonstration, the company said.
KINGSDOWN
B-1300
     Relaunching an expanded Passions Collection with 18 models, offering a variety of constructions, comfort feels and price points, which range from $699 to $1,699. New models feature gel-engineered components such as gel-infused fibers and foams. The line also features a unique coil system for increased contouring support, the company said.
     Also showing a new enhanced Sleep Smart sleep system that uses technology to "read" a sleeper's body and create an individualized sleep system. The comfort feel has been adjusted to provide softer feels, and a new line of adjustable bed bases integrates Wi-Fi and Bluetooth technologies. And the price points, which now start at $6,999, have been reduced.
     Kings down is introducing a new website at www.sleepsmartbeds.com to support the new Sleep Smart line. The website will educate consumers and retailers on the sleep science, research and technology behind the new line.
LEGGETT & PLATT
B-1326
     Consumer Products Group is introducing new Clean Shield mattress protectors with Crypton Super Fabric. The easy-to-clean, plastic-free product protects mattresses against spills, stains, dust mites, allergens and liquids without sacrificing breath ability, the company said.
     The Clean Shield mattress protectors use a fabric that contains no laminated vinyl backing, which means the fabric is soft, quiet and highly breathable, allowing for a "super soft" mattress protector that is impenetrable by moisture, the company said.
     Retail price in queen is expected to be $149. Clean Shield is available in twin, twin XL, full, queen, king and California king sizes.
MAGNIFLEX
C-1532
     Unveiling a redesigned branding initiative, the Magniflex Gallery program, featuring Italian inspired POP for five- and seven-bed programs. The Magniflex Gallery program provides retailers with a customizable collection of Magniflex pillows and mattresses flanked by display banners and completed with foot-protectors, carpets, consumer catalogs and other point-of-purchase materials. The banners display Magniflex's signature art that portrays scenes from Tuscany, Italy, along with the tagline "Sleep is Life's Greatest Pleasure." A modular design enables retailers to customize the look at any time.
MALOUF FINE LINENS
C-1540
     Showcasing five lines to help consumers complement their mattress purchase.
     Sleep Tite is line of mattress protectors and includes Quilt Tite down-alternative, waterproof mattress pad, Encase six-sided total encasement product, and related products.
     Structures is a mattress foundation made from reinforced, heavy duty steel and featuring the company's Tri- Support Brace, a leg support system. Headboard brackets, adjustable bed frames and footboard extensions are also in the line.
     Malouf Fine Linens offers sheets in a variety of styles and prices, including a $250 Italian Collection launched at this market.
     Z pillow collection offers an array of specialty pillows, including gel-infused memory foam, Talalay latex and down alternatives.
     Isolus is a new line of mattress toppers, offered in four technologies.
MANTUA MFG.
A-504
     Introducing Rize Revolution Adjustable Bed with adjustable lumbar back support, a Bluetooth speaker sound system, and a head tilt auto flex feature that contours to the natural curvature of the spine. The base offers USB electrical outlets.
NATUREPEDIC
C-1565
     Featuring the company's newly improved Symphony luxury encased-coil certified organic mattresses with a reversible two-sided pillow-top.
     The two-sided reversible pillow-top features two comfort feels. One side is ultra plush while the other is slightly firmer. The deeper pillow-top is constructed with two two inch pieces of latex with various densities for a total of four inches of latex, up from 3.5 inches in the earlier line. Certified organic stretch knit fabric covers designed to enhance the contouring feel and performance of latex will replace woven fabrics throughout the Symphony bed.
OMI
C-1507
     Company has received Global Organic Latex Standard certification, guaranteeing that all of its latex mattress cores are certified organic from the factory to the mattress manufacturer. This certification verifies that the latex in every aspect of OMI's bedding products is completely organic, the company said.
PATIENTECH
C-1565
     Introducing the Prevail Responsive Sleep Technology Smart Bed, which allows the user to customize his or her sleep experience. The pressure-sensing surface scans a pressure map of the sleeper's body and then instructs the bed to adjust to the sleeper's pressure and comfort needs throughout the night. The mattress has adjustable zones, each of which can be independently controlled. The number of air chambers and zones varies by model.
PURE LATEXBLISS
B-945
     Introducing what it says is its most luxurious mattress line to date, the Prestige Collection. The all-latex series recreates the plushest of feels of beds made from horse hair, cotton and wool. With quilted Talalay latex in the top panel and graphite-infused latex inside, the mattresses are extremely plush, long lasting, and naturally temperature regulating because of the mineral's properties, the company says.
     There are four models - two with 11-inch profiles and two with 13-inch profiles.
     Each bed features a quilted top with a three-quarter inch layer of Talalay latex, and an embroidered badge of the brand on the border. The 11-inch beds, Etoile- Lux and Etoile Pelushe, retail for $4,999 in queen. The 13-inch models, Saint Honore-Lux and Saint Honore- Pelushe Supplementaire, are priced at $5,999.
REVERIE
B-925
     Adjustable base manufacturer is expanding its U.S. assembly operations with the introduction of a new semi sectional design option for both its 7S and 5D models. The move strengthens the company's commitment to providing customizable sleep options.
     Also introducing new features to two of its most popular accessories, giving consumers additional options with their adjustable bed systems.
     The producer is also introducing a "sleep quality mattress protector" designed to give consumers the ability to track and improve their sleep. It has sensor-based technology to capture sleep data. When coupled with an adjustable base, consumers can use the information to change their sleep positions to optimize their sleep.
     Reverie is also showing its first UPS-able foundation, designed for its entry level adjustable bed base, the 3E.
SEAHAWK DESIGNS
B-970
     Introducing Sto-A-Way Plus model featuring a Leggett & Platt adjustable power base, designed specifically for the company's products. The model features four 22- inch-deep full extension drawers. The new Plus model features style upgrades, including a refined weave fabric with a variegated color.
SEALY
B-800
     Extending its Optimum brand, launched last year in a gel memory foam line, into a new line of latex offerings that continue to deliver the cooling power of OptiCool with a unique, more responsive feel. The new Optimum gel latex line fuses the comfort of gel latex foam with the cooling power of Outlast technology. This four-bed collection rounds out Sealy's Optimum offering, giving consumers the option to choose a mattress that provides the feeling and support that best fits their lifestyle. It will be supported by a full program that includes a unique in store environment and advertising assets, the company said.
     The Sealy Posturepedic Hybrid will continue to be a feature in the Sealy showroom. The Sealy Posturepedic Hycontinued, brid is a half foam/half spring offering that also features OptiCool gel memory foam fused with Outlast. The line will be supported by a national TV campaign, in-store environment, and promotional programs through 2013.
SEI
A-925
     Specialty bedding products in the my Cloud line are designed for the online shopper who wants to buy an adjustable bed, memory foam mattress and pillows, all under one umbrella brand, and have them all delivered together in days, the company said.
SERTA
A-701
     Showing its complete iComfort collection, including the new iComfort Directions dual-action gel memory foam mattresses and the complete line of iComfort accessories. Other Serta mattress models, including select Perfect Sleeper and iSeries mattresses, will also be available in the showroom.
     Serta will also unveil its America's Mattress Gallery program, which is an extension of the current America's Mattress Sleep Shop network. This concept was designed to help retailers that sell a variety of home products create a sleep shop within their store through a turnkey program provided by Serta. The America's Mattress Gallery is meant to benefit full line furniture stores as well as appliance and electronics centers.
     However, it is designed to assist any type of home related products retailer to get into the mattress business with minimal investment, know how or selling space. The merchandising assortment includes some of Serta's bestselling products - iComfort, iComfort Directions, iSeries, and Perfect Sleeper - ranging in retail price from $399 to $2,999. Galleries range in size from as small as 1,200 square feet and 18 models up to 2,000 square feet and larger depending on available retailer space.
SIMMONS
A-525
     Introducing the Simmons CURV, a three-model, Simmons- branded memory foam line designed for Millennials. Priced under $999, it delivers the comfort of memory foam at an affordable price. Each mattress features memory foam shaped in an exclusive curved pattern to support and conform to the curves of the body while facilitating airflow for a comfortable, restful night's sleep. For additional support, Simmons added gel to its CURV memory foam in select models, the company said.
     Models include The Latest Thing, All The Rage and Vogue. The line carries a 10-year limited warranty.
SPRING AIR INTERNATIONAL
B-1126
     Launching Sleep Sense hybrid collection of five Ultimate Back Supporter models featuring encased coil cores executed in the company's patented multi-level design. Live pressure-mapping tests will be conducted in the showroom to demonstrate the significant difference in pressure relief and body contouring delivered by the new hybrid line versus traditional innerspring constructions, the company said.
     Carrying 20-year full warranties, the new Sleep Sense beds use combinations of latex, gel memory foam and poly foam in the recessed zones of their coil cores. Each model also incorporates a gel memory foam layer near the surface for cooler sleep. The all foam-encased collection includes smooth tops, Euro tops and luxury tops expected to range at retail from $799 to $1,799. A choice of comfort is offered at the $999 level.
     Spring Air also will introduce a major "in-and-out" promotion - the Spring Air Mega Sale - piloted earlier this year and now in full swing on both coasts. The Mega Sale program encompasses three flagship Back Supporter models plus a Spring Air-branded entry level bed, all in a variety of comfort levels and styles from $399 to $799.
     The new Mega Sale beds are getting permanent placement at participating dealers, officials said. The program includes a range of retail support materials from pillows and foot protectors to posters and outdoor standees, all promoting the Mega Sale theme.
SYMBOL MATTRESS
C-1529
     Comfort 4U is a three-bed series that features a personalized comfort system. The beds include the Comfort 4U Memory Foam, Comfort 4U Gel Memory Foam and Comfort 4U Latex models. The sleeper controls the plushness and firmness of each zone with an individual remote and can adjust the level of comfort without disturbing their partner. The two top beds have six adjustable chambers that offer 65 settings for the head/foot chamber and 65 settings for the lumbar chamber for a total of 4,225 settings per side.
TECHNOGEL
C-1584
     Highlighting its line of mattresses that it says feature the industry's first full layer of pure gel, weighing as much as 88 pounds. Each of the mattresses features a full layer of gel fused to one of three core options - foam, latex or inner springs. The Estasi+ features a one-inch thick, 88-pound gel layer, in king. The Armonia, made for those seeking a firm feel with even pressure distribution, features a half-inch, 48-pound layer of gel above a Talalay latex core. The Sollievo, designed for those who prefer a mattress with more responsiveness, has a half inch, 48-pound layer of gel combined with a body of 16-gauge Swedish encased coils. The Estasi+ retails from $2,899 to $4,899, the Armonia from $2,599 to $4,399 and the Sollievo from $2,199 to $3,799.
     Adding Petite pillow to its line of sleep accessories. The lower-profile product has been one of Technogel's popular sellers in Asia for the past few years and its introduction here fills a gap for Americans. The Petite pillow is designed to support proper spinal alignment, especially for small individuals or those seeking comfort while lying on their stomachs. At 3.5 inches in height, the new pillow is Technogel's thinnest and one of the lowest-profile options available on the market. It is available in a standard pillow size and features a Technogel gel layer molded to a memory foam base, the company said.
THERAPEDIC INTERNATIONAL
B-822, B-846
     Introducing its first gel-latex mattress collection, Buoyancy. The ergonomically designed models feature Therapedic's hourglass design made from a gel layer and fused atop natural latex. The four models have varying amounts of latex, and include 10-inch, 12-inch, 13- inch and 14-inch profiles. Retails range from $1,499 to $2,999.
     Also showing new features in its Agility Collection of hybrid designs. The producer has added additional layers of mini-micro-coils and gel for enhanced natural cooling comfort. The top model, the Crossover, now features more than 8,000 coils and provides a resilient sleep surface that contours to the body, the company says. The Tango model now includes an additional two-inch layer of gel-infused memory foam. Retails in the line range from $1,299 to $2,999.
     Adding second showroom, B-846, to showcase additional lines, primarily from brand licensees who will be showcasing regional offerings and working more closely with their customers.
VI-SPRING
A-219
     Introducing the Emerald, an electronically controlled adjustable bed frame with an encased coil base. A twin motor is housed in the divan base, which can be matched with a variety of Vi-Spring headboards. The Emerald system can be adjusted to any position while maintaining the correct tension in the mattress, offering the optimum level of support and comfort, the company says.
VIVON LIFE
C-1538
     Introducing a new collection of mattress featuring memory foam and hybrid springs.
     Retails range from $799 to $1,499.
     Redesigning website at vivon.com. Newly designed e-commerce site will launch at the end of July with resources to support brick and mortar retailers with an online presence, or pure-play e-commerce companies.
WORLDBED STUDIO
C-1585
     Introducing patent-pending Comfort Top mattress design as the prime driver for consumer involvement in a charitable giving program. Each Comfort Top mattress sold results in the gift of a comfort product to someone in need as part of the company's movement marketing program, the Shared Comfort Experience.
     Support materials in the sleep sets include traditional memory foam, gel-infused memory foam, phase-change memory foam and latex, with retails ranging from $1,799 to $3,399.
WRIGHT GLOBAL GRAPHIC SOLUTIONS
B-1062
      Bringing its new RetaiLive technology to this market for the first time. Using image recognition technology, the RetaiLive app lets the consumer download a company's chosen interactive content such as a video directly to their smart phone by holding the device over key images on the point-of-purchase materials. It is available for download on Android and Apple devices through Google Play and the iTunes App Store.
XSENSOR
C-1565
     Launching its REVEAL Compare Retail Mattress System, which compares body pressures on multiple mattresses. The product has been designed as an education tool that works alongside sales associates, helping them to direct their customers to a comfortable new mattress, fitted to their unique body pressures, the company said.
     The system uses a pressure imaging system to display a high resolution body pressure image to assist with mattress recommendations. The technology is built for maximum flexibility and durability for all retail mattress environments. The system has a simple process that easily guides salespeople through the experience, the company said.
     Also introducing easy to set up, fully customizable kiosk.
ZZZEST
C-1552
     Start-up mattress and pillow company features executives with years of experience in the cushioning business. It is introducing Breathe, which it says is a maximum cooling gel technology that will top all ZZZest products. Breathe is a gel product that is fully breathable, the company says, and offers an obvious cooling effect.
     First mattress line is the Tribrid Series of three mattresses, each with a base of a five-zoned encased coil, topped with foam, memory foam or latex foam, depending on the model. Breathe gel will be on the top layer, surrounded by a flame barrier sock and a high-end zipper cover. Retails will range from $1,499 to $1,899.
     Four pillows retail from $69 to $99. They feature memory foam and latex foam and incorporate Breathe gel on the surface.
Related Content By Author
News from and about Las Vegas builds leading up to market

More Videos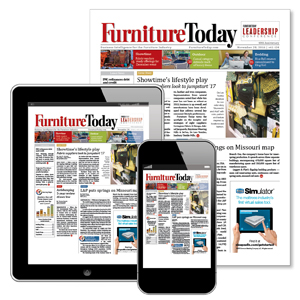 See the digital edition of Furniture/Today, which allows you to flip through the pages, click on any underlined area to visit a website or send an e-mail, search to find content in the magazine, or share pages with your friends. See the latest issue!