Bonded leather making inroads
This recliner, in what La-Z-Boy calls "recycled" leather, is among the first of the company's bonded product beginning to hit the market.
HIGH POINT — Disparaged by many when it hit the market about five years ago, bonded leather continues to gain wide acceptance as an alternative to genuine leather as upholstery manufacturers and retailers struggle to remain competitive during a prolonged industry slump.
The product, which consists of leather fragments and fibers glued, or bonded, onto a backing, is emerging as the key cover choice at the opening and even medium price points of many leather upholstery lines.
In fact, while firm numbers are difficult to come by, some sources maintain that bonded leather may now account for up to 50% of the leather segment.
Much of the shift, they add, is driven by higher prices for top-grain leather, but it's also due to recent significant improvements in the look and feel of bonded leather. Moreover, because the bonded product comes in rolls like fabric, it's easier for upholstery manufacturers to handle than irregularly shaped hides and results in less waste.
"It's certainly taking (retail floor) slots away from leather," said Don Hunter, senior vice president of major accounts at Catnapper, the motion upholstery unit of Jackson Furniture Inds. "We have some bonded leather sofas that are among our best performers."
Hunter said rising leather prices have made it next to impossible to hit key opening retail price points of $799 to $999 with top-grain leather or even leather/vinyl covers.

Promotional upholstery specialist Affordable Furniture switched from microfiber to a bonded leather cover for this stationary seating group and it quickly became a best-seller. The sofa hits the allimportant retail price point of $399.
As an alternative to both leather and fabric, bonded leather is selling "very well" at Nebraska Furniture Mart, according to upholstery buyer Cathy Urbanek.
"I'd say it's a huge number as far as my sales go," she said. "We've had it for about two years now and it keeps growing from month-to-month. I wish all my categories were like this one."
Urbanek said that manufacturers waited to see if there would be any issues with bonded leather and when there weren't, added it to their lines. "They've got the color real nice, and everyone we've tried it with is selling. No matter if it's Ashley or Broyhill, it's selling in every price range."
Not only is bonded leather an alternative to other covers, it "has become as popular as (micro) suede was a few years ago," said Bruce Sinning, vice president of upholstery at Klaussner.
"People are looking at it as a leather substitute, but also as an extension to suede because so many of the unusual processes they've been able to put on these fabrics make it look better than real leather," he said.
He said bonded product was less sophisticated when it first entered the marketplace but added, "I think every season, fabric suppliers are doing an incredible job of coming out with new finishes and special effects that make it look like leather - from full grain to antique to tipped leather."
Paula Hoyas, vice president of upholstery merchandising at La-Z-Boy, said the company thought the April market was a good time to introduce its program. The company has just started shipping its first products - a few motion groups and five recliners - with bonded leather covers.
"People are looking at it as a leather substitute, but also as an extension to suede because so many of the unusual processes they've been able to put on these fabrics make it look better than real leather."


Bruce Sinning, Klaussner
"Last season we finally became comfortable with the fact that leather pricing continues to rise, and it seemed like a good time," she said. "The look and the hand and the feel of these bonded/recycled leathers is just getting better and better."
Manufacturers appear straightforward in describing bonded leather to customers - a sea change from a few years ago when those who dared to try it were sometimes called "bonded liars" by competitors.
La-Z-Boy calls its bonded program Renew, and promotes it as being made from recycled leather with a green story.
"We tell people it's a composite material of recycled leather scraps with a polyurethane face. We're not ashamed of it," Hoyas said. "We play it up for what it is - a marriage of nature and technology."
La-Z-Boy has positioned Renew at the beginning of its good, better, best program for leather. And while it's too early to know how Renew is selling at retail, the response from dealers at the April market was "fabulous," according to Hoyas.
According to Klaussner's Sinning, consumers also are responding positively to bonded because of both look and price.

Bonded leather, used on the Monza sofa by Broyhill, is expected to represent 10% of the company's upholstery sales in the next 12 months.
"They're looking for value," he added. "They would love to have full grain leather, the thick hides. But they're also looking at expenses and trying to find substitutes at a lower price."
Sinning said that the escalation of leather prices is quickly forcing manufacturers out of the popular price points of $999 to $1,299.
"You can get a great bonded motion sofa for $799 and a really great one for $999 or $899, and consumers are making their choices. I think it's perfect timing for bonded leather in these tough economic times," he said.
Paul Peters, product portfolio director for Broyhill, agreed, but said bonded leather is far from being solely a price story.
"Expansion in this category is also due to wonderful innovations in bonded leather materials, which have significantly improved in the last 12 to 18 months," he said. "This has created an exciting new product opportunity."
Broyhill markets its bonded product as Performance Leather, and Peters said it is one of the company's "most dynamic short term growth opportunities." It could represent 10% of the company's total upholstery volume in 12 months, he added.
Flexsteel also was among those reluctant to get into the bonded business, but did so 18 months ago when the product improved and started to gain traction at retail.
"Bonded leather is becoming a bigger and bigger consideration in the marketplace, and we've become heavily invested in it," said Lee Fautsch, vice president of residential sales at Flexsteel.
"The product has really accelerated in terms of quality," he said. "It's a product line that used to be considered as just a low-end product, but it's becoming more sophisticated than before. There are cases where the non-leather hand is more inviting than the leather."
Those sentiments are music to the ears of Alan Naness, a 30-year leather industry veteran whose company, Design Resources Inc., introduced bonded leather to the furniture industry in 2007.
Naness said he was undeterred by the initial round of disparaging comments back then because he was confident the product, marketed under the name NextLeather, was right for the marketplace.
"Our industry, even in the best of times, is driven by price," Naness said. "Most people don't rely solely on high price points ... they need some promotional goods as well."
He said sales of NextLeather "have grown tremendously" since it was introduced, and he believes it would have been a success even if leather prices hadn't skyrocketed in recent months.
"Everyone likes our goods from the get-go," Naness said. "It has been on fire, even without all the pricing and supply issues with leather."
The main reasons for its success, he believes, are the quality, durability and feel of the product. And he said Design Resources is pouring more money into research and development in hopes of staying ahead of the many competitors who are trying elbow their way into the market.
Although he's hesitant to put a number on the market share bonded leather has gained the past two years, he believes both leather and fabric are losing out.
"We see (bonded leather) continually growing," he said, adding, "Some people think that bonded leather is approaching about half of the market."
Heath Corso, another leather upholstery veteran who is vice president of U.S. sales and marketing for Premier Furniture, said he wouldn't be surprised to see bonded leather all but eliminate leather/vinyl as the cover choice for sofas at promotional price points. Even those who insist on using some genuine leather at opening price points probably will wind up using leather splits - a much lower quality of leather - in combination with bonded leather, he said.
"And that further blurs the line between leather and bonded," he said.
But don't expect Premier, an importer of mid-priced and upper- end leather upholstery, to wrestle with that issue anytime soon.
"Our strong preference is to sell actual leather," said Corso.
Related Content By Author
RSA Insights & Intelligence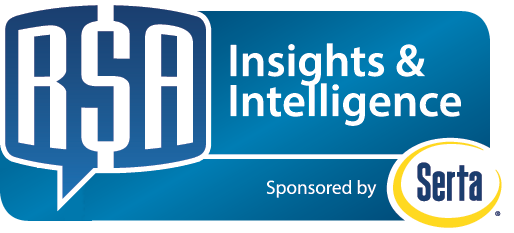 RSA Insights & Intelligence gives you, the retail sales associates, critical intelligence and insights. We make it easier for you to sell by providing actionable tips and key takeaways you can and should use for every sale. Check out our latest two articles:
* How to use an implied close
* The low cost of mattresses