Stationary upholstery
Retail Editor 5, October 16, 2013
AFFORDABLE FURNITURE MFG.
329 S. Main St.
     New introductions include an expansion of the power motion category starting at $699 retail (fabric) and $799 (leather). In stationary upholstery, significant introductions in sofa and loveseats include pieces with wood trim accent groups and matching tables, sectionals in menswear textures with dramatic accent pillows and sofa/chaise collections with correlating accent chairs. A new leather collection features complementary luggage stitching accents and a matching chaise rocker recliner.
ARIA DESIGNS
200 E. Greene St.
     The Diamante is a two-piece sectional with acrylic diamond-cut crystals. Hand-tufted fabric and feather-wrapped seating are paired with a sinuous profile, hardwood legs and silver nail accents.
BEST HOME FURNISHINGS239 S. Main St.
     New introductions include a contemporary, three way, high-leg recliner, a modern design wingback chair and an oversized glider rocker. The Emeline collection is a custom choice seating program that includes a sofa, loveseat and chair with a choice of 700 fabrics, a flared, beveled or track arm and a skirt or platform base finish.
BKIND3 by LAZAR
IHFC D-817
     Updated midcentury styles feature eco-friendly fabrics as well as new Ultrasuede colors. Carl Gustafson, founder of BKIND3, used social media and blogging with the Contemporary Design Group to come up with the Ultrasuede featured color - Sunset - which will debut on the Stuyvesant sofa and chair. Gustafson also designed a fabric with the David Rothschild Co. that is inspired by iconic images from the midcentury era. The Sputnik fabric can be landscaped across the in back and seat of the Arcadia sofa.
BRAXTON CULLER
310 S. Elm St.
     Additions to the Libby Langdon collection for Braxton Culler include the Norris cocktail ottoman and three chairs. The Hawthorne chair has a petite profile, roll arm and pleating detail. The Daniels chair has a scoop-cut front arm detail, higher back and contrast welt application. The Whitaker chair is a new take on a classic club chair and has a straightforward shape that complements geometric patterns and bold fabrics.
BROYHILL
IHFC C-600
     The Emily sectional is an addition to an upholstered furniture collection with traditional cottage style charm and cozy, compact size that works in smaller rooms. The collection includes a sofa, loveseat, chair and ottoman.
     New Vintage is an updated collection of unique items crafted with a palette of colors, antique-inspired hardware and metal framework. The collection is inspired by one-of-a-kind treasures usually found at auctions and estate sales.
CAPRIS FURNITURE
243 S. Main St., 3rd floor
     A new collection of Sunbrella washable slipcovers is available in three arm styles for chairs, loveseats and sleepers. More than 100 Sunbrella fabrics are stocked, and an extensive cut-yardage program is also available.
CARACOLE
IHFC C-500
     Contemporary frames are worked back to the case and accent items. A dramatic sectional shows off the application of rare fumed eucalyptus wood wrapped around the frame and incorporating metal accents. Traditional frames draw from the popular European provincial category. The latest traditional options include a highly sculpted stretcher featuring an extra slim silhouette in Tuxedo black, a signature finish, balanced with a warm neutral cover. A modern wing chair uses charcoal leather on the inside back and seat, contrasted with a deep-ribbed cotton on the outside back.
CARACOLE LIGHT
IHFC C-500
     The Live Love Laugh collection is a collaborative effort with Portuguese designer Ana Cordeiro. A Sunbrella-brand canvas fabric will be used for upholstery covers. A signature wing chair features an alternating white stripe with bold colors presented in an exaggerated scale. The bold primary and secondary accent colors include yellow, green, red, blue, pink and orange.
CARTER
525 N. Wrenn St.
     Introductions include a midcentury-influenced chair as well as a deep sectional with an armless unit.
CRAFTMASTER FURNITURE
2622 Uwharrie Rd.
     Craftmaster is introducing an extensive lineup for fall that includes 16 new sofa groups, three new sectionals and 19 accent pieces. The higher-priced Urban Elements and New Traditions collections have been expanded with new groups and dozens of eclectic fabrics.
     The Design Options "create your own sofa" collection also has new pieces available. Four slipcover styles are available in a new washable fabric that can be laundered at home.
     The Paula Deen Home collection has been expanded with several new frame styles and new fabric offerings.
     Encore Home Designs is bolstering its contemporary product assortment with the introduction of several new collections designed to appeal to younger consumers. Casual elements include feather-blend seating and extra-thick cushioning on classic, contemporary design pieces priced from $1,299 retail for sofas to $2,499 for sectionals.
CR LAINE
310 N. Hamilton St., Suite 201
     Art meets upholstery in the Copley swivel chair. Cararra Mineral marble-printed cotton on a to the- floor upholstered wing chair lends the illusion that the chair was carved from marble. The Whittier swivel chair features Mockingbird Flax fabric, a cotton/linen blend print from the United Kingdom adorned with birds on wisteria branches.
DAVID FRANCIS FURNITURE
IHFC Interhall IH-401
     David Francis Furniture returns to the High Point Market after a six-year hiatus with the C0760 Sydney chair and the C0750 Amsterdam chair, available in 35 finishes with COM or David Francis fabrics. The Amsterdam lounge chair showcases a tulip shape and is made with rattan poles that appear to be woven.
DIRECTIONAL
525 N. Wrenn St.
     Introductions include the Miami Nice collection by Bea Pila. Miami Nice showcases updated tropical design through the use of mixed materials and larger-scale furnishings. The collection features off white linen and hair-on-hide accented with leather, warm woods and cool metals. There are 13 upholstered pieces and a selection of occasional tables.
DORYA
200 Steele St., Suite144
     The Contemporain collection includes the Marlos Dining sofa with a tufted metallic leather and accent pillows. The Prima chair complements the collection with clean lines and accent stainless-steel trim. The Naxos ottoman in synthetic leather adds warmth to a stainless steel table with hidden casters and a fume glass top. The Carlos sofa debuts in neutral gray fabric complemented by silk on pillows and stainless steel trim. The transitional Hurrem sofa is updated with a vertical pleated back and blue gray leather detail on pillows with welt trim. The Pera chair is shown in gray and cream stripe accented by stainless-steel trim.
EJ LAUREN
310 S. Main St.
     EJ Lauren is kicking off the grand opening of the High Point showroom with the introduction of more than a dozen upholstery groups. The new products feature contemporary styling, clean lines, button tufting and camelbacks. Price points range from $599 to $3,999 retail. EJ Lauren offers custom ordered upholstery in two weeks and has a universal handle program that includes hundreds of fabrics at the same nominal up charge.
EMERALD HOME FURNISHINGS
CP 201, 105
     The Gramercy sectional has clean lines and contemporary style along with eight-way hand-tied springs and pocketed seat coils. The charcoal gray chenille is juxtaposed with chrome trim and tapered legs, track arms and button-tufted cushion tops. Pillows in solid apple green and lemon, gray and green foliage coordinate with the octagonal ottoman.
     The Felicity upholstered sectional collection has transitional styling, clean lines and details like nail head trim. There is also a two-piece chaise sectional, a versatile armless chair and a cocktail ottoman that ties with the patterned accent pillows.
     The Dahlia collection includes a sofa, loveseat, chair and ottoman in Melon orange with sleek lines and tapered wood legs. Reversible, contrasting accent pillows feature a multicolored helix and welts that match the base color.
     The Mariposa chaise is covered in dramatic black or caramel brown bonded leather with a stainless steel base for structural support and sculptural interest. Additional features include spring seating and button tufting.
     The Lydia chair has a welted base and arms, foam encased pocketed coil cushions and a hardwood frame. Upholstery options include mallard (blue), citrine (yellow) and lipstick (red).
ENGENDER FURNITURE
Radio Building 3rd floor
     Engender is expanding its lineup with additions to the James Gregory signature collection and to the slipcover category. All goods produced have a lifetime warranty, 200 special order fabrics and a down blend seat cushion. The company is hosting a showroom in the Made in America area and a space in the Antique and Design Center that features a collaborative collection with Lori Grey Designs.
FAIRMONT DESIGNS
IHFC C-867
     The Kylie sofa highlights contemporary styling with classic influences. Microfiber fabric is complemented with nail head accents, and a multi-pillow back design with numerous fabric options completes the package.
     The Phoebe sectional is covered in an easy care polyester blend fabric and has flair track arm styling with reversible back and seat cushions and colorful accent pillows. Soft foam cube ottomans are also available and can be coordinated with pillow fabrics.
     The Trinity sectional has tone-on-tone multi fabric applications with a loose pillow back and down-blend seat cushions. The arms and base are covered in shimmery ivory fabric and accent throw pillows are included. The matching round ottoman in a faux artic fox adds a must-touch element to the collection.
     The Sienna sectional has an armless design that is ideal for large and small spaces alike. Fabrics are crushed velvet and colorful back pillows and an embroidered paisley pillow add custom touches.
FLEXSTEEL INDUSTRIES
IHFC C-558
     The Spruce group includes a sofa, loveseat, chair and ottoman with three-over-three design. Large nail head trim and four decorative throw pillows with tapered block legs accent the streamlined silhouette.
FRENCH HERITAGE
1638 English Rd.
     The Salon Upholstery collection was created to complement the case goods products at French Heritage. Company officials state that luxury, comfort and style are the building blocks of Salon, while fabrics and color add flair and fashion.
HALO STYLES
212 N. Main St.
     Halo is introducing a modified wingback chair in soft gray upholstery complemented by pewter nail head trim and natural pine legs. In the Soho collection, a new chair with a sleek, modern steel frame is offered in top grain buffalo leather.
HARDEN FURNITURE
200 Steele St., Suite 133
     The Artisan and Next Generations collections have been expanded with new products and fabrics, offering silhouettes that complement the NuClassic case goods. Artisan intros include designs with clean lines and Ultimate Spring Down cushions. New fabrics feature colorful palettes, luxurious cut velvets, silks and beautiful patterns.
HGTV HOME
IHFC C-1200
     HGTV Home is adding 10 exclusive fabrics to the upholstery options. The new group includes two new base cloths with a casual, washed denim look and eight new accent fabrics in colorful graphic prints.
HINKLE CHAIR
SP 3435
     Sea foam, the color of the year for Sherwin-Williams, is a new color for Hinkle's fall market. The chair is 100% made in the U.S.
IMPERIAL INTERNATIONAL
Profit Center, lower level
     Sports fans will love Imperial's new director chairs in bar and table height. Teams from the NFL, MLB, NHL and colleges are represented. Chairs are made in the U.S. Imperial is also introducing a series of NHL licensed recliners and an expanded NCAA program that includes the First Team sofa, both also made in the U.S.
INNOVATION LIVING
220 Elm 300
     Debonair is a new introduction designed by Innovation's head of design Per Weiss and French designer Marc Lebas. The original design was first introduced to the European market at the Cologne show in January and features a sleek, contemporary design that converts from a sofa into a bed with a 7-inch innerspring mattress. A series of new designs will also be introduced along with Debonair, which is part of the special order program and will be added to the domestic warehoused collection in New Jersey and California in 2014.
ITALIAN HOMES
IHFC D-824
     NicolettiCalia combines unique design and soft cushions to create the Gary sectional, a contemporary piece of furniture with the comfort desired in the American market. Retail $3,999. NicolettiCalia has also expanded its quick ship program with five warehouses in the U.S. and Canada.
JANSEN FURNITURE
C&D 4K, 4L
     The Louis XV three-seat Pierre sofa takes on an unexpected twist with an asymmetric profile and rose-and-leaf carvings on the frame and cabriole legs. A matching chair is available.
JONATHAN CHARLES
200 N. Hamilton, 125
     A Greek key design highlights the Biedermeier upholstered bench introduction at Jonathan Charles. Available in walnut or black finish, the bench is inspired by designs of the early 19th century and complements upholstered chairs in the same style. The Versailles sofa, inspired by Louis XV, is a French Empire upholstered velvet sofa with a sweeping curved frame and legs accented with shallow carved floral details. Three seat cushions and two bolsters are included along with a choice of four fabric colors: truffle, lime, calico and fuchsia. Seven wood finishes - antique gilded and silver, mahogany, walnut, painted country gray, painted gray weathered and lined tulip wood are available.
KELVIN GIORMANI
1822 English Rd.
     The Model 0326 Triplo II comes with three different leather crafting efforts to accessorize the sofa base. There are also three different designs and materials of legs to choose from for further customization.
KIM SALMELA ATELIER
Salon at Market Suites, G-7018
     New introductions include the Coco sofa, a midcentury- inspired design with clean lines, tufting and a gold metal base. It is made in the U.S. and retail is $4,599.
The Joplin sofa showcases classic traditional style, a textural cream fabric on the body and ikat cotton stripe on the seat cushion. The sofa comes with two accent pillows in an ikat paisley print on linen. Made in the U.S.; retail is $4,210.
     The Lolita chair is a streamlined, classic rounded back chair with scoop arms, modern geometric upholstery and turned wood legs with walnut stain. Retail is $2,020.
LANE
IHFC C-601
     Lane's new lifestyle sofa introduction features four toss pillows in various sizes on three-over-three seating, overlapping bed pillow backs and an angled flair sock arm design. A lifestyle casual recliner has a tailored, tight fiber back, tapered leg and recessed track arms.
MAGNUSSEN HOME FURNISHINGS
IHFC C-1003
     Magnussen debuts in the upholstery category with 15 collections and 58 SKUs. Collections include: Caitlyn, Bryn, Winston, Cressley, Avana, Rachel, Dean, Alton, Keaton, Isabelle, Huntley, Grant, Kira, Kadin and Brielle.
     Caitlyn has a hand-tufted and tailored tight back and arms and reversible down/feather seat cushions. Bryn features simple lines accentuated by exposed wood, as does Winston. Cressley is large scale and has individually applied decorative nail border and an exposed wood base rail and back rail.
     Avana is described as futuristic contemporary, while Rachel is offered as traditional tailored in style and large scale in frame. Dean was inspired by a photograph of a young man on a motorcycle and includes a unique wood application that ties seating to flared arms modeled after handlebars. Alton is contemporary with geometric shapes and cutting edge lines, and Keaton is casual with a focus on texture and pattern application. Isabelle is large, with hand-tufting and flared arms for a classic silhouette.
     Huntley is also large in scale and offers a lifestyle fabric application along with extra-deep seat cushions. Grant has exposed wood rails and a small pleated roll arm to accompany deep seating.
     Kira has a clean silhouette and brushed metal base. Kadin is inspired by contemporary French style and has an exposed dark metal base, precision welt and full-face chenille base cloth. Brielle rounds out the upholstery collection introductions and has a neutral fabric base and hand-rubbed, deep black finish.
MARIA YEE
118 N. Main St.
     The Maxwell sofa brings a new silhouette to the company's fall market introductions. The modern, angular shape is complemented by steel legs and a hardwood frame that brings natural warmth to the aesthetic. The Madeline sofa has slanted legs that add a twist to the classic sofa design. A comfortable seat and supportive arms enhance the modern profile.
MARSHFIELD FURNITURE
Profit Center, 110 W. Commerce St.
     The Doris conversation sofa has a pewter gray body accented by ivory welting on a concave curved front to rear frame. Rectangular back pillows and accent pillows create a modern lattice pattern. The Tanner collection features leather, fabric and hand applied antique brass nails in a luxurious western style ambiance for one part of the group, while a fresh linen-look tan body fabric with cream welt accents adds an updated twist on country in the transitional segment of the collection. The Brandon is the widest and deepest style for Marshfield to date and features two-over-two cushions, loose back styling and five assorted back pillows.
MASSOUD FURNITURE
310 N. Hamilton, Suite 104
     Creative Director Ronna Griest has paired new sofas, settees, chairs and ottomans with an array of fabrics. New colors, textures and styles will be highlighted for the fall market.
NCA DESIGN
C&D 6A & 6B
     The Studio collection includes an 84-inch three seat sofa that retails for $995. A 69-inch two-seat sofa retails for $895.
NORWALK FURNITURE
IHFC D-1015
    Introductions include the Blanche sofa and sectional, three sofas, five chairs, the Miami Urban Studio sectional, two ottomans and three upholstered headboards.
     The Blanche sofa and sectional has crisp, tailored lines and generous square arms and is classically inspired. The Devan sofa has a triple-camel tight back, curved deep scoop arms and turned fluted legs.
     The Lola sofa features exaggerated flared arms and a deep, button-tufted back. Buyers can choose from all-over tufting on the back, seat and arms, a tight seat cushion with a tufted back and detailed front rail or a loose box-welted bench cushion with a tufted back.
     The Hunter sofa is a contemporary design with a soft, button-tufted seat and back with classic track arms. The dramatic conical legs add the illusion of "float" to the silhouette. There are also 12 sectional pieces in the Hunter group.
     Chairs feature a variety of styles including midcentury modern, classic and contemporary. The Marc recliner has clean, spare lines and a motorized Ultra-Mek power mechanism.
     The Miami Urban Studio sectional has "virtually no straight lines" according to company representatives, and can be configured to create a crescent with two sections, a half-circle with three or a sinuous S-shape.
     Upholstered headboards include a grand scale, deeply tufted version in Darcy, as well as a Chippendale bonnet top model in the Philip. The Shannon headboard is part of the Urban Studio collection and has a graceful, arched headboard with a classic camel back shape.
OVERMAN INTERNATIONAL
220 Elm, Space 302
     A new collection of classic, retro-modern swivel chairs highlights modern, colorful fabrics and unique molded frame technology.
PARKER SOUTHERN
200 N. Hamilton, Suite 203
     Parker Southern has expanded the Design Your Own "Dream Creations" upholstered bed line with new pieces and options. The company is also adding a hospitality and contract line for the fall market.
SABA ITALIA
220 Elm 328
     The Mantilla sofa features a sleek linen body cloth look and back tufting over a rustic wood base. The combination works equally well with contemporary, transitional and new traditional settings.
SALMAGUNDI
SMS, M-7008
     The Italian slipper chair features bright fabric juxtaposed against a brushed metallic frame. The Petite settee showcases a similar dynamic fabric selection accented by warm wood legs on casters. Both pieces are designed by Jill Towery and are whimsical accents for any room.
SELVA
200 Steele, Space 132
     The Peggy chair, designed by Peggy Norris, is a new introduction described as a contemporary classic. Available in leather and single-color fabrics, the chair features a cherry veneer frame paired with high-quality upholstery.
SUNPAN
IHFC Interhall IH-509, 510, 511
     The Biblioteca chair pays homage to old English comfort and class. A high wingback chair with shallow button tufts and silver nail details, Biblioteca is stocked in cognac, gray, oxblood and black with espresso finished legs. The button-tufted Regatta ottoman can be used as extra seating or a coffee table and is stocked in cognac, black and ivory bonded leather.
TEMPLE FURNITURE
200 N. Hamilton St.
     Customization continues to be the name of the game at Temple. The company has extended the Design Your Own "Tailor Made" line with new pieces and options for fall market.
TOMLINSON/ERWIN LAMBETH
525 N. Wrenn St.
     The Salon Collection by Bea Pila is a key introduction for Erwin Lambeth for fall. The collection includes intimate and unconventional upholstery and occasional tables for gathering, conversing and connecting.
VIG FURNITURE
IHFC H-743
     The Elite Modern Africa leather sectional sofa features soft brown suede-like leather, stainless steel legs and cylinder pillows on the back top of the sofa for a modern design. Retail $4,760.
WILLEM SMITH
C&D 41
     The Capital chair has a five-star swivel-tilt base, contract grade leathers and an optional perforated seating surface. The chair's modest scale and transitional form make it an ideal accent piece crafted in North Carolina and the perfect companion to the Alvaro Pro stool with lumbar and thigh support and optional memory swivel.
Z-LINE
220 Elm 206
     Z-Line is introducing 12 new sofa and sectional collections in leather along with eight accent chairs in coordinating fabrics and leathers. Styles include Classic Contemporary, Modern Living, American Casual and Vintage Lux. Hand-wiped metallic leather options include eggplant, berry, mahogany, bronze, aubergine and gunmetal along with fabric and faux fur pillows.
Related Content By Author
Centers of High Point marks 20-year milestone, better than ever

More Videos
RSA Insights & Intelligence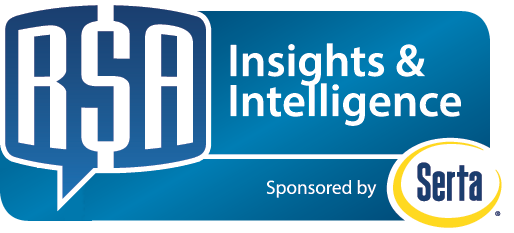 RSA Insights & Intelligence gives you, the retail sales associates, critical intelligence and insights. We make it easier for you to sell by providing actionable tips and key takeaways you can and should use for every sale. Check out our latest two articles:
* How to use an implied close
* The low cost of mattresses