Domestic manufacturers find ways to survive
Heath E. Combs, Courtney Mueller, March 7, 2013
After exiting bedroom more than a decade ago, domestic manufacturer Eagle Inds. reentered the category and now offers custom finish options. This Church Street drawer chest features full extension ball bearing drawer glides and decorative moldings.
NORTH WILKESBORO, N.C. - When his production manger retired in 2009, Joe Johnston went back to his old job at Johnston Casuals - running the factory.
     For the past three years Johnston, president and owner of the metal furnishings specialist, has been in at 7 a.m. to handle his new role in addition to his other duties.
     Wearing more hats is just one way domestic manufacturers of occasional and accent furniture have adjusted to compete in a tough environment for sales, and face the pressure of imports. Many also work to keep a competitive edge by offering quick shipping and custom capabilities.
     The recession, and the onslaught of imports, drove down prices in the furniture industry and forced domestic manufacturers like Johnston Casuals to become more efficient.
     Factories are also focusing on having a niche and executing it well. Offering product that is made in America will only go so far in convincing consumers to buy your product, Johnston said. His company has strengths in powder coating, welded steel construction and quick delivery, but what it is best known for are designs that aspire to works of art, he said.
     "You've got to find something that you're good at in a niche category that is suitable for you and pursue that," Johnston said. "Being domestic is naturally is a very big plus. But I don't know what it is in the pecking order."
     (According to a 2011 Furniture/Today and HGTV's survey, "made in America" was 14th on the list of most important furniture features consumers wanted, with style and design ranking first. In the master bedroom category, 62% of consumers said "made in America" was important or very important, according to a separate 2012 survey.)
     Eagle Inds., a home entertainment, kitchen and bedroom maker in Bowling Green, Ky., is a domestic survivor. It filed for bankruptcy about 30 months ago and emerged as a leaner company.
     The company has innovated its business approach in the past few years. James Bond, vice president of sales, said Eagle's biggest strength is its made in America story, but it also helps to have three-week shipping and custom capabilities like 16 finish options.
     Ten years ago Bond was a transportation manager, later adding management duties in customer service, production scheduling and sales.
     "Probably in the last 10 years probably we've eliminated $350,000 worth of salaries that I've just taken over. And I'm not the only one here. I mean, there's a lot of people here that wear a lot of hats," Bond said.
     Since the recession, domestic manufacturers have gotten leaner and in many cases found new sales outlets. Eagle began selling to the growing online sales channel three years ago. While that has required adjustment to pricing structure and packaging for drop shipping, three of its top 20 dealers are now online companies.
     "I'm just constantly looking for things that Eagle can do," Bond said.
     Specialty Woodworking, based in Byrdstown, Tenn., has lived like a cat in the furniture industry - working through its nine lives carefully. The onslaught of imports was just the latest challenge for a company prone to reinvention.
     Its owner began more than three decades ago in a 2,000-square-foot shop making rustic "sloppy joe" living room sets out of pine before he began selling waterbed frames nationally, according to Pedro Cross, a sales representative.
     But almost overnight the waterbed business tanked and Specialty Woodworking turned to promotional bedrooms, focusing on making the cheapest solid oak set.
     "And that worked really good until imports came along and he just couldn't compete with them," Cross said. Business peaked in 2001, when the plant employed about 125 workers.
     By 2005, with about 40 workers and sales again on a downslide, its newest niche became something new and different - quality construction. Cross said the company practically started over, purchasing CNC routers and other machines to make a better product with fewer employees.
     It studied Amish furnishings, analyzing the construction and looking for ways to improve an already high standard. It added features like dust covers between drawers, ball bearing drawer glides and solid hardwoods. Specialty Woodworking now specializes in hardwood red cedar, oak and cherry.
     Its customer base changed as lower-end stores dropped its line and higher-end ones picked it up.
     The company also began to strongly advertise its 100% American-made status with hangtags and point of purchase materials.
     "We had to readjust our line and throw away a lot of our old ideas and make a better product. Today you can compare Specialty Woodworking's quality and the construction of it with anybody's," Cross said.
     Johnston Casuals' Joe Johnston traveled to China in the late 1990s to see if there were opportunities there for he company. He wasn't able to figure out how to make his business model work with Chinese product since his company offered so many metal finishing options - something Chinese manufacturers wouldn't have been able to offer.
     He looked at buying raw frame stock offshore and bringing it to his for finishing, but costs ended up being in line with what he was already producing them for.
     He decided that if Johnston Casuals it was going to compete with the import wave driving prices down, it had to become a better company.
     That led the manufacturer to improve its planning and scheduling processes at the plant. A big part of its story is customization in finish, sizes and fabric, which Johnston said is the main contributor to its niche - offering a variety of options in its product line.
     The company became more important to the growing designer segment of the furniture industry, he added.
     "That's kind of the way retail in the upper end has changed. We're not the only ones doing that," Johnston said. "We know that we're not the only factory out there so we're trying to be what we can be to our customers."
     Johnston Casuals ' 140,000-square-foot plant in North Wilkesboro, N.C., has about 60 employees, including 20 welders and fabricators with another 15 metal finishers.
     No doubt speed of delivery is a major niche for domestic goods. Especially for those like promotional bedroom maker Higdon Furniture
     "There's times I can deliver in a week to truckload people. Of course less than truckloads I've got to build a truck. But we can still deliver in two to three weeks," said Bill Bevec, the company's sales manager.
     While Higdon is fast to market because it's made in America, the domestic made story may not drive purchases at a promotional price point, Bevec said, because consumers might not be aware of it.
     "Our stuff all has a made in America hangtag on it," Bevec said. "I just wonder how aware the consumer is of what's happening."
Related Content By Author
RSA Insights & Intelligence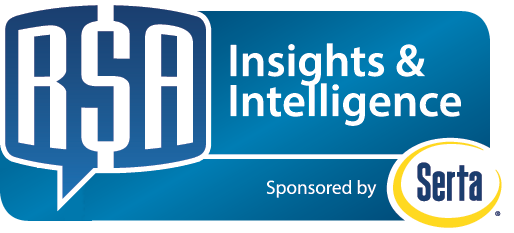 RSA Insights & Intelligence gives you, the retail sales associates, critical intelligence and insights. We make it easier for you to sell by providing actionable tips and key takeaways you can and should use for every sale. Check out our latest two articles:
* How to use an implied close
* The low cost of mattresses