New at Market: Motion
AFFORDABLE FURNITURE
329 S. MAIN ST.
Expanding its motion offerings with a casual contemporary group featuring a sofa at $599 in bonded leather. The group has a pub-back design with a heavily padded chaise and arms.
BARCALOUNGER
IHFC H-1104
Unveiling the Custom Choice collection of domestically produced recliners at $599 to $1,599. It features a variety of traditional, country and mixed media styles, and is available on a special order basis for shipment in 21 to 30 days.
Expanding its home theater lineup with five new collections that will be warehoused domestically. Most are available with a button-activated power reclining mechanism.
BRADINGTON-YOUNG
IHFC C-1058

Adding 15 recliners to the upper-end B-Y Classics collection. All new models are available with power reclining mechanisms. Also adding several recliners and motion sofas to its imported Seven Seas collection.
CATNAPPER
PS-300
Expanding its motion sectional offerings with Escalade at $1,999 and the modular Park Avenue at $2,299 in bonded leather. Two other new sectionals, Slate and Catalina, also have bonded leather covers.
COZZIA USA
IHFC M-708
Introductions include a shiatsu massage chair with a caramel polyurethane cover at $1,999. It is part of an expanded quick-ship program.
ENGLAND
PS-100
Expanding its motion offerings with two new seating groups and a sectional. The Miles series, at $1,049 for a three-piece group, features a biscuit back design and a microsuede cover, while the Millie Series, at $999 for a three-piece group, is available with a microsuede or bonded leather cover. The Marti series sectional, at $1,799, features a fabric and bonded leather cover.
FRANKLIN
IHFC W-748
Strengthening its recliner program with several new models at $299 to $599. Key introductions include a contemporary chaise rocker recliner at $299 in fabric, and a rocker recliner with extra-large scaling at $399 in fabric.
Expanding its motion lineup with new sofas at $599 to $899 and sectionals at $1,999 to $2,499. Key introductions include a contemporary sofa with two reclining seats and a drop-down table at $899 and a contemporary sectional with two reclining seats, a drop-down table and console wedge at $1,999.
INADA MASSAGE CHAIRS
BEST WESTERN HOTEL LOBBY
The high-end massage chair resource is unveiling a quick-ship program that ensures orders are processed in less than one day. Dealers and consumers can track their order online, and the program can be paired with a nationwide "white glove" delivery service.
INNER BALANCE WELLNESS
PS 1-157
Focusing on its line of zero-gravity recliners, including its most popular model, the zg551, at $999. Dealers ordering six or more chairs receive free freight.
JOHN-RICHARD
200 STEELE S-1
Introductions include a scoop arm swivel chair with transitional styling and a fabric cover.
KING'S GROUP USA
MOG-406
Making its High Point Market debut with the introduction of the Daytona motion seating group and the LeMans reclining sofa. The Daytona group, with a loveseat and sofa at $599 each in bonded leather, features casual contemporary styling and pillowtop arms. The LeMans sofa features contemporary styling, a drop-down table and a bonded leather cover.
KLAUSSNER
101 N. HAMILTON STREET
Significantly expanding its home theater line with 13 new models and its recliner line with 17 new models. Both include imported and domestically produced pieces, and several are available with an expanded assortment of bonded leather covers. Key introductions include a small-scale recliner with traditional styling at $399 and a contemporary home theater group with shaped track arms at $799 per seat. Also unveiling a motion seating group at $999 with casual contemporary styling and a padded, bonded leather cover.
LA-Z-BOY
FP-103
Strengthening its motion lineup with three new seating groups. The James group features automotive-style bucket-seating, while the Walker group has transitional styling, a pub back, padded roll arms and nail head trim. The third group, Niagara, features a two-seat sofa and has casual contemporary styling and a waterfall chaise.
Adding four chairs to its iconic recliner lineup, including the Coleman, which has a small-scale design. The Brutus, on the other hand, has a large-scale design, while the Evan is a classic chaise recliner with an automotive-style bucket seat design. The Bradley has traditional styling and a push-back reclining mechanism.
LANE
IHFC C-800
Introductions include three motion sofas and one motion sectional with low-leg designs often found on stationary upholstery. Also unveiling a sectional with two seats in a chair-and-a-half design that also can be used in a home theater configuration.
MEGA MOTION
IHFC M-708
Making its High Point Market debut, this subsidiary of Pride Mobility Products is unveiling a line of lift chairs for furniture stores. At $699 to $1,299, most models are part of a quick-ship program from five U.S. distribution centers.
PALLISER
220 ELM-400
Introductions include the Tijuana home theater group, which features seats with a full chaise design and fiber-filled back cushions. It also has articulating headrests and sliding armrests with hidden metal cup holders. It is at $2,499 with a leather match cover and $3,499 with a top-grain leather cover.
PARKER HOUSE
314 S. MAIN ST.
Introducing the Mars motion seating group with power reclining mechanisms. The sofa has a two-seat design and all pieces have full aniline leather covers, hardwood frames, high-density foam and zippered back cushions.
PRESTIGE MOTION
CP-206
Introductions include two power motion sectionals. One model, at $1,899, features contemporary styling and a leather cover. The other entry, at $1,399, features traditional styling, nail head trim, and a bonded leather cover.
ROW ONE/JASPER CABINET
SP-3435
Expanding its lineup of home theater seating with the introduction of imported and domestically produced collections. The 25-model imported collection features chairs at $499 to $799 per seat with a power reclining mechanism. Key introductions include the Plaza at $799 in bonded leather and the Encore at $599 in bonded leather. Domestic products generally have higher price points, depending on cover selection.
ULTRA COMFORT
IHFC M-938
Introductions include the CozyComfort lift chair, which is available with power reclining and power lift mechanisms. It features a biscuit back design and a full chaise pad that supports the lower body when sitting or reclining. It is at $1,498 with both power mechanisms and $1,159 without the lift.
Also adding the Hampton power lift and reclining chair to the Tranquility collection, and unveiling several new fabric covers for the Tranquility, Leisure and Montage collections.
Key trends
► DOMESTIC DEMAND: With dealers hesitant to order full containers, many vendors are touting their domestic production and/or warehousing capabilities.
► POWER TO THE PEOPLE: As the popularity of motion furniture increases - especially with female consumers - so does the demand for power reclining mechanisms.
► RECLINER REBOUND: Despite increased interest motion sofas and sectionals, recliners remain a mainstay of the category, especially at opening price points.
Bedding
ANATOMIC GLOBAL
IHFC M-633

Company introduces its Quick Ship program with bi-coastal warehouse facilities cutting lead time by five to seven days for deliveries across the U.S. Five of the best-selling Comfort by Design SKUs will be offered in the program, which is designed to include all of Anatomic's integrated brands: The ShoreLine Group, EcoSeries and Pure7 mattresses in the future.
Anatomic's adjustable base program will make its High Point debut featuring a patent-pending anchoring system for a contoured look in any position, available in tan, leaf green and antique velvet gray options, retailing at $1,499.
ANGELO: HOME
SP-3327
Seven-piece polyster set includes two pillow shams, three accent pillows, comforter and bed skirt and retails for $299.
CAROLINA MATTRESS GUILD
FP-100
Company is showing Flex line of all-natural latex bedding, including the LE Luxury Edition, the GLE Grand Luxury Edition, the MLE Master Luxury Edition Flex, and the new SLE model at the top end of the line, retailing for $1,999. It has six inches of natural latex.
Also introducing Flex NLT topper with three inches of natural latex, retailing at $499.
Redesigned G series of memory foam beds retails from $699 to $1,299.
Company backs its new models with a redesigned website, which displays all of its products. QR codes on the bed cards on retail floors are linked to individual product pages, giving consumers additional information on the beds as they shop.
CMGSpecials.com offers special sales for CMG dealers only. Login will be required. It is the industry's first flash sale website, the company says.
CLASSIC BRANDS
IHFC M-615
Expanding into gel foam category with Cool Gel line. Nine-inch mattress has memory foam polymer gel and gel-infused memory foam to disperse body heat and create a cooler sleep surface. It retails at $899. Ten-inch model features both types of gel and retails at $1,099, while 12-inch model has both types of gel and retails at $1,399.
Cool Gel memory foam pillow retails for $99.
ENSO SLEEP SYSTEMS
KLAUSSNER ON HAMILTON, 101 N. Hamilton IHFC M-513
Enso is offering a new starting price point model designed to give retailers a strong promotional tool. The line had started at $499 for a mattress only, but now dips down to $399 with an eight-inch memory foam bed.
Also new are three other beds, all featuring Tencel covers. A 10-inch memory foam mattress with a waterfall look retails at $599, while a 12-inch model with brown welts and a wave pattern on the border retails at $899. Also new from Enso is a 12-inch mattress with a massage feature that offers massage functions to four parts of the body. That mattress, the Spa Touch, retails at $1,199.
FABRICTECH INTERNATIONAL
IHFC M-613
Showing full range of its "health and wellness" mattress and pillow protectors designed to shield consumers against bedbugs, dust mites, allergens, bacteria, fungi and odors.
GLIDEAWAY
IHFC M-410
Strengthening price points on several items, including mattress protectors, mattresses and pillows. Also offering market specials in all product categories. New point-of-purchase packages are being offered for several of the company's product lines.
GOLD BOND
IHFC M-610
Producer has redesigned its Premier Series of two-sided beds, adding new fabrics and microsuede on the borders. New colors include mocha, linen and pale blue and are designed to expand the appeal of the line to consumers interested in more transitional and contemporary looks. The beds are available in firm, plush and European box pillowtop versions and retail from $1,199 to $1,899.
Cool Response Gel line features open cell gel foam construction. Retails range from $1,099 to $1,499.
HICKORY AT HOME
IHFC M-508
Company is expanding its adjustable bed lineup with Flexion 6, a six-section adjustable base with exclusive headrest and foot lowering positions and night lights. Flexion 3 has a three-section adjustable base, head rest and foot-lowering positions and night lights, while Flexion 2 is a wall proximity unit with night lights.
INTERNATIONAL BEDDING
IHFC M-528
A new, IB-branded latex topper program is the company's first such bed accessory offering. The program aims to give retailers another way to drive business with new comfort options to offer their customers.
Featuring a choice of two-inch or three-inch premium Talalay latex in firm or plush feels, the toppers are covered in a super-stretch knit in an ecru shade. Available in all bed sizes, IB's toppers are expected to retail in queen at $399 for the two-inch version and $499 for the three-inch offering.
IB is bringing its successful "great values" market theme to High Point, focusing on a special series of aggressively priced Europa-branded models. Expected to retail from $799 to $1,599 in queen, the Europa beds incorporate Talalay latex, contouring memory foam and other premium foams. Contrasting colors, textures and treatments are designed to create drama and excitement on the sales floor.
Other models focus on a range of popular IB beds that retailers can merchandise and strongly promote within their current lines. Priced to retail from $399 to $899 in queen, these value opportunities include IB brands like American-Pedic and Classic.
JAMSION BEDDING
IHFC M-531
Company unveils new brand positioning and brand strategy and new product lines.
Gel Comfort line uses JGel, an exclusive formulation of high-density memory foam blended with gel beads that the company says offers improved temperature control and performance. Retails range from $1,099 to $1,999.
Vita Pedic brand has been revamped as a two-sided innerspring line of nine models, each inspired by the mythology of ancient Greece. Retails range from $499 to $1,399. The line features Jamison's Smart Coil technology, an alternating coil design that reduces partner disturbance.
New five-model Talalatex Conformer Collection pairs Talalay latex layers of varying firmnesses over either a Talalay latex core or a high-density polyfoam core. Retails range from $1,099 to $2,199.
LEGGETT & PLATT
IHFC C-603
SilverShell antimicrobial mattress encasement utilizes pure elemental silver to safely inhibit the growth of more than 99% of stain-and odor-causing bacteria, mold and mildew. It expands the company's sleep accessories offerings.
LIBECO HOME
SALON AT SMS, G-7034
Expanding into more top-of-bed products. Showing quilted blankets and throws. Also increasing assortment of 100% Belgian linen blankets. All products now carry branded hang tag noting they consist of pure Belgian linen.
MAGNIFLEX
IHFC D-843
Introducing redesigned DualComfort Magnifico, which offers the company's signature Argento fabric, updated with a contemporary slate blue color pattern. The cover is made with cashmere and silver fibers on one side for warmer months and silk and silver fibers on the other side for cooler months. The bed, retailing at $3,599, now features a softer, two-sided Dual Core with the addition of several layers of Memoform, the company's water-expanded temperature neutral memory foam. The Magnifico is among more than 20 products now offered in the company's Quick Ship program.
NATURA
IHFC C-703
Natura is showing its first assortment of "smoothtop" mattresses, the NaturaSleek Collection. The new line of four latex mattresses features natural ingredients and a sleek, contemporary smooth top. The NaturaSleek Collection consists of models named London, Paris, Vienna and Milan, ranging from 8 to 12 inches in height. Each mattress is made of a cotton blend stretch-knit fabric, a layer of virgin NaturaWool to ease pressure points and wick away moisture, and layers of pure latex to offer a unique comfort feel ranging from firm to ultra-plush. Retail pricing ranges from $999 to $2,499 in queen.
The company is also introducing its NexGel Pillow Collection which uses patented OrthoGel technology to eliminate pressure-point discomfort by cradling sensitive areas while providing support where it's needed. This temperature neutral component keeps the pillow fresh and dry. The pillow is available in three styles - The NexGel GelAdjust Pillow, The NexGel MemoGel Contour Pillow and The NexGel MemoGel Pillow.
PARAMOUNT SLEEP
IHFC M-540
HD mattress integrates an advanced support system with comfort layers that mold to the shape of the body for proper spinal alignment. Independent testing has proven the durability of the beds, the company said.
PROTECT-A-BED
PS 1-519
Thermo-regulating mattress protector features eucalyptus-based fiber to increase sleeping comfort by helping to regulate body temperature. It is ideal for sensitive skin, the company says, and is anti-bacterial and hypoallergenic. Retails range from $69 to $119.
Producer also debuts a comprehensive retail merchandising unit that uses motion-activated video technology and QR codes to create an interactive shopping experience.
PURE LATEXBLISS
IHFC M-535
Debuting new "Gel inside" collection of pillows and toppers made from natural Talalay latex and utilizing patent-pending Active Gel technology. That technology uses phase change material to help consumers sleep cooler in the summer and warmer in the winter. The gel toppers will retail from $450 to $600.
RESTONIC
IHFC M-408
Restonic is showcasing its 2011 HealthRest specialty sleep line, which uses super-stretch fabrics that coordinate with the textured chenille border. The collection includes a latex line - featuring all-latex models and eco-friendly poly and latex models - in quilted and non-quilted designs. The memory foam line includes models with open-celled, breathable memory foam and uses Outlast in the fabric treatment.
Restonic will also feature a collection of hybrid models, using its zoned individually wrapped coil innerspring, in a non-quilted design, with a combination of latex and memory foam for contouring comfort. The retails range from $999 to $2,299.
In addition, the producer says it is taking its seven-time Consumer Best Buy winner program to the next level by introducing the ComfortCare Select, which features 800 individually wrapped coils, the company's trademark Marvelous Middle construction and specialty foams and zoned support. The bed has a circular knit cover that features a mix of Lurex, silver and platinum. The new ComfortCare Select collection retails from $699 to $1,199.
The producer will also be sharing information about its recent Women's Choice Award for Excellence in Brand Experience. The award was presented by Women Certified, which bills itself as the voice of female consumers.
SEALY
One Office Parkway, Archdale, N.C.
Sealy is showcasing the Next Generation Stearns & Foster line, which builds upon the brand's signature aesthetic while delivering superior materials, innovation and craftsmanship, according to the company. The Next Generation line will include three collections, including the newest addition, Lux Estate. All of the offerings will be supported by a new marketing campaign for Stearns & Foster, which the company says will elevate the brand messaging in a way that is both aspirational and speaks to the brand's 165-year heritage.
Sealy will also continue its dedication to philanthropic endeavors with the introduction of the 2011 Stearns & Foster Gift of Sleep program, which will donate $100 towards new mattresses for The Salvation Army residential shelters for every Stearns & Foster mattress set sold - up to $1 million - between Nov. 23 and Jan. 8.
SERTA
IHFC H-1141
Expanding its iComfort gel memory foam collection with new premium model featuring gel latex technology. Producer will show its complete iComfort line along with models from its current Perfect Day, Vera Wang by Serta and Trump Home collections.
SHIFMAN MATTRESSES
301 Hamilton Court
Shifman formally launches the company's improved and expanded flagship line, the Masters Collection. In addition to significantly improved comfort options, the updated collection features new woven damask fabrics, solid brass corner guards, and elegant trim treatments for the ultimate in visual appeal, the company says. The Masters Collection features Shifman's signature eight-way hand-tied box springs and hand-tufted construction.
SIMMONS
IHFC W-746
ComforPedic Loft features Air-Cool system to provide sleep experience that is cool, supportive and comfortable. AirCool Transflexion Core gives extra support while dissipating heat from the core, while AirCool Mesh border allows the bed to breathe. Some models combine memory foam and gel technologies. Retails range from $1,299 to $2,499.
NuFlex Foundation is an adjustable base with an upholstered frame and furniture-style legs. It offers massage and zero-gravity functions and retails for $1,799.
New Natural Care line introduces the Self-Response System, providing personalized pressure relief and support. The new system features several technologies, including Comfort Response Technology, which conforms and contours to one's shape while ventilating the top layer of the mattress, YOUnique Response Technology which reduces bounce and eliminates pressure points across the body and Independent Response Technology that maximizes airflow for cooler sleep. The foam also features a new anti-aging process that blends natural ingredients to help extend the life of the mattress. Additionally, the line includes components that feature AirCool technology. Retails range from $1,799 to $3,499.
SOLSTICE SLEEP PRODUCTS
IHFC G-572
Company makes its High Point debut.
Paradise Collection, retailing from $999 to $1,599, offers foam-encased memory foam and encased coil options. Solstice Dream Collection of memory foam beds retails from $599 to $999. Cottage Collection of innerspring beds with varying coil counts retails from $299 to $999.
Company offers combination of domestic production and imported lines, with a strong in-stock position of memory foam mattresses, pillows and sofas.
SOUTH BAY INTERNATIONAL
IHFC M-510
Black Diamond model features a bamboo charcoal memory foam design with a bamboo cover. It retails at $799.
SPECIALTY SLEEP ASSN.
IHFC M-413
Association again offers showroom featuring emerging sleep technologies. Exhibitors include Blu Sleep International, Julien Beaudoin, Naturepedic, PatienTech/Vista Medical, Spring Air International, Tyler Net and W. Silver Products.
SPRING AIR INTERNATIONAL
IHFC M-413
Showing in Specialty Sleep Assn. showroom, Spring Air features its BioMax line of four beds that carry Level II seals from the SSA's Environmental & Safety Program. They feature Oeko-Tex Standard 100-certified latex foams and panel fabrics, and CertiPUR-US-certified polyurethane foam components, among other eco-friendly materials. Retails will range from $1,299 to $2,199. All of the beds, which have 20-year warranties, use the company's patented, multi-level core design. The line is backed by a comprehensive marketing program.
THERAPEDIC
PS 1-501
Therapedic International is introducing its first 'green' mattress line with the EcoTouch series. The layers are made entirely from soybased foam, which has received the Oeko-Tex Certificate of Purity. The EcoTouch line is 100% breathable, allowing the foam to sleep cooler and making it much more comfortable than other memory foam mattresses, the company says. Retails range from $1,199 to $2,999.
Therapedic is also launching GelTouch, the company's first gel mattress line. Using swirl gel-memory foam technology and the DynaFlow Cooling Fabric, designed to increase both the breath-ability and cooling effect, the new GelTouch series sleeps cooler than a regular memory foam mattress. Research shows the foam in the GelTouch mattresses improves pressure point relief and increases body support by up to 40%. The open cell design supports air and moisture movement while improving blood flow and oxygen exposure to skin cells, allowing for 30% more heat conductivity than any other foam product on the market, according to the company. The opening line will have three models: The Blue Lagoon, Blue Essence and the Blue Heaven
Key trends
► DRAMATIC DETAILS: From shiny corner guards to colorful handles to sparkling tape edges, mattresses are sporting fine tailoring and well-appointed fixtures.
► GREAT GEL: This new bedding material offers a cooler way to sleep, according to producers jumping on the gel bandwagon. New gel beds are designed to offer a cooler sleep surface than other specialty sleep beds, the producers say.
► LUXURIOUS LATEX: This specialty sleep standout continues on the ascent, offering consumers comfortable, resilient sleep, producers say
Related Content By Author
Centered on retail: From truck stops to new stores and A.I. marketing

More Videos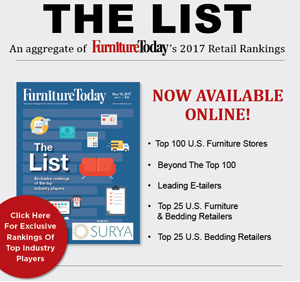 Get exclusive rankings of Furniture Today's top industry players including Top 100 Furniture Stores, Top 25 Bedding Retailers and leading e-Tailers. Get the stats now! Sponsored by Surya.
RSA Insights & Intelligence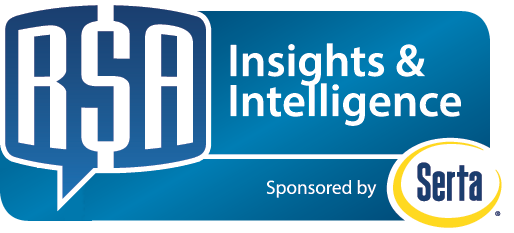 RSA Insights & Intelligence gives you, the retail sales associates, critical intelligence and insights. We make it easier for you to sell by providing actionable tips and key takeaways you can and should use for every sale. Check out our latest two articles:
* How to use an implied close
* The low cost of mattresses