Trucking Companies, Drivers Face Challenges
Heath E. Combs, July 13, 2011
A new program that more closely monitors driver safety was a hot topic for a home delivery and motor carrier logistics panel that included Ray Allegrezza, left, Furniture/Today, moderator; Patrick Cory, Cory Home Delivery Service; Keith Hewitt, Hep Direct; Will O'Shea, 3PD; Jim Waters, Home Depot; Talal Tadros, Ikea; and Michael Noblot, Furniture Brands International.
ATLANTA - With 15.5 million trucks on the road, including some 2 million tractor-trailers, it is not surprising the U.S. Department of Transportation is paying heightened attention to safety issues in the trucking industry.
     While applauding any efforts that could reduce roadway accidents, participants on the Home Delivery panel at the Sandow Media Logistics Conference said the combination of recent government initiatives along with a number of external challenges has resulted in major speed bumps on the road to profitability.
     Among the challenges identified by the group were:
     Comprehensive Safety Analysis (formerly known as CSA 2010), a government initiative to enforce performance standards of drivers and trucking companies.
     Hours of service - the amount of time a driver is allowed to work before taking a break, which may be reduced and will be enforced more tightly.
     The proposed transition from manual logbooks to electronic onboard readers for drivers.
     A shrinking base of qualified drivers.
     Skyrocketing costs for fuel, trucks, labor, insurance, tolls and other items.
     Topping their list of concerns, the panelists said, was the CSA. Rolled out last year as a pilot program in a few states, the program today is affecting all states.
     The enforcement initiative rates carriers as well as drivers on seven Behavior Analysis Safety Improvement Categories (BASICs) and results in interventions against carriers and drivers that are found to be performing below set standards.
     Panelists said BASICs will cover things such as unsafe or fatigued driving, driver fitness, abuse of alcohol and drugs, vehicle maintenance, cargo safety and crash history.
     Transportation is currently testing a new safety measurement and rating system.
    Patrick Cory, managing partner at Cory Home Delivery Service, called the program a fundamental shift in the government's way of tracking carriers and drivers. He said that for years it was easy for home delivery carriers to "flip and fly" through government regulations if they were small enough and operated within a single state.
     A driver operating entirely within one state wasn't required to have a U.S. Department of Transportation number, which made it easy for a driver with a lot of violations to avoid penalties by switching to another trucking company, Cory said.
     In response, the U.S. government decided to track all drivers, monitoring whether they were safe and had a DOT card and an active commercial driver's license, Cory said.
     He said he doesn't believe the impact of the program will be immediate, but will eventually result in the driver pool shrinking as many are forced out of the industry because they can't meet the CSA criteria. He said good drivers will be more in demand, and small carriers will likely have a harder time attracting them than bigger companies.
     That will likely cause costs to go up for daily rate delivery drivers, Cory said.
     He added that drayage carriers, who move shipping containers at ports, also could be affected.
     One issue with the CSA rules, according to Jim Waters, carrier relations manager at retailer Home Depot, is that it'll be hard to replace drivers who can no longer work. It'll also mean that companies like Home Depot will have to have programs in place to monitor carrier scores and make sure carriers take corrective action.
     Talal Tadros, deputy transportation manager, North America, for retailer Ikea, said CSA compliance will add about 10% to the cost per delivery. He said Ikea will likely absorb the cost.
     Others on the panel expressed concern over language included in CSA that would change the hours of service rule. The HOS rule mandates the total number of hours a driver of a commercial vehicle can work before being required to take a rest period.
     Currently, the maximum is 14 total hours - 11 hours behind the wheel and a total of 3 hours of service, which could include tasks such as making a delivery or unloading a truck.
     Once the driver reaches a total of 14 hours of work, he or she must stop or face serious penalties, panelists said.
Previously, drivers tracked their hours manually by entering them in a log book. However, the DOT is seeking to have drivers maintain an electronic logbook, called an electronic onboard reader, which will be electronically linked to truck and will eliminate any possibility of falsifying records.
     Additionally, the new rules as outlined call for a reduction of hours of service from 14 to as few as 12.
Cory expressed concern that this change could reduce the number of daily deliveries the driver could make by as much as 30%.
     Michael Noblot, director of retail logistics at Furniture Brands International, said the company looked at its distribution network to figure out a strategy to deal with the hours of service rule. Noblot said the CSA program ultimately could mean that suppliers will need more distribution centers to serve retailers.
     "We've tried to align regional distribution centers with the final miles component. We've tried to leverage our supplies based on hours of service and how far we could reach out. trying to center on those markets where we have the greatest density," he said.
     The Federal Motor Carrier Safety Administration, a federal commercial motor vehicle safety agency, is scheduled to rule on the hours of service proposal Oct. 28. Cory said trucking companies are pushing hard for it not to reduce the hours of service.
     "There are numerous studies showing that fatigue is not a factor in most accidents and that's the big push," he said.
    Will O'Shea, chief sales and marketing officer for logistics provider 3PD, said it was still too early to determine what the full effects of the CSA program will be, but said the supply chain costs have already started increasing and driver rates are going up.
     "It will definitely result in fewer drivers in the market and (will eliminate) up to as many as 5% of the existing drivers. From a home delivery standpoint it's a difficult job to find people that want to do home delivery that have the right customer acumen, so you're looking for more than just a truck driver but also a customer ambassador," O'Shea said.
     Panelists also discussed electronic monitoring of drivers. Cory said electronic logs are a positive step, and that eventually truck locations and driver behavior are likely to be monitored electronically, which he hopes will help hold down insurance premiums.
     Another focus for panelists was increasing costs.
     Noblot said one way FBI is dealing with rising costs is by creating stronger partnerships and using technology to create awareness between manufacturers and retailers.
     The stronger flow of information helps to create visibility across the supply chain, he said, adding that many times when a delivery goes wrong, the final mile is where a mistake is found.
     Companies must look at the root causes of mistakes and drive them out of the supply chain to cut costs and create a better experience for consumers, Noblot said.
     But it's not necessarily all about cutting costs. O'Shea said 3PD has invested about $6 million in the past several years to improve monitoring of operations and feedback from customers. The company has learned that some of its best operations were not as good as officials once believed, he said.
     O'Shea said technology upgrades have helped hold field managers and delivery teams more accountable. Now the bonus system for the company has a large component tied to information technology-based "VOC" scores - voice of the customer feedback.
     "From our perspective, when we invest in technology it is from the perspective of how it will help the customer," O'Shea said.
     Several panelists also said drivers are now viewed not as just delivery people, but an extension of the sales force. They said retailers need programs to help train drivers, who meet many customers face to face.
     Keith Hewitt, president and CEO of home delivery service and logistics provider Hep Direct, said his company now recognizes that the drivers are key representatives to consumers.
     "It took a long time to change that culture inside of our company," Hewitt said. But now, he added, the company and its clients regard delivery personnel as "customer- facing reps."
Related Content By Author
RSA Insights & Intelligence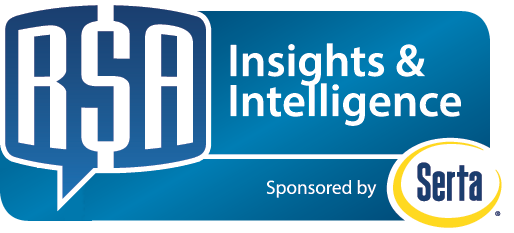 RSA Insights & Intelligence gives you, the retail sales associates, critical intelligence and insights. We make it easier for you to sell by providing actionable tips and key takeaways you can and should use for every sale. Check out our latest two articles:
* How to use an implied close
* The low cost of mattresses