RAC Acceptance program grows in down economy
Heath E. Combs, February 23, 2011
HIGH POINT — One of the beneficiaries of a down economy has been Rent-A-Center's RAC Acceptance program for credit-constrained consumers.
Through the program, Rent-A-Center operates kiosks in traditional retail stores under the trade name RAC Acceptance and offers the rent-to-own transactions to consumers who do not qualify for traditional financing options.
While the program wasn't created with the recession in mind, a down economy does appeal to the Acceptance model, said Keith Smith, director of business development at Rent-A-Center.
"I think it's a matter of timing this came out during the recession. This wasn't specifically driven by any sort of recession activity. It was something we had been testing for several years and ... there is a need for this kind of option," Smith said.
Smith said benefits of the program are fourfold.
Customers denied traditional financing options get their merchandise, retail clients get incremental business for unserviceable customers, retail associates capture a commission, and the rent-to-own proposition often gains a new customer base.
The model for RAC Acceptance came into existence in late 2005 as an option to help an Ashley Furniture Home-Stores client in Florida with the number of credit declines it was seeing.
Smith said RAC was in a position to help because it can approve customers who are declined on a daily basis. The program was developed and has continued to be changed and tested in recent years.
That included setting up 15 locations in 2006 in conjunction with Ashley and reworking Acceptance for the next two years into a better model.
Through the program, RAC Acceptance personnel take over for the retailer if a customer has been declined for other finance options and works to convert them to a rent-to-own agreement. Customers generally make monthly payments on the furniture.
Typically the RAC Acceptance staffing model calls for two people to work during the retailer's open hours with the goal of having the kiosk staffed at all times, Smith said.
Smith says RAC tries to locate the kiosk near the area where credit applications are processed. The kiosk takes up between 8 to 10 feet of space, he said, adding that if no space is available, RAC will buy a desk from the retail client to provide a workstation. A key point of the program is to have the RAC staff up front working with the store's sales associates and not in a back office or hallway, Smith explained.
For kiosk placement, RAC receives verifiable information on credit declines at stores on a monthly basis. The turn-down rate must be about 30 a month - or one per day - and the store should be at least 15,000 square feet for the program to work efficiently.
Last year the program experienced accelerated growth. In March 2010, Rent-A-Center had 68 RAC Acceptance locations.
That number has grown to about 450 currently, 157 of which were opened through the acquisition of RAC competitor The Retail Store last year.
The company's goal is to open 300 of the kiosks this year, Smith said. Since its inception, RAC Acceptance has created about 1,200 jobs, he added.
RAC Acceptance is an evolution of the rent-to-own model, Smith said. It grows the base to customers who have little knowledge of rent to own and have not done business with Rent-A-Center.
"The intent of our program is to assist those retail clients that we have with capturing that customer that's potentially going to leave their store and go down and go into a competitor or, in some cases, even go into a rent-to-own location," Smith said.
Last year the company sought to aggressively grow the program. It has helped lead to better earnings for publicly held Rent-A-Center.
The company had an increase of $4.2 million in fourth-quarter revenues primarily due to a $5.5 million increase in rentals and fees revenue driven by the RAC Acceptance business.
Charlie Malouf, managing partner and chief operations officer at Broad River Furniture, which has 12 Ashley Furniture HomeStores in the Carolinas and Georgia, said his company has been a proponent of RAC Acceptance.
Malouf said his stores have been using the program for about two years.
This time of year, during income tax filing season, he said, RAC will be a larger portion of the stores' business. He said that for the first 13 days of February, the RAC Acceptance program was about 8.4% of the month's total volume.
"In some stores that are really high with secondary financing, they're peaking at 17.5% volume," Malouf said.
Malouf said formerly his stores carried the The Retail Store's rental program - a RAC Acceptance competitor until the acquisition - which was a little less expensive to retailers.
But, he said, with RAC owning TRS, having its own distribution centers, doing its own collections and adjusting the program to give retailers less of a margin hit that's more competitive with traditional long-term finance options, the RAC Acceptance program has become more attractive.
Randy Keisler, president of Cleo's Furniture, tested the program in two stores and has been offering the RAC Acceptance in about 12 stores for a few weeks. The stores also offer financing programs by Wells Fargo and CitiFinancial.
Keisler said that for retailers, margins through RAC Acceptance take about the same hit as with longer term finance programs.
"Your margins take a hit but at the same time, zero percent of 100 is zero. If they're going to walk out the door, you're not going to sell them anything to meet their needs. What have you gained?" Keisler said.
"With the economy the way it's been over the past two years, there's a lot of people that haven't been able to meet their financial obligations and their credit ratings are down so they don't qualify for that traditional financing model."
Keisler said he was concerned that having RAC personnel in stores might be a distraction, but that hasn't been an issue. He said working with the staff has been a positive experience.
One advantage for RAC Acceptance customers is they are getting a new piece of furniture as opposed to something formerly rented, said Randy Lann, executive director of the Arkansas Home Furnishings Association, which has helped RAC offer the program to larger stores.
Lann said the quality of the furniture is typically better than merchandise found at many rent-to-own stores.
One caveat is that the furniture included in the program must be re-rentable through Rent-A-Center, where it can be collected and refurbished to the company's 3,000 nationwide stores, Smith said.
That can exclude items with more extreme design elements, Smith said, but he added that some of the pieces re-rented through RAC stores go fast because their designs are so different from what the stores carry.
Smith added that the Acceptance program's returns are very low, especially compared to the rent-to-own industry's standards.
Smith said the program also helps create a loyal customer.
"That customer is going to remember that when they had no other options that Ashley Furniture HomeStores or that RoomStore or Rooms to Go or Value City, 'those are the individuals who took care of me and I'm going to go to them from here out,' " Smith said.
Smith said he doesn't see the program replacing traditional finance offers - it's just an option for credit-strapped consumers.
"For the retailer, seeing the opportunity they were seeing from that customer walking out the door transferring into real dollars, that's the most impactful sales tool we have," Smith said.
Related Content By Author
RSA Insights & Intelligence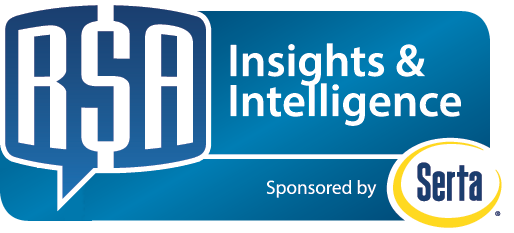 RSA Insights & Intelligence gives you, the retail sales associates, critical intelligence and insights. We make it easier for you to sell by providing actionable tips and key takeaways you can and should use for every sale. Check out our latest two articles:
* How to use an implied close
* The low cost of mattresses