Case goods
Staff Staff, October 24, 2005
All prices retail • In-depth stories on case goods introductions will appear in Furniture/Today's opening-day issue
IHFC D-337
To Park Avenue furniture collection, adding Tribeca, a clean, modern five-piece bedroom in solid wood with satin-finish walnut veneers; tufted leather headboard, harmonious carvings and stylish curves; king and queen beds, nightstand, dressing table with mirror and leather dressing stool; pieces from $199 to $1,399.
Acacia Traditions
HS 102
Five new collections include College Park, an eight-piece transitional bedroom in a rich burgundy-finish mahogany, with dovetailing and leather bindings.
IHFC G-777, G-782
New collections include:
The retro-modern Avalon dining room, bedroom, entertainment and home office, blending together several interesting, beautiful and eclectic design elements; ebony veneers and decorative custom hardware designed specifically for this collection; Ebony Sunset finish.

Boulevard transitional dining room, bedroom, entertainment and home office with whimsical flair incorporating shapes and curves and brushed pewter hardware; Clove finish.

Transitional Brentwood dining room, bedroom, entertainment, occasional and home office, reminiscent of old Hollywood glamour; Java finish.
Additions to existing collections:
A round dining table with carvings around the base and center marble accent, and fireplace for Trevi with intricate carvings, engraved metal drawer fronts and marble accents; Latte finish.
Alfemo
PS 2-523
Retro, an elegant new bedroom collection.
American Drew
IHFC C-926
Five new collections:
Sophisticate, 35 pieces for bedroom and dining room in Mozambique veneer, with strong Art Deco and Mid-Century style influences.

Citations, contemporary bedroom in oak burl veneers and oak and ash solids.

A traditional entry price-point bedroom in pecan veneers, with bowed cases, framing and dovetailing; bed, $999.
Profiles program of bedroom, dining and occasional:
Contemporary Bryant Park in washed oak finish; beds or dressers, $999.

Creston, a clean rustic look in pecan with Mission and Arts & Crafts influences; $899 for bed or dresser.
AP Inds.
IHFC G-774
Debut of the Allure Division, nine new collections, including six for youth, in popular finishes and styles.
Crafted in solid birch or fine-grain veneers.
SMS M-744
Introductions headed by a new twin-size bed modeled on best-selling Victoria bed.
Layered collection, decorative accessories featuring multiple layers for character and depth; hand-painted and worn finishes.
Additions to display fixtures include a free-standing dressing mirror with a full-length mirror on front hiding a hanging rod for the day's clothes and a shelf for shoes.
Art as Antiques/A.A. Importing
SP 2221
Expanding into new category, solid wood and veneered pieces, to augment line of hand-painted furniture styles, with Croys Haven collection, 10 pieces for bedroom, dining and accents in hand-carved solid woods with mahogany and ash burl veneers.
Art International
MS 348
Gentry Manor, 18th- and early 19th-century European styling in pine solids and pine veneers with a warm cashew finish, gently aged with dry-brushing, cow-tailing and rasping, and a pumice treatment enhancing carved corners; antique brass custom hardware; trim hardware with two sizes of rosette knobs, a decorative ring pull with leafy rococo ornamentations, and matching escutcheon and pierced back plate.

Interludes, a contemporary take on traditional heirloom pieces in birch solids with soft maple veneers, primavera cross-band borders, and dark walnut accents; satiny caramel finish; hardware in rich silver with bronzed undertones, including small round ring pulls with leaf motif on top, a sleek oval knob and leafy garland door back plate, and softly curving door pull with carved leaf ends.

Vernazza, a Tuscan-inspired collection in birch solids and rich cherry veneers with contrasting walnut veneers; carved leaf and stylized shell motif accents; soft curves, and hexagonal and octagonal fluted turnings supporting intricately inlaid table tops; many pieces with "Bolection" molded bases, a translation of half-round projection molding found in doors and mantels of Tuscan towns.

Forum, a large-scale collection based upon European interest in Greco/Roman styles inspired by the excavations of Pompeii and Herculaneum; pine solids with V-matched narrow heart cathedral ash veneers bordered by clear white ash burl, with walnut diamond centerpiece offset by inlaid string of walnut; warm clear caramel finish with light burnishing and color distressing; custom hardware with floral rosette knobs and arched bar pull in brushed nickel with light glazing and distressing to match silver-tipped carved elements on case pieces.
Aspen Furniture
IHFC M-604
Addressing step-up case goods with three new collections:
Bed and Breakfast, a new 11-piece bedroom group by Jena Hall in Swedish country with buttermilk cream rub-through finish on waxed pine; whimsical leaf carvings throughout the Sleepy Hollow bed and other pieces; Sweetheart bed with two-tone buttermilk cream and waxed-pine reversible headboard panel; other pieces include nightstand, master dresser, dressing table with jewelry box/pop-up mirror; shoe storage chest, drawer chest, armoire and landscape and cheval mirrors.

Weekender, a seven-piece bedroom, also by Jena Hall, much like Bed and Breakfast, but in an Old World-leaning waxed pine finish; chest of drawers with hidden side valet feature; panel bed, Sweetheart bed, nightstand, master dresser, landscape mirror, drawer chest and armoire.

Young Classics, a 12-piece, neo-classical-inspired bedroom with elements from the early Federal period — including architectural details from Thomas Jefferson's home, Monticello — and from New England furniture; cobblestone black finish with antique cherry rub-through accented by aged silver drawer pulls and knobs; two sleigh beds, panel bed and poster bed accented with neo-classic carvings and forms; master dresser, armoire, chifforobe, demilune chest, gentleman's drawer chest, landscape and arch mirrors and nightstand.
All bedrooms with Aspen's signature multiple hidden storage and other innovative storage.
Austin Gray
100 S. Main St.
Full launch of American Portrait, a 42-piece collection licensed with artist Terry Redlin; expanded to include bedroom and dining, home office, entertainment and occasional, as well as coordinating leather upholstery and accent chairs; Boulder Ridge collection focuses on architectural elements from Redlin's home, with rustic traditional styling in slightly distressed dark walnut and cluster oak veneers; Reflections bedroom in clean, lighter-scale Arts & Crafts-influenced styling with antique cherry veneers in mid-tone brown finish.
Bernhardt
IHFC D-600
Stonebrier, 66 SKUs in relaxed traditional English-style pin knotty cherry, with all solid-wood drawer fronts to accommodate shaping, and carved accents.

Market Street, 55 SKUs, clean traditional in pin knotty cherry and myrtle cluster burl veneers, with book and butt treatments on tabletops; Continental influences include Louis Philippe and Empire.

Illumina, 60 SKUs in clean contemporary ash burl and European figured ash veneers with walnut trim inlay; pin-shell treatment on some hardware; platform bed with extended panels and movable nightstands; low-profile bed with plinth base.

Martha Stewart Opal Point, an eclectic modern collection with updated traditional forms, hints of Asian and Art Deco, and a strong mixed-media element; pieces include a wrap bed in the Rosemont bedroom.
Broyhill
IHFC C-600
Chateau Calais, 20 Louis Philippe-style pieces for bedroom, dining and occasional in rich, mahogany-finish hardwood solids and veneers, with reeded columns; four-piece bedroom, $899; six-piece dining room, $595.

Villagio, an 11-piece Northern Italian bedroom with serpentine fronts in hardwood solids, and pecan and ash burl veneers in a hickory fruitwood finish; four-piece bedroom, $995.

Aegean Shores, 32 pieces for bedroom, dining and occasional in Regency-style; multiple materials including exotic cherry veneers, twill, stone and other natural materials; nickel hardware and a medium caramel finish; four-piece bedroom, $995; six-piece dining room, $649.

Peristyle, 30 transitional pieces for bedroom, dining and occasional in hardwood solids and cherry veneers; bow-front silhouettes, silver-tone hardware and an espresso finish; four-piece bedroom, $995; six-piece dining room, $695.

Chandon Manor, 30 Corinthian Old World pieces for bedroom, dining and occasional in antique spice-finish hardwood solids and cherry veneers; chamfered columns; four-piece bedroom, $975; six-piece dining room, $695.
220 S. Elm 312
BaSICS collection consisting of dining tables, chairs, buffet/hutch and entertainment center.

Loft collection of dining furniture.

Zen banana-leaf bedroom furniture.
Canadel
NFM 310
Entering the master bedroom category with three 15-plus-piece collections in solid wood with full dust-proofing; styles include Mission, Louis Philippe and contemporary; suites, $5,000 to $6,000.

Two new chairs each for Canadel and Color Shop lines in Mission and contemporary style.
Canal Dover
320 N. Hamilton
A new line of 12 draw-leaf refectory tables in solid wood coordinating in design and finish with each Canal Dover dining collection; full range of styles include modern, updated country, European country and Mission; North American solid hardwoods, available in a broad array of finishes, as well as two-tone options.

A 25-piece line of counter-height tables and chairs to coordinate with best-selling in-line collections; round, oval, square, rectangular, trestle and pedestal base tables in a variety of styles and finishes; counter-height companion chairs offered in a selection of upholstery or leather seats.
Caperton Furnitureworks
MS 401
The Joe Ruggiero collection for Caperton Furnitureworks, a broad line of tables, chests, desks and etageres, scheduled to include bedroom and dining in future introductions.

Filling a void in painted finishes for Tom Seely traditional dining rooms; includes 109 SKUs in oak, available in six colors, strawberry red, willow green, midnight black, cornflower blue, mustard seed yellow, butter cream; choice of cherry or oak tops; choice of painted or wood-finish knobs.

Two new leg styles to current table leg options: extra large turned leg, and counter-height turned leg.
Century
MS 500
Marisol:
20 pieces for bedroom, dining and occasional in heavily distressed, big-scale Radiata pine from South America, a tighter, harder wood than North American pine with a clear grain; ash burl accent veneers.

Clean European style, with mostly Italian and Spanish influences.
Villa Cortona:
35 SKUs for bedroom, dining and occasional in maple and perillo wood, named after a town north of Florence, Italy, noted for its antique Italian furniture market.

Very Italian in style, heavily distressed, with lots of planking.

As with Town and Country, collection is kept in whitewood, with pieces available in eight finishes.
1690 English Rd.
Sonoma Valley, inspired by architecture and furnishings from California's wine country, with European-style influences leaning toward France; decorative banding, bronze tops, brass tassels, hand-forged finials and mix of scale.

Generations, designed by Mark Landres, combining elements of bungalow, Arts & Crafts and Asian styles, with dark rich finishes on wood, top-grain leather tops and metal bases.

Loft Living collection, a mix of classic quality pieces with a designer edge.
Exclusive LuminOre metalizing process highlights each collection.
Cochrane
IHFC W-446
Fusion, 10-piece bedroom and 20-piece dining room in clean, simple lines with black currant finish targeting casual urban customers; table and four, $1,499; bed, dresser/mirror and chest, $2,999.

Second Century, 14-piece bedroom and 25-piece dining room in relaxed traditional styling accented with custom copper hardware; lightly distressed cinnamon finish for a casual feel in solid maple; table and four, $1,299; bed, dresser/mirror and chest, $2,599.

Regent Park, 10-piece bedroom and 10-piece dining room in traditional Old World style, with maple finish and large-scale pieces reflecting a manor lifestyle; table and four, $1,299; bed, dresser/mirror and chest, $2,499.

Montreat, 10-piece bedroom and 10-piece dining room in rustic country styling with a French character; leather panels and overstated hardware for the look of an Old World hunting lodge; table and four, $1,299; bed, dresser/mirror and chest, $2,499.
Also adding three new beds to custom Bed and Beyond program, along with three new cases, to bring more style options to the collection. Adding laminate tops to custom Design and Dine program, as well as two new chairs and two new cases.
Concordia
PS C-110
A six-piece, entry-level cherry bedroom with illuminated headboard, curved and contoured fronts and metal handles; $999.
New designs and finishes targeting the U.S. market.
Marketing programs: Quick-ship program expanded to almost 85% of line; new point-of-purchase marketing strategies and materials; product-knowledge and training packages available in English and Spanish.
Copeland
IHFC D-527
The Wave contemporary bedroom in solid maple, featuring classic platform-style bed with CNC-carved wave detail; adjustable headboard to accommodate mattresses from eight to 18 inches thick; cases with simple fronts and recessed drawer divider functioning as pull; queen bed, $1,549.

A redesign of the best-selling Sarah dining collection, with new breakfront piece, hutch and trestle-style extension table, expandable from 72 to 112 inches; glass hutch doors and adjustable shelves, and three-way touch halogen lighting; table, $1,999; breakfront, $1,899; hutch, $1,499.
Councill
200 Steele St., third floor
Expanding selection of traditional case goods with original designs by John Black; and selected additions to Brownstone by Councill.
Crawford Furniture
MOG 40
Expanding line to include contemporary lifestyle looks with Urban Simplicity, an 11-piece bedroom in solid maple with two finishes and two hardware options; concave- and convex-shaped beds and mirrors; brushed nickel and black pulls and knobs; $3,499.
Marketing programs: New advertising programs geared for television to run fourth-quarter 2005 and first-quarter 2006; different price promotions throughout the year, and all product in stock for immediate shipment. New state-of-the-art drying shed for better curing of lumber out of company mill.
Creative Elegance
125 S. Hamilton St.
Wave, a 10-piece contemporary modern bedroom with wave front accent, available in 13 finishes on birch; accent trim in zebra wood or polyvinyl wrap; $8,000 to $10,000.

Suspension, 11-piece contemporary modern dining room with retro flair, with solid-beech frames, figured anigre and birch veneers; available in a variety of finish combinations; $8,000 to $10,000.
Marketing programs: All-domestic production with wide variety of finish combinations and options; custom changes available.
Cresent Fine Furniture
HS 204
Crossings:
The first series of Rick Shaver Traditions, a new line licensed with the New York-based interior designer.

12-piece bedroom, 10-piece dining room, four occasional pieces and two pieces for home entertainment with a focus on consoles for plasma and liquid crystal display televisions.

Style inspiration from traditional period furnishings and interiors of the great ocean liners of the 1920s and 1930s.

Hand-selected cathedral mahogany, quartered okume and okume crotch veneers with a rich antique mahogany finish highlighting vibrant grain patterns.

Beds, $999 to $1,299; seven-piece dining room, $2,999.
A four-piece bedroom for the Moderne collection in Art Deco-inspired solid mahogany; beds, $1,199 to $1,299.
Marketing programs: Expanded advertising program with new circulars and postcards, and enhanced dealer and consumer Web site, including online inventory availability for dealers. Tennessee warehouse stocked with Cresent's nine collections for quick ship; average order-to-ship time less than two weeks.
David Francis
200 N. Hamilton St. 331
Two new signature dining pieces available in 12 hand-rubbed finishes:
Demilune console in rich mahogany with striking curvilinear lines; closed cane accents on top and drawer facings; four drawers, trimmed with antique solid-brass pulls, feature dovetailing and wood glides; open shelves on both sides of piece.

Four-door bar chest with three cabinets, each with adjustable wooden shelf, in mahogany and mahogany inlay; solid-brass teardrop pulls; brass-capped legs with adjustable height feature.
Dimensions by Ello
C&D 6K
Expanding bedroom collections from China with five-piece Carina group, shown in high-gloss espresso finish on Tanganika veneer. Developing a full series of China-sourced contemporary bedrooms and dining rooms.
Dynamic
IHFC G-377
Two master bedrooms: Chateau Philippe and Java.
E.J. Victor
116 S. Lindsay St.
First pop-up unit for plasma televisions in Regency-style crotch mahogany veneers.
Drop-lid secretary adaptable to laptop computers in mahogany solids and veneers.
Julia Gray additions:
A cane bed with curved footboard and carved detail on head and foot in a paint finish.

Three bedside tables: a mirrored case with glass inset top; marble-top with parquet veneer treatment; three-drawer chest in soft-oyster paint technique.
Randall Tysinger for E.J. Victor dining additions:
54-inch-square pedestal table designed for bunching with ribbon-cut mahogany field veneers bordered with king wood, and a string inlay of maple.

Tall Regency china, 49 by 96 inches, in mahogany solids and veneers; also available in dark finish with gilded accents.

Mahogany console.

Upholstered French chair with compound-curve back.

48 by 96-inch acrylic table with glass top on acrylic base; and corresponding coffee table.

Bunching chests in flat-cut mahogany with inset silver-tone door chest on each side of a drawer chest.

Solid-walnut buffet to match strong-selling table from April market.

Tall plasma entertainment center in pine and walnut in a rich honey finish.

Louis XV chest with massive hardware mounts.

Six-drawer chest with subtle curves on front and sides, based on Portuguese original.

New tortoise-shell finish for Biedermeier cabinets from April introduction.
Carol Bolton additions:
Upholstered French bed with wrap headboard and carved frame.

Assymetric 98-by-48-inch English dresser with door on left, five drawers in center and four drawers on right, available in a variety of finishes.
Ello Furniture Mfg.
IHFC D-724
Continuing expansion of marble program imported from Europe with Corum dining room in polished travertine with walnut accents, shown with Las Vegas chairs.
HM 115
For the Richelieu dining room, a country French buffet, made in Campagnard; and an expandable square dining table, both in solid cherry; buffet, $5,000; table, $3,500.
Transitional dining table with two-way extension in solid cherry with oak frame, $5,700.
Marketing programs: Sponsoring a drawing in association with the Maison & Objet show in Paris for round-trip airfare and three-night hotel stay for two; special VIP reception at Maison & Objet; and free entrance to the new Planète Meuble show in Paris; official entry from online at theelyseecollection.com; entries must be at showroom by Oct. 26.
Emerson Et CIE
200 N. Hamilton St. 205
More than 100 introductions in a variety of materials and textures, including copper, brass, iron, wood and mosaic stone.
Softened Art Deco chair-and-a-half and mosaic stone-top dining and cocktail tables.

Adding 12 pieces to Palermo collection of European antique reproductions, including bi-fold door entertainment center for plasma televisions, with aged veneers and intricate marquetry detail in a rich, distressed finish.

A complete dining room and three occasional pieces for Studio contemporary collection in Macassar ebony.

Mirrors and lighting, and home office desk chairs, as well as three executive desks.

15 styles of upholstered chairs for the Élan collection.
Marketing programs: Offering a new direct-container program.
IHFC D-1110
The Nicole Miller collection:
43 wood pieces, 12 styles of upholstery incorporating 235 fabrics and an assortment of leathers.

Sleek contemporary designs for bedroom, dining room, occasional and accents, plus Excelsior's first fabric upholstery.

Assortment of wood finishes, including veneers of zebrano, canaletto, California walnut burl, Tanganika, frozen birch and ribbon mahogany, as well as a variety of lacquer treatments.

Collection includes Excelsior's first poster bed.
Marketing programs: Introducing its first gallery program, with footprints ranging from 1,500 to 2,500 square feet.
NFM 600
Addressing a new style category with Garden Treasures, 39 pieces for bedroom, dining, occasional and upholstery in country-style pecan veneers and mixed media, available in two finishes; bedroom or dining room, $1,999; cocktail, $499; sofa, $799.

Filling a style void in contemporary/transitional with Retrospect, 30 pieces for bedroom, dining, occasional and upholstery in transitional cherry veneers; bedroom, $2,499; dining room, $2,299; cocktail, $399; sofa, $899.

A Mission-style entertainment center for plasma-screen televisions added to American Themes; $1,599.
US P302
Mid-Century Moderne, 35 contemporary pieces for bedroom, dining and occasional in American and French-style elm hardwoods and Mozambique veneers in contrasting cognac and ebony finishes.

Meeting Street, 35 pieces inspired by traditional Southern antiques with classic silhouettes in a relaxed, distressed finish; walnut hardwoods with Notra crotch and figured cherry veneers in a warm tobacco finish.
Marketing programs: Market giveaway for free shipping on a container order; drawing to be held Oct. 25.
Founders
IHFC M-530
Broad range of adult collections in ultra-modern, contemporary, transitional and traditional designs; finishes include harvest maple, Kingston oak, galaxy white, fruitwood and Whitestone.
US E201
Two bedrooms in sheesham wood from India:
Raffles bed, chest, lingerie chest, nightstand and dresser with strong, stately clean lines in light wax finish on ebony or rosewood stain; king bed, $1,795; canopy king bed, $1,950.

Savoy bed, chest, lingerie chest, nightstand and dresser with graceful curves and fashionable design available in dark ebony or rosewood stain; platform king bed, $1,675; sleigh king bed, $1,795.
Francesco Molon
502 N. Hamilton St.
Expanding Empire collection with a five-piece dining room in olive ash burl with carvings, gold leaf and a medium burl finish; and five-piece bedroom in hand-carved mahogany with gold-leaf accents.
Marketing programs: Pieces from all collections stocked in High Point for quick-ship program; national advertising with publications and direct-mail initiatives.
ISO 9001: 2000 certification, the highest in its class applying to production, organization and customer service.
442 N. Wrenn St.
Continuing to develop unique product and strengthening the classic French Heritage line.
Expanding Maison du Soleil upholstery line, including the Nime sofa, upholstered in Souleiado fabric; $4,538.
Maison Provence vitreen with chicken-wire mesh and decorative painted finish; $1,950.

De Bournais Louis XV commode with decorative hardware and curved legs; $7,500.

Felix Monge Moulin Rouge table inspired by a 19th-century original from the Parisian theater; $2,100.
Fu-chest/Arason Enterprises
PS 2-300
Three new styles in the ZZZ-Chest cabinet bed: ZZZ-Chest space-saving bed with storage drawer, a deeper cabinet than the original Fu-Chest, and a sleeping platform that is raised from the floor; convertible from cabinet into a platform bed in seconds; available in a light or dark birch finish in a contemporary style called Metropolitan; also a bed in a wicker and fruitwood finish called Savannah; and a rubbed black finish called Ravenswood.
Giorgio Collection
125 S. Hamilton St.
St. Tropez collection:
Eight-piece bedroom and six-piece dining room in Italian contemporary design.

Figured sycamore veneers in satin cappuccino finish, trimmed with polished chrome accents.

Bedroom or dining room, $8,995.
Global Furniture
156 S. Main St.
Two complete suites for the Heirloom Traditions brand:
Manhattan, three bedrooms and accent items in deep Sienna-finish solid mahogany; clean lines and curves accented by stylized chrome hardware; complete bedroom, $1,999.

Cabin Creek, two complete solid-wood country casual bedrooms in two mixable hand-rubbed finishes, ebony and tea glaze; tailored period hardware in pewter and antique brass finishes; English dovetailing, deep smooth drawers, hand-carved accents, wood dustproofing, wood drawer guides, adjustable/removable shelves; complete bedroom, $1,599.
MS 142
More than 60 introductions include new dining table, bed and armoire designs and additions to the Biltmore Estate and Plaza collections.

Additions to the Bella Rustica collection in soft tones and casually elegant designs of the Italian countryside.

Greater emphasis on kitchen and bath cabinetry.
Marketing programs: New dealer support materials, including redesigned product brochure showcasing best sellers; dealer postcards now available featuring newer additions to the line. Consumer advertising campaign for Fall 2005 includes ads in Veranda, Architectural Digest, Coastal Living and Southern Accents magazines.
Launch of Habersham Home, a complete home design concept showcased by showroom representation of a foyer, great room, dining room, kitchen and bath.
Launch of Designer Exclusives, a new collection of semi-custom furniture designs available only to Habersham's interior design and trade showroom customers.
Harden Furniture
200 N. Hamilton St.
A 40-piece collection in Mulder-finish solid cherry; pieces include hand-planed trestle dining table, $2,295; bed with tenon joinery, $1,895; and armoire with mortise and pegged joinery, $2,295.
Harden Mfg.
IHFC M-925
The Marseille, a seven-piece Louis Philippe bedroom with eye-catching curved sleigh bed; case pieces with wrap-around shaped molding; simulated burnished cherry finish accented with antiqued brass hardware; $799.

The San Miguel, a 12-piece transitional/traditional bedroom adorned with gold-tipped metal scroll inserts, and hand-crafted molding and overlays; simulated washed ash finish with rubbed metal hardware on oversize cases; $1,199.

Crescendo, a casual bedroom in sandalwood finish on ash veneers and rubberwood solids, scaled for small master, youth or second bedrooms; arched panel bed in three sizes.
High Point category debut of master dining with two 13-piece collections, Island House and Irving Park; table and four chairs, or buffet and hutch, $999.
Hekman
200 N. Hamilton St.
Metropolis, seven dining pieces, as well as three for entertainment and 10 for occasional in urban contemporary/transitional style drawing from European designs of the 1920s and 1930s; rich mahogany accented with rosewood in a warm satin sheen oil finish.

Maison de Provence, eight pieces dining, two for entertainment and a bar, and 20 occasional pieces in eclectic, casual country French style drawing on rustic antiques found in France's outlying regions; wrought iron, wild cherry wood, rustic seeded glass, aged pewter hardware; golden brown cognac finish with rich burnishing highlighting subtle carvings, generous moldings and planked surfaces.

To Repertory in early 19th-century Neoclassical and Empire designs, adding 15 pieces, including two for dining and four-piece bar/wine cabinets; leafy heart cherry veneers with walnut borders and satiny silver hardware; French roast coffee-bean finish and deep, waxy patina.
Henredon
641 W. Ward Ave.
A 44-piece collection inspired by grand formal resorts, predominantly dark cerejera veneers in a rich hand-rubbed finish, as well as Karellian birch veneers and mixed media of cocoa shell, leather, rattan and split seed; a plantation sense, but classic styling, as well as campaign elements.

Replicating last market's finish story in Ashton Court this month in Natchez, offering Natchez pieces in a choice of six finishes.
Two new lifestyles for Ralph Lauren:
Modern Hollywood in walnut veneer and solids, with a parchment element, and nickel hardware with leather stitching; pieces include extended panel bed with wing nightstands.

Villa America, an upscale island look, with a table based on an original in Lauren's home in Jamaica, with geometric base and woven sea grass under a glass top; silver plate hardware; sleigh bed with split rattan on headboard, rails and foot.
To Lauren starting price-point line, adding Collection 1800, with LRL-embossed hardware in leather and brass; warm mahogany finish; reeded leather accents.
Hickory White
200 E. Green Dr.
Continental Classics, 28 pieces for bedroom, dining and occasional, spun off a strong-selling occasional collection from CTH Sherrill Occasional; pre-dominantly light Tuscan Italian, with mix of architectural elements; rub-through black finish and light brown with a touch of beeswax.

Three freestanding upholstered beds.

Skyloft, contemporary dining room, occasional and upholstery; 15 wood SKUs, five upholstery styles; bedroom to follow in April, in American premium walnut veneers and clear maple solids; classic, unadorned finish; pieces include 108-inch dining table extendable to 138 inches; 66-inch round with sunburst of walnut cathedral heart veneers with center of laurel burl.
Home Trends & Design
MS 1-480
A new source in direct import home furnishings from India.
Five complete lines of solid hardwood, hand-crafted dining, occasional and accent chairs, along with a mix of accents, textiles and lighting.
The Regency Iron & Leather collection, four pieces for dining room in iron and leather, available in black or brown finish; made in India; $170 to $250.

Metro collection, organic and contemporary pieces for dining and occasional with clean lines and smooth finish, in natural-finish acacia wood; $360 to $1,185.

Pennsylvania collection in solid chestnut-finish rosewood inspired by traditional Shaker interiors, with organic, contemporary feel; dining and occasional.

New York collection, dining, occasional and entertainment furniture in Indian rosewood; modern design with clean lines accented with wooden handles, available in natural or whitewash finish; $240 to $1,185.
Hooker Furniture
IHFC W-1047
Modern Classics, a traditional/transitional collection of bedroom, dining and occasional updated with Art Deco elements such as soft edges, cloverleaf posts and pilasters; first wall bed in over 15 years; birch solids and ash burl veneers, accented by solid-granite tops on selected items.

Additions to Intimate Home, many based on existing items in the line, including twin cane bed and armoire, as well as writing desk based on original server.

Chateau Marquette bedroom in Louis Philippe-style cherry solids and veneers in medium-brown clear finish; also includes home office and home theater.

Sutton Court bedroom in 18th-century hardwood solids and crotch mahogany, rosewood and satinwood veneers, with ebony stringers; intricate inlays on tops and door panels; shaped pilasters with cloverleaf profile and bracket feet with a carved base rail; period drop-bail hardware, with door panels accented by intricate inlaid veneer panels with ebony stringer.

Casablanca, with Mediterranean-inspired off-the-floor styling, an abundance of rich carvings.
Huppé
HS 118
Collections include Monaco, a square-shape contemporary bedroom in birch, shown in chocolate finish, but available in different colors.
J.D. Chamberlain
IHFC H-410
More than 65 new products, including expansion into painted furniture, lighting, accessories and wall décor. Artistic and highly sculptured tables in solid wood and metal; hand-painted and delicately distressed pieces in subtle colors combined with natural wood finishes; new headboard-only bed; elegant long-legged console in iron, faux bamboo legs, chow-leg plasma television stand in wood, metal and crushed bamboo veneers.
J. Wentworth Furniture
IHFC H-721
Maine-based manufacturer introduces Yesterdays collection, more than 30 authentic re-creations of classic American designs in hand-crafted solid wood; versatile tables, spacious chests, beds, mirrors and more.
Jimsa Sales & Marketing
C&D 8-I
Market debut of furniture and decorative accessory line sourced in the Far East.
Three new bedroom collections and a youth furniture collection, as well as a collection of lamps and accessories.
John Robshaw
MS 628
Four new beds: Jala, Samode, Goa and Gomati.
Jonathan Charles
350 Fred Alexander Place
Seven-drawer walnut-finish sideboard with plank top; caned-seat walnut-finish dining side chair; silver cabinet with leather inlay and silver-cloth lining; hunt table with folding leaves and plank top; bedroom chest of drawers with leather inlay and brass bamboo pulls.
IHFC H-1204
Mitford, 40 pieces for bedroom, dining and occasional in solid pine; clean styling with metal hardware; English dovetailing on front and backs of drawers, wood drawer guides; metal bed to tie in with hardware; beds, $699 to $999.

Highland Park, 70 to 75 pieces in contemporary solid alder in a satiny finish; four beds, including $699 metal bed; $799 your choice; Kincaid's first true platform bed with drawer storage in base; includes modular dining piece with options for inter-changeable glass or wood door inserts.
Kindel Furniture
242 N. Hamilton St.
A new line of furnishings based on furniture in George Washington's home, Mount Vernon.
King's Rattan
PS 2-213
Manhattan, a solid-wood bedroom collection with wood dovetailing and four-way drawer construction.
Laurier
IHFC D-1101
Equinox dresser, mirror, two night tables, queen-size platform bed and armoire in exotic sapelli wood; six pieces, $6,999.
IHFC G-576
Astoria, a seven-piece bedroom inspired by France's Post Moderne era and the North American Art Deco period; quarter-cut mahogany veneers, jewelry-style hardware in aged sterling finish, and clean, soft and sophisticated retro mahogany finish.

Veradaro, 12 pieces for bedroom and dining in exotic cherry veneers reminiscent of great plantation houses of Havana; distressed, worn finishes and aged brass hardware, metal accents, stone insert tops and oversize case pieces.

Five occasional pieces for Fifth Avenue, including end, round metal, bunching cocktail and bookcase sofa table in retro styles from the 1930s through 1950s, reminiscent of Art Deco, with maple hard-woods and anigre veneers.
Marketing programs: Quick-ship program implemented; introduction of Leda Advantage program. Expanding fabric offerings with additions to standard selection.
Legacy Classic
PS C-100
Bellisimo, bedroom, dining and occasional in carved, traditional-style pine veneer and solids, and select hardwoods in a washed taupe finish; bedroom set, $2,499 to $2,999.

Siena, European traditional bedroom, dining, occasional and wall system in figured anigre veneers and select hardwoods with a medium-brown finish; bedroom set, $1,499 to $1,999.

Echo, lifestyle transitional bedroom, dining occasional and wall system in warm cherry brown-finish walnut and cherry veneers, and select hardwoods; bedroom set, $1,999 to $2,499.

Chelsea Park, contemporary transitional bedroom and casual dining in mocha-finish ash veneers, pine solids and select hardwood; bedroom set, $1,499.
Leif Peterson
220 S. Elm 228
A variety of contemporary case goods, occasional, accents and lighting.
Lexington Home Brands
1302 National Highway, Thomasville
Bob Timberlake Salt Aire, 40 pieces for bedroom, dining, occasional, upholstery and home entertainment in an upscale cottage/coastal style; wood, white, blue and green finishes available; three beds, two dining tables and a large assortment of accents.

Woolrich Summerstone Falls, 22 pieces of bedroom, dining and occasional in an upscale Western retreat look.

Liz Claiborne Modern Elegance, 35 pieces for bedroom, dining, occasional and upholstery in Art Deco/Mid-Century inspired transitional styling.

Adding dining room and occasional to Tommy Bahama Curacao Reef.

Adding occasional and home entertainment to Nautica Breakers Point and Colonial Passages.
Magnussen Home
IHFC M-1010
Biltmore Estate For Your Home, 12 pieces for bedroom, 16 for dining, six occasional pieces and six accents in classic European traditional styling, based on furnishings and architectural details from Biltmore, America's largest private residence; exotic mahogany veneers in finishes ranging from deep caramel to golden honey.

Ashby, a 10-piece urban cottage bedroom in clean white finish with a subtle patina and reeded glass.

Stafford, a seven-piece bedroom with turned posts, pierced carvings and decorative inlays in cathedral cherry veneers with a burnished two-tone cherry and umber finish.

Venice, an 11-piece bedroom with cascading walnut veneer patterns in a sophisticated smoked charcoal finish, graceful curves and stylized antique nickel hardware.

Eight-piece Montage bedroom with Zen influences in clear, Bordeaux-finish oak.

Addesso, a 12-piece bedroom with clean lines, bold pro-portions, and Italian and Danish influences in cherry veneers with warm, tone-on-tone cognac and espresso finishes.

50 new pieces for Accents Express in transitional and traditional designs, and hand-painted and wood finishes.

14 freestanding occasional collections.
Manchester Furniture
1515 W. Green Drive
Debut of The Collections by Alexander Julian.
Initial launch includes six bedroom and dining collections covering a broad selection of fashion-forward styles with Alexander Julian's signature design motifs.
Targeted to appeal to a broad market segment at multiple price points.
Marcusso Design
MS 1-1202, -1102
High Point debut of a high-end, design-oriented line of Brazilian-sourced furniture with three collections ranging from contemporary to traditional. Line includes case goods, upholstery and home accents.
Master Design
PS 309
No. 504 Series bedroom and dining room:
11 pieces in Mid-Century design with soft elegant curves in birch solids and veneers in a walnut finish and polished chrome accents.

Two mirrors, two dressers, five cases and two bed options, sleigh and poster/canopy.

Two tables — extension leg table with 18-inch leaf, and double-pedestal with two 18-inch leaves — plus a curio buffet/hutch; four-door buffet/hutch; sideboard and three styles of dining chairs.

Three-piece bedroom, queen-sleigh way, $1,399; five-piece, queen-sleigh way, $2,199; three-piece, queen-panel way, $1,499; five-piece, queen-sleigh way, $2,299.

Five-piece dining room with leg table and shield-back chairs, $899; five pieces with pedestal table and upholstered back chairs, $1,299.
No. 541 Series bedroom and dining room, cottage style in white finish:
Shaped panel bed in king, queen or twin, and four-poster in king or queen.

Leg dining table with 18-inch leaf; 48-inch round table expandable to 68 inches; 52-inch pub table; carved-back side and arm chairs, and one-piece curio buffet/hutch.

Three-piece, twin-panel set, $1,099; three-piece, queen-poster set, $1,199; five-piece, queen-poster set, $1,899.

Five-piece dining set, $799; seven-piece set, $999.
No. 509 Series bedroom:
Eight pieces in architectural, urban contemporary style in natural maple and dark walnut.

Bed options include sleigh bed with upholstered headboard, or panel bed with checkerboard veneer patterns.

Three-piece, queen-sleigh set, $1,499; five-piece, queen-sleigh set, $2,299; three-piece, queen-panel set, $1,399; five-piece, queen-panel set, $2,199.
No. 551 Series bedroom:
Seven pieces in pine solids and veneers with bombé design.

Bracket foot and inverted top molding for a British country look with a French-Brittania flair.
Michels & CO.
IHFC C-1057
The seven-piece No. 1120 upscale contemporary bedroom in a rich walnut finish with burl accents; unique tiered-top cases with curved fronts; two bed styles offered along with choice of chest or armoire.

Five-piece No. 5800 transitional/lifestyle bedroom in washed garden pine finish with solid-granite accents; detailed molding, carved appliqués, cut-out bases and custom hardware.
Moretti's Design
IHFC H-1009
The Spanish collection, influenced by fine Spanish furniture from the 16th century; combination of antique style and modern functionality; includes dining table with faux leather top in dark chocolate color.
Palliser
220 Elm, fourth floor
Atlantic, a traditional collection of master bedroom, dining, occasional and entertainment furniture; curved drawer fronts and tops, shaped solid-wood legs, thick built-up tops and satin nickel pulls; microfiber on chairs and bed panels, leather on platform bed; available in candlelight and diamond finishes.

Hamton, master bedroom and dining room in ivory or laurel cherry finishes with satin nickel hardware; three beds include poster with woven rattan headboard and optional canopy; sunburst veneers on dining table tops.

Davidson, a casual transitional master bedroom in solid hardwoods and maple veneers with detailed moldings; available in two finishes, Amber with antique brass hardware, and Fairmont with antique pewter hardware.

Oxford, a master bedroom with cherry veneer marquetry detail on drawer fronts, case tops and sleigh bed headboard and footboard; antique pewter hardware complementing multi-step distressed finish.

Adding dining room to traditional/transitional Tyrolia in ambrosia or dark hickory finish.

Parker, contemporary master bedroom, dining, occasional and entertainment furniture in medium brown-finish walnut veneer.

London, contemporary master bedroom in caramel-finish okoume veneer, featuring leather accent on bed.

Madison, contemporary master bedroom in okoume veneer with a brandy finish, featuring microfiber on bed.
Pennsylvania House
200 E. Green St.
Precedence:
15-piece bedroom and 13-piece dining room, plus occasional in primarily primavera veneer with laurel burl accents and alder solids with a burnished walnut finish with deep golden undertones.

Essentially traditional in styling, but refined for more modern silhouette, and up-dated with metal ferrules
and reeded treatments, and transitional hardware inspired by high-end casual flatware.
Esprit:
Expanding into casual country French and new woods with 15-piece bedroom and 15-piece dining room, plus occasional, primarily in solid birch.

Elegant carvings, softened edges and light hand-planing on plank tops; lightly distressed with deep golden French color, sanded and waxed.

Some pieces with olive ash burl and birch veneers; others with decorative hand-painted motif; hardware in aged and blackened pewter finish and matched to individual pieces.
Marketing : Launching fall and winter sales events, which include print ads, television and radio ads and point-of-sale materials; special incentives, services and advertising marketing support through gallery program.
Philippe Langdon
200 N. Hamilton 207
Versailles, combining wood, marble, leather and metal; finishes of chestnut mink and Grand Marnier; dresser, mirror and two nightstands, $7,000 to $8,000.

Adding dining room to Tuscany and Paradiso collections; both featuring round wood-top tables available in 60-, 72-, 84- and 96-inch diameters; large-scale buffets; and chairs upholstered in leather.

Wood-frame accent and occasional chairs available in fabric or leather or Philippe Langdon's wood finishes; from $299.

Entertainment center with pop-up plasma television mechanism, with intricate carvings, glass doors and 156-inch width and 92-inch height; joining a full collection of occasional, home office and library furniture.

Additions to existing collections.
All-wood products — no resins — and hand finishing. U.S. warehouse for quick-ship capacity as well as direct mixed containers.
The Platt Collections
200 N. Hamilton St.
Introducing a fashion upholstered headboard program with six unique, design-oriented headboards with a selection of fabric options and matching cases available; $1,999 to $2,499.

Arpege, a 10-piece bedroom with detailed carvings, graceful oval and serpentine case shapes, medium hand-rubbed finish, and light accent metallic highlights.

Encore, a 12-piece transitional dining collection with aframosia veneers on hardwood solids; 76-inch square wood table with carved details; glass-top pedestal table; buffet with curved top with glass overlay; china/étagère and serving bar with lots of function.
Powell CO.
NFM 100
The Michael Payne Mayfair collection, a traditional collection in a rich cherry finish, with framed parquet border and short-grain edges; several pieces with hand-painted scroll/floral panels; hardware in antique brass finish.

Michael Paine Sloan home entertainment center, contemporary styling in rich Merlot-finish walnut veneer and solid African mahogany.

Villa Della Luna dining, occasional and accent furniture, based on art by Jana Kolpen and Mary Tiegreen in the story "Dancing With the Moon: A Story of Love at the Villa Della Luna"; lightly distressed pine or black rub-through finishes on birch solids and hand-matched pine veneers with painted accents; antique pewter-finish hardware.

An assortment of RTA media centers, including Gun Metal television stand, component tower and plasma stand; Glossy Silver finish architectural plasma and television stands, and component tower.

iBedroom contemporary youth collection with side-hung full-extension drawer guides, tempered frosted glass drawer fronts, and steel construction in a titanium gray powder coat with chrome accents.

Also upholstered chairs and ottomans.
Pulaski
IHFC M-300
Antiques Roadshow addition, Ebony Carlton
Manor, a scaled-down version of the existing Carlton manor, with rub-through cherry finish, also oak dining and occasional; 30 new English-inspired accents, including antique cabinets and desks.
Casa Cristina Urbana, 74 pieces for bedroom, dining and occasional; cleaner, more architectural than the original Mediterranean-leaning introduction, in primarily pecky pecan veneers; strong color element in accents, as well as mixed media.

West Village cherry bed-room, in a more modern style than typical product in the line; deep red finish, floating tops, continuous bases, saber footings and silver-finish hardware.

Terracina bedroom, dining and occasional in washed burl veneers, ornate classic Pulaski in a creamy finish; intricate carvings and framed details inspired by the Italian coast.

Beckenham, an English-inspired bedroom with hand-carved spiral and acanthus-leaf pilasters, long and gracious stacked moldings with antique cherry finish.
Also major additions to Keepsakes line of curios and display cabinets, with a particular focus on interior lighting, in a good, better, best story.
Also making an extensive addition to the Accentrics line of home accents, with more attention paid to occasional and jewelry items at starting price points.
Richardson Bros.
IHFC G-382
Eagle Glen:
10-piece bedroom combining Louis Philippe with relaxed simplicity of cottage style in solid birch with a rich extra-dark color and warm rub-through undertones; aged bronze finish on hardware, set into a carved rosettes in drawer front applications; English-dovetailed drawers and raised side panels throughout.

King and queen panel and slat headboard and footboard; each headboard with five solid-wood raised panels surrounded by heavy picture frame molding and capped with a wide rounded rail top; mid-height footboards with three solid-wood raised panels; bolt-on bedrails with mortise-and-tenon construction and three screw-on wood slats, each with leveler; king bed with adjustable metal mattress support rather than slats.

Tall, six-drawer dresser with door hiding two adjustable shelves in compartment; door with two solid-wood panels.

Armoire base with three drawers and levelers on each foot; armoire top with double-hinged doors hiding four drawers and an adjustable shelf with rear support; slide-out, back-panel insert and outlet box with coaxial cable connections.

Six-drawer chest.

Nightstand with a single drawer and open storage compartment with adjustable shelf.

Four pieces, $2,999.
Riversedge
233 S. Main St.
Country Excursions, an eclectic 35-piece bedroom and dining collection drawing upon global design elements molded into a common theme; available in cherry, antique white, black and turquoise finishes; bed, $999; table and chairs, $1,199.

Highlands, 24-piece country collection of bedroom, dining, occasional and entertainment in fresh new pine look; includes platform bed; bed, $499; table and chairs, $799.

Briar Cliff, 23-piece traditional, mixed-media collection of bedroom, dining, home office and entertainment in cherry and burl veneers, marble inlays and iron; iron and wood panel bed; bed, $799; table and chairs, $1,199.

Riviera, contemporary 27-piece collection of bedroom, dining, occasional, home office and home entertainment in rosewood and cherry veneer; includes sleigh or poster bed, leg or pedestal table, two chinas, slat-back or upholstered dining chairs; bed, $799; table and chairs, $1,199.

Del Mar, 28 pieces for bedroom, dining, occasional tables, and entertainment credenza and hutch in mahogany veneers with tam-bour fronts; bed, $599; table and chairs, $899.
Riverside
IHFC C-302
Trends, a six-piece transitional bedroom in hardwood solids with straight-grain and starburst-design mahogany veneers; queen bed, $599.

Majorca, six-piece Art Deco bedroom in oak solids with straight-grain and starburst-pattern oak veneers; queen bed, $799.

Elegance, seven-piece traditional bedroom in poplar solids with cherry and olive ash burl veneers; queen bed, $949.
Rotsen Design
IHFC D-1031
High Point debut of a high-end, design-oriented Brazilian supplier of case goods items, occasional and upholstery.
Sauder
220 S. Elm 218
Six bedroom pieces for casual country Orchard Hills collection in medium-tone River Oak finish with bronze-color hardware; $69 to $179.

Six bedroom pieces for CY collection in ebony ash finish; $129 to $299.
IHFC H-107
A cottage-style chest with four drawers, French legs, wood knobs and curved skirt, available in more than 30 colors.

Plantation dining buffet with four plantation-style shutter doors, adjustable shelves and beadboard back, available in more than 30 colors.

Fish daybed with slats to fit standard twin mattress, shown in Bermuda finish.
Selva Style International
200 Steele 132
SelvaSolitaire, a full line of furniture originating from the Belgian designer Axel Enthoven, studded with Strass Swarovski Crystal.

Voyage, with doors and drawers available in four different versions in styles from classic to colonial on pieces designed in styles from the 1930s and 1940s.

Adding a bedroom and new finishes to the eclectic contemporary Downtown collection.
MS 315
Escala Home collection, an eight-piece bedroom and three occasional pieces in European Country-style cherry solids and veneers with wrought-iron accents; bed, $999.

Timeless Country collection, six-piece dining room and three occasional items in rustic country maple solids and veneers with tin metal accents; china, $1,999.

Timber Heirlooms collection, six-piece dining room in rustic retreat-style birch solids and veneers with cocoa bark accents; china, $1,999.
Marketing programs: Strengthening formal dining offerings; new gallery program tied to direct-container program; new showroom with double the space of the previous location.
Sharut/Icon
305 S. Hamilton St.
IcOn additions include:
Two bedrooms, Chilton and Madison, both with strong clean lines; pier wall and platform beds available in king and queen sizes;

Also the Hawthorne wardrobe, Jamison China, and Harrison bookcase.

New entertainment centers include the Bronson room divider with floating, rotating plasma panel; Dylan and Addison television stands with drawer and component storage; and the Parker, Payton, Marco and Upton entertainment walls with lower overall heights.
Signature Home Furnishings
NFM 812
Five bedroom groups in all-new styles and finishes with matching burl; each group with choice of beds, including sleigh, post and canopy styles; suites, $2,999 to $3,999.
Somerton Home Furnishings
IHFC C-1112
A variety of case goods introductions, including dining tables with unique function, from the U.S. marketing arm of a large plant in Southern China.
Southport
IHFC G-474
Main Street, 10-piece Shaker/Urban-style bedroom in maple veneer on poplar solids; also available in cherry, black and white finishes; queen bed, dresser/mirror and chest, $1,999.

New pieces and color selections for the Cottage Home collection, a collaboration of the cottage-style Biddeford Pool, Spinnaker Point and Summer Breeze bedrooms; queen bed, dresser/mirror and chest, $1,699.

Grand Cottage, 10-piece bedroom in upscale cottage styling in pine solids and pine veneers, available in several finishes; queen bed, dresser/mirror and chest, $1,899.

The warm, upscale country Sugar n' Spice seven-piece bedroom in warm maple- or cherry-finish maple solids and maple veneers, with clean lines and large-scale pilasters; queen bed, dresser/mirror and chest, $2,799.
Stanley
IHFC C-1158
Chanticleer:
65 pieces in an eclectic in feel, inspired by French antiques, in cherry solids and veneers.

New pieces for Stanley include new dining table formats of 40-inch square table expandable to 60-inch round; 88-inch table expandable to 116 inches with two end leaves; and wine cabinet with Biedermeier pilasters that replicate throughout collection, with capacity for four cases of wine.

Three beds: sleigh; panel bed with French headboard and low, inverted cabriole post on footboard; panel bed with Biedermeier columns.

Finish options on some pieces for red, black and cherry; striped motif on mirror, bachelor chest and cocktail.

Beds, $1,595 range.
Louis Louis:
76 pieces for bedroom, dining and occasional, most available in cherry, black or white finishes.

Classic Louis Philippe styling contemporized for a more modern, transitional environment.

Upholstered bed, $995 queen; metal bed $795; the "glass menagerie," a new configuration with china dining function, $3,995.
Superior
310 N. Hamilton St.
Entering the bedroom category, targeting primary and vacation homes, loft/townhouses and youth bedroom. Ability to dress up or down through selection of wood stains and painted colors, and to achieve traditional, country and rustic tones depending on finish and distressing level.
A 19-piece bedroom and an eight-piece bedroom, both in cottage-style alder, available in 45 finishes, three levels of distressing and 18 painted colors; includes slat, louvered or beadboard beds.
Marketing programs: Same service and quality standards as regular line with finish, distressing and two-tone options at no upcharge; aggressive discounts for floor display to dealers.
Tvilum-Scanbirk
220 S. Elm 330
Savannah, a three-piece dining set with optional light finish, featuring extension leaves on table; $1,559.
Universal
2622 Uwharrie Road
Hollywood, 11-piece bedroom and 13-piece dining room in contemporarized Art Deco style; select hardwoods with cathedral primavera and walnut burl veneers.

Grand Palace, eight-piece bedroom and nine-piece dining room in opulent traditional styling; cherry veneers, ash burl borders, heavy carving and bombé shapes.

Back Bay, nine-piece bedroom and eight-piece dining room in a more architecturally oriented cottage look; pine finish, simple shapes, canted corners and relaxed feeling.

Pointe Harbor, same as Back Bay, but in an antique white finish.

Summer Grove, 10-piece bedroom and nine-piece dining room with a rubbed black stain cherry finish and black wicker accents.

Contour, eight-piece bedroom and eight-piece dining room in sleek, low-profile modern style with simple, elongated hardware and dark walnut finish.

Perspective, same as Contour but in a dark honey anigre finish.
Vaughan-Bassett
IHFC C-1000
Cottage collection additions include bunk beds and true full beds, bringing the total to 247 SKUs; every piece in every finish delivered in 30 days or less.

Adding mahogany finish to Louis Philippe collection.

Adding a mission bedroom with a large slat bed at $499 retail in oak or cherry to Barnburners program.

Adding light and dark cherry to Casual collection.

To solid-wood program, adding maple and oak bedrooms with casual or traditional hardware; bed, dresser/mirror and chest retail from $1,999 to $2,199; bed, dresser/mirror and nightstand, $1,699 to $1,899.
Marketing programs: Offering a youth gallery.
Vignettes
IHFC M-507
A selection of distinctive master bedroom designs in wood solids and veneers, with styles ranging from cosmopolitan elegance to Old World, featuring a variety of wood finishes.
Wallbeds
FP 500
Showcasing the Hiddenbed, a disappearing bed with ample workspace features; when closed, the piece serves as computer desk, craft center or play surface.
World Concepts
CPC 25
Alpine, lodge-look bedroom, dining, entertainment, occasional, bars and accents, with heavy metal accents and dark, warm multi-step finish; made in Mexico; queen bed, $599.
Wynwood
PS 407
Edgewater, 15 transitional pieces for bedroom and dining in pickled oak finish with metal scrolled accents inspired by garden gates.

Edgeland, same as Edgewater, but in traditional prairie oak finish.

Wellington, 20 updated traditional pieces for bedroom and dining in rich cherry finish with nickel hardware.

Knob Creek, 30 stylish transitional pieces for bedroom, dining, entertainment and occasional in leather-accented pine with pine-and-black option; wood poster bed, castered chair and mule chest with bun feet.
Marketing programs: Two new offerings for top-of-bed program: shabby chic Sweet Ambrosia with floral patterns in aqua and butter cream with hints of pink; and Tutti Frutti, a bright, cheery ensemble of tomato-red and lemon-yellow plaids, stripes and solids.
Zocalo
HS 306
Farallon, a full collection for bedroom and dining room in amber-finish solid wood and cherry veneers; pieces from $119 to $899.

Otto, a bedroom in ecologically friendly polyester weave and merante wood; pieces from $149 to $749.
Related Content By Author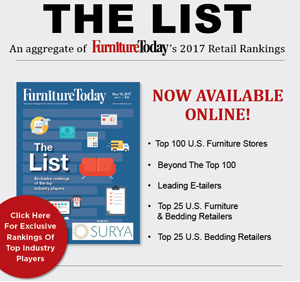 Get exclusive rankings of Furniture Today's top industry players including Top 100 Furniture Stores, Top 25 Bedding Retailers and leading e-Tailers. Get the stats now! Sponsored by Surya.
RSA Insights & Intelligence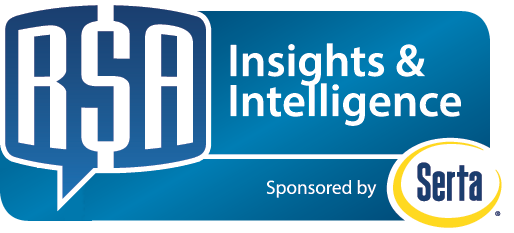 RSA Insights & Intelligence gives you, the retail sales associates, critical intelligence and insights. We make it easier for you to sell by providing actionable tips and key takeaways you can and should use for every sale. Check out our latest two articles:
* How to use an implied close
* The low cost of mattresses