Rug sources branch out in new categories
High Point - In recent years, a number of rug companies have changed the way they do business.
     That's not to say they're no longerin the rug business - far from it. But inan ever-competitive market, they see thebenefits of offering customers more andmore variety in the form of differentproduct categories.
     From pillows to poufs, accent furniture,lamps, lighting and more, they'regetting into these categories to becomemore indispensable to the retail marketand to help create a more completeproduct story that touches more thanthe floor.
     "When we started seven yearsago as a manufacturer going direct toretailers, no one had decorative pillows- now that's all you see fromthe rug import companies," said MarkFerullo, vice president of RizTex USA,parent company of Rizzy Home. "Wetake it as a compliment that all theseimporters have followed our lead. Wemanufacture the flat-weave pillows tocomplement the rugs and kilim-coveredfurniture. The additional products wecan manufacture within our facilitiesallows for a total coordinating package,from the same factory with quality controland timely delivery."
     Ferullo said the decision to get intomultiple categories was based on theidea that consumers should be able tocoordinate their accessories throughone manufacturer, which helps in tellinga more complete product story.
     "Having a large assortment of productsallows cross-merchandising andadditional sales for the retailers," hesaid. "They want a lifestyle and coordinatesfrom one vendor that has synergyand fluidity amongst the products."
     Safavieh's product offerings includerugs and accent furniture, stationaryupholstery, dining chairs and tables,barstools, wall art, decorative pillows,headboards, lighting and outdoor furniture.
     "The decision to add these categorieswas influenced by our desire tofill a void in the marketplace for totalhome furnishings collections that metconsumer needs for fashion, qualityand quick ship delivery," said ArashYaraghi, a company principal.
     "We did not see a future in whichconsumers would be happy with theold model of waiting four months forfurniture," he said. "They buy items onthe Internet now that the furniture andrug industry would not have believedpossible a decade ago - like expensivesofas or sectionals. Web sales tookoff first with rugs, so we wanted toleverage the strength of our brand andbranch out into total home."
     Yaraghi said one of the benefits ofoffering products in so many variedcategories is that it affords Safavieh thechance to get in front of consumersmore often.
| | |
| --- | --- |
| Rizzy Home offers multiple product categories, including rugs, pillows, accent furniture and top-of-bed. Items from the various categories were arranged in this vignette during the October High Point Market. | |
| | This display in Surya's Americasmart Atlanta showroom shows some of the manufacturer's offerings across multiple categories. |
     "We have more opportunities tointerface with customers because differenthome products have differentlife cycles," Yaraghi said. "Instead ofengaging a customer once every five or10 years, we now have more frequentpurchases to refresh a room - whetherit's a lamp or a decorative pillow or amirror."
     Within the past five years or so, Surya has added pillows, throws, wallart, accent furniture, mirrors and lampsto its product offerings in order to serveas a more complete resource for retailersand designers.
     "When we initially expanded intopillows more than five years ago, weunderstood that customers are no longerlooking to add a single accessory oraccent piece within their living environmentsbut instead are seeking to buildcoordinated looks that express theirpersonal style and design aesthetic," saidSatya Tiwari, Surya president.
     "By offering a variety of accessory categories from a single source, we are able to streamline the shopping experience for retailers, designers and consumers while also making it easier to match colors and textures and see how various products will work together."
     Tiwari said suppliers that can offermore products can help simplify the salesprocess for retailers.
     "A retailer who is able to display awell-accessorized room is more likely torealize additional sales beyond the furniturepurchase," he said. "In addition, thatretailer's customers will likely be moresatisfied and loyal to the store.  Designerslike the convenience of being able tobuild an entire look without having tovisit multiple sources."
     A number of traditional rug manufacturershave recently made their firstentrance into additional categories.
    Jaipur now offers pillows and poufs,and Candace Clarke, the company'smarketing director, said additional foraysmay be on the horizon. Clarke said thatwith Jaipur's expertise in rug manufacturing,moving into additional soft goodscategories was a simple evolution.
| | |
| --- | --- |
| Loloi introduced pillows — its first product category aside from rugs — during the October High Point Market. | |
     "We produce great hand-crafted textilesfor the home. In the past it was justrugs but now as a natural fit we moveinto pillows and poufs," she said. "It's avery natural transition for us as a manufacturerand fits the lifestyle needs of ourcustomers for product coordination andgreat design they already love in a differentform."
     Clarke said that by virtue of offeringadditional products, more attention hasactually fallen on Jaipur's rugs.
"It's made people start seeing rugs asa more accessible and fun accent piecethat fit right alongside their other smallaccessory pieces," she said.
     Earlier this year, Kas introducedits first pillows and poufs at Americasmartin Atlanta. Wendy Reiss, vicepresident of key accounts for the manufacturer,said offering more productsopens doors that might not have been accessiblefor a supplier with one categoryto sell.
     "When you expand out into othercategories, there are new stores, retailers,etc., that may now be interested in whatyou have to offer," Reiss said. "Some ofthese people may have never entered therug 'scene' before and may now understandthe benefits of carrying and havingrugs in their stores. It is a win-win in myopinion."
     Reiss said the additional soft goodswill enable Kas to play to some of itsstrengths in trends.
     "We do a nice job with themes suchas tropical and seashore to name a few;we have beautiful rugs that fit thesethemes and now we will have beautifulpillows and poufs that will just add to thelook," she said.    
Loloi
introduced its first pillows inHigh Point in October and added some29 styles for the winter markets. CyrusLoloi, a principal of the Dallas-basedmanufacturer, said offering pillows madesense from the perspective of becoming amore key resource for retailers.
     "Nowadays customers are diversifyingtheir retail assortment and they'relooking for multiple product categories,"
Loloi
said. "If the customer is alreadycomfortable doing business with you,you have an opportunity as a vendor totry your other product categories."
     But Loloi made it clear that the companyisn't going to make new product forthe sake of making new product.
     "The decision to get into pillows wasbased on the design talent we have at Loloiand their eagerness to try pillows, aswell as the demand from our customers,"he said. "Loloi could have entered the pillowcategory a while ago, but we wantedto make sure we keep our reputation fororiginality intact and not introduce a pillowline with me-too designs."
| | |
| --- | --- |
| | After more than 30 years as a rug resource, Kas is transitioning into more home décor categories in 2014 with the introduction of pillows and poufs. |
| Rugs and pillows from designer Luli Sanchez are among areas where Jaipur has presence in more than one category. | |
     For some companies, offering rugsalongside other product categories isalways the way business has been done.In addition to numerous rug constructions,Meva's business model has alwaysincluded case goods, antiques and upholsteryin order to promote a consistentstory.
     "Our products are designed to worktogether and complement each other inboth aesthetics and price point," saidAmy Connor, director of design and marketing."We also have made a shift overthe past two years to exclusively designingmost of our furniture pieces and rugswhile limiting our straight exports fromfactories. Though this is a time-consumingprocess and does come with risk, wefeel it is important to our retailers."
     Connor said the ability to offer multipleproducts allows manufacturers tocreate a look that is distinctly their own,which resonates in the market.
     "We are continuing to move in thedirection of bringing exclusive furnitureand rug designs through our brand, allowingour products to stand out fromother manufacturers," she said.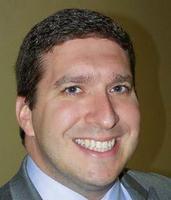 Thomas Lester
|
Assistant Editor, Home Accents Today
tlester@furnituretoday.com
Related Content By Author
Centered on retail: From truck stops to new stores and A.I. marketing

More Videos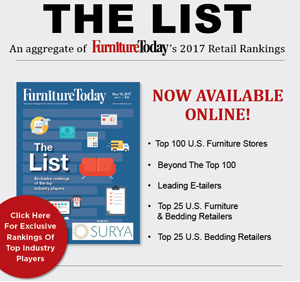 Get exclusive rankings of Furniture Today's top industry players including Top 100 Furniture Stores, Top 25 Bedding Retailers and leading e-Tailers. Get the stats now! Sponsored by Surya.
RSA Insights & Intelligence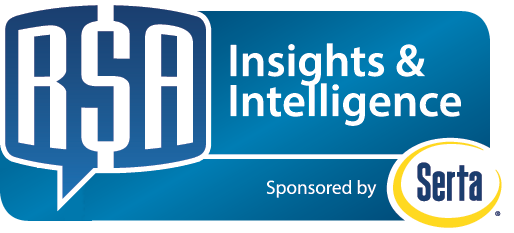 RSA Insights & Intelligence gives you, the retail sales associates, critical intelligence and insights. We make it easier for you to sell by providing actionable tips and key takeaways you can and should use for every sale. Check out our latest two articles:
* How to use an implied close
* The low cost of mattresses