Rustic looks do well in case goods at tupelo
Tupelo, Miss. - Rustic looks were popular among buyers of case goods at the
Tupelo Furniture Market
here.
     Often, scraped-away paint on reclaimed pine did the trick, or showrooms displayed dining tables that, though meant for the indoors, looked as if they could grace a beachfront patio as well.
     The rustic look found contrast in pieces of extreme elegance that won over some dealers - particularly in the showroom of Gail's Accents, which co-owner Ray Steele dubbed "The Tiffany's of Tupelo." Other suppliers scored big with more traditional bedroom, dining and occasional collections.
     Some manufacturers wooed dealers with tweaks of established products. Thanks to Powell's efforts, for example, the phrase "Big and Tall" might come to apply not only to clothing but also to barstools and chairs.
     And if a retailer simply wanted good or great deals, Tupelo's suppliers offered them in various and sundry forms
Powell's stool for the big and tall sold well in Tupelo.
.
     In the Largo showroom, Vernon Piehl, vice president of sales and marketing-case goods, said casual dining was doing well, with customers favoring the cool and rustic in several collections. One such collection, called Callista, offers what the company calls "a weathered, rustic presentation" that could recall summer vacations spent at the beach.
     The Callista - its top is made of acacia, which can go well with upholstered or non-upholstered chairs of the same material - was displayed in Tupelo with a rustic bar trolley.
      Others capitalizing on the rustic look in Tupelo included Rustic Heritage and Coaster Co. of America. The mango wood of India made its way into a popular square dining table offered by Coast to Coast Accents, featuring scraped-away paint on a surface of diamond patterns.
     The mango was juxtaposed with the sheesham of another table. The sheesham, which was left largely alone, is "more about celebrating the wood," as opposed to mango, which is like "having a canvas to put something on," said David MacIntosh, chief administrative officer.
     If buyers wanted more traditional fare, they could find it in several showrooms, including that of Acme Furniture, where the Chantelle collection impressed dealers with such features as its French rococo tufted headboard and footboard.
     At Standard Furniture, John Beard, Southeast sales manager, proclaimed several bedding, dining and occasional collections a success. One was the Stonehill Bedroom, which featured framed panels on beds, wide-case pilasters, bluff-cut center drawers, angled feet and flush-base rails.
     Also doing well were occasional tables in Standard's Saratoga collection that recalled the vintage i
The Bling console, featuring pave accents and gold trim, helped turn the showroom of Gail's Accents into "The Tiffany's of Tupelo."
ronwork from Tuscany's picturesque villas with such features as metal S-scrolled legs and beveled glass tops.
     Gail's Accents supported Steele's "Tiffany's in Tupelo" pronouncement with Bling, a two-door console featuring two adjustable shelves, a gunmetal finish with gold undertones and highlights, as well as pave accents.
     The accents, made of cut glass, recall pave diamonds. "What woman doesn't love diamonds?" Steele asked. He added that Bling the console complements a Bling chest that features similar materials. In the Powell showroom, Lee Scott, vice president of sales-Midwest, touted the success of a program that promotes barstools for big and tall people. A user of one these chairs can expect an oversized seating area, an industrial-strength steel-tube frame, heavy-duty welding and swivel plates, along with the kind of sturdiness that can support up to 400 pounds.
     Retailers in the hunt for a good deal in Tupelo could go to Beckham Home/Cassady Closeouts, where Sonny Cassady enthusiastically sold headboards by the dozens. These were originally destined for Target stores but never made it there, he said.
    Cassady said he sold 1,000 headboards in Tupelo for $35 apiece as part of closeout sale. This means that retailers could promote them for between $55 and $99 during tax season, below normal retail pricing of $149 to $199 for such pieces.    
Ashley
Furniture Inds.' deals came in the form of incentives. One included a 24-piece table set in a casual dining collection of a table and four chairs.
     "We believe in packages," said Kerry Lebensburger, president of sales.
RSA Insights & Intelligence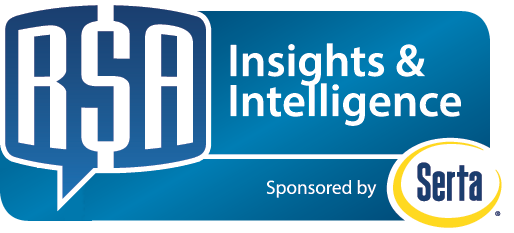 RSA Insights & Intelligence gives you, the retail sales associates, critical intelligence and insights. We make it easier for you to sell by providing actionable tips and key takeaways you can and should use for every sale. Check out our latest two articles:
* How to use an implied close
* The low cost of mattresses