United they stand?
HIGH POINT — There's been a considerable amount of consolidation of late among freight movers, especially ocean carriers, serving the furniture supply chain. That trend comes in the form of strategic alliances and acquisitions.
Ocean carriers, facing issues of over-capacity and declining demand, have been teaming up in consortiums to make the most of low rates for carrying containers and reach new markets without adding new vessels.
Mergers of Cosco and China Shipping Container Lines, CMA CGM's acquisition of Neptune Orient Lines out of Singapore, are a couple of examples of consolidation going on this year. Carrier alliances, too, are constantly evolving, with Hyndai Merchant Marine joining the "2M" alliance that previously included Maersk and Mediterranean Shipping Co. (MSC). Between 2M and the other two major carrier consortiums, Ocean Alliance and The Alliance, carrier alliances account for a huge amount of Asia-North America capacity. According to the Journal of Commerce, Ocean Alliance and The Alliance each have a 39% share of that service route, while 2M has 16% (and that was before Hyundai joined 2M).
So far, the moves haven't helped those carriers make any significant gains in rates for shipping containers, which users of those services say are at or near all-time lows.

"Bleeding" money
A range of furniture vendors and logistics providers discussing consolidation in the logistics sector with Furniture/Today used similar descriptions for the current state of the ocean carrier community: "bleeding" money.
"This year we made out like a bandit on our (ocean shipping) rates," said Barry Bailey, director of transportation and logistics, Bernhardt Furniture. "I was in the middle of contract negotiations, and before I could even tell them if their rates were competitive, they came back and said, 'We'll knock off another $100 (per container).'
"They were able to drop the rates to take advantage of economies of scale with larger ships, but it's really not sustainable. Ocean carriers are bleeding."
Bailey said Bernhardt's ocean freight rates are down 16-17% from this time last year.
"The basis for the consolidation is the fact there's so much capacity in the industry right now," said Steve Wolfe, vice president of global supply chain and logistics, Stanley Furniture Co.
He pointed out three solutions for ocean carriers: consolidation through merger, new carrier alliances and vessel-sharing agreements. "It's all an attempt to get rate levels up to where they need to be to be profitable," Wolfe said. "Our rates are as low as I've ever seen them, and I've been doing this a long time. The rates will have to adjust at some point.
"The problem is the whole world's economy is soft right now — China's exports are off 4-5%, and Europe's not doing well economically — and that affects our industry."
Consolidation among ocean carriers has been to Bernhardt's advantage.
"I only signed one contract, and it was with Maersk, so I'm riding with the big boys on the block," he said, noting that Maersk is a partner in the 2M alliance with Mediterranean Shipping Co. and now Hyundai. "Our service is great, but the carriers are bleeding money with all the excess capacity out there."
Freddie Davis, CEO, of importing specialist and shipping contractor Global Shippers Assn., also referred to ocean carriers as "bleeding profusely" and said that the current low rates just aren't going to last if carriers are to stay in business, despite mergers and strategic alliances.
"This coming year, I think rates will go up quite a bit," Davis said. "Now you have peak season, space is more limited, and rates are starting to tick up some.
"I don't know if it will be October or the first of the year, but rates are going to go up. Carriers are losing too much money. They're parking ships, and they may do more of that to drive rates up. It still costs them for the upkeep, though."
Ocean carrier consolidation isn't unlike other industries that show weakness right now, noted Bill Smith, vice president of sales at Globe Express Services.
"They have to find ways to shed costs, cut expenses and increase efficiency," he said. "We're seeing the same thing in the oil and gas sectors, for example."
There's no easy way out for carriers to raise rates, added Smith's colleague, Senior Pricing Manager Tiffany Sessoms: "Rates won't rise much until March next year when carriers solidify and renegotiate under new VSAs. Most (rates) are in place through the end of this year or in April."

Choppy seas ahead?
Chris Hapka, inside sales manager at freight forwarder, customs broker and logistics services provider Scarbrough International, tracks alliance and merger activity among ocean carriers. Looking ahead, he believes the consolidation trend will continue.
"I see within the next 10 to 15 years, carriers will consolidate even more," he said. "The number might be cut in half, with six or seven major carriers left."
Hapka believes that most future consolidation will take place through mergers rather than the sorts of alliances existing now.
"Some of those alliances might disappear since (some carriers) won't be around anymore," he said.
GSA's Davis expects more carrier mergers and continued activity among ocean alliances.
We have contracts with every single alliance so we know we can move product," he said. "Used to be, we had two or three contracts (for ocean freight). We have 11 now. In 2015, rates drove through the roof, and now it's the other way around. There's a lot of ship capacity out there, but not enough freight."
He added that carriers know that people who chase rates only might not worry as much about service.
"The bigger Chinese distributors are all trying to cut product costs and make it up on the transportation side," Davis said. "I'm a firm believer that if you pay a little more, you'll get better service."
Wolfe at Stanley noted that there's only so much consolidation left for ocean carriers: "As far as the consolidation trend, there's only X number of ocean carriers out there, and I don't know how much more can be done."
Third-party logistics companies such as Globe Express have an opportunity to add value through providing origin and destination services that ocean carriers are backing away from.
"The (ocean) carriers have to focus on their core competency — port-to-port shipment," Smith said. "In years past, carriers got into all sorts of origin and destination services to sweeten the deal. Look at the chassis business, which was a big cost center for them. They've moved out of that."
Overall, he believes carrier consolidation can be a good thing for shippers.
"It does sort of standardize the services. You may have carriers with exceptional service and others less so within the same alliance," Smith said. "You're seeing the best practices being shared, and the secondary and tertiary service carriers are upping their game. The exceptional ones aren't being dragged down."
Sessoms suggested picking within the alliances for the carrier that works best for a shipper, while leveraging their relationship within the alliance.
"Another key factor is that when we look at the top 16 carriers, they're global," she added. "When you look below that, they're more niche carriers, and you may see some consolidation there."

Meanwhile, stateside
Stateside, we've seen some acquisitions of trucking companies as well as alliances formed to better access service to new markets. A lot of that has been among carriers that don't do a lot of business in the furniture arena, but there are examples. Houser Transport's acquisition this year of Cal State Express, and XPO's expansion in last-mile services, for instance.
"There are fewer specialized furniture carriers than there've ever been, but the ones out there all do a good job. We have people who carry furniture very well. Going forward, specialized carriers will play a bigger role," said Global Shippers Assn.'s Davis. "If you want to keep your claims ratio down, you need SFCs. I do business with practically all of them, and I get very few complaints."
Bernhardt's Bailey likes what he sees with partnerships such as the one between specialized carriers American West and Brooks-DeHart formed last fall. The move gives each access to wider markets carrier access to wider markets without adding extra trucks and drivers.
"That sort of cooperation will make them all stronger," he said. "They're competitors, but the need to work together in some cases. The industry needs them all healthy and solvent because we all need their services."
Bailey added that he's seeing specialized carriers talking more and more, handing off freight for more efficiency.
"With Amazon's focus on speeding home delivery, within two years, that's going to be a game changer, and it's already having an impact on consumer expectation," Bailey said. "I think we'll see more and more programs where we ship directly from the manufacturer to the consumer."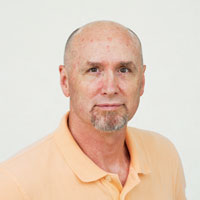 Powell Slaughter
|
Senior Editor
PSlaughter@furnituretoday.com
Related Content By Author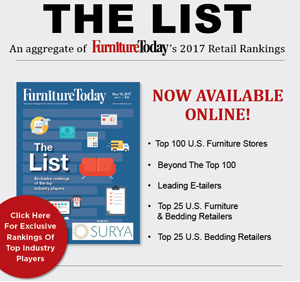 Get exclusive rankings of Furniture Today's top industry players including Top 100 Furniture Stores, Top 25 Bedding Retailers and leading e-Tailers. Get the stats now! Sponsored by Surya.
RSA Insights & Intelligence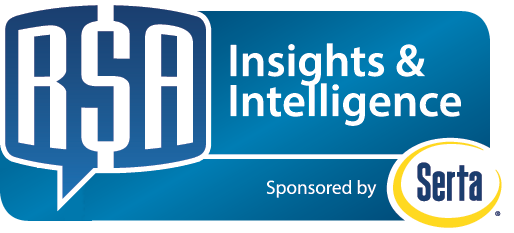 RSA Insights & Intelligence gives you, the retail sales associates, critical intelligence and insights. We make it easier for you to sell by providing actionable tips and key takeaways you can and should use for every sale. Check out our latest two articles:
* How to use an implied close
* The low cost of mattresses