Blueport Commerce
Understanding the Furniture Shoppers' Purchase Journey
Choosing the appropriate attribution model to measure results.
Advertising and selling furniture used to be a linear business: advertise on TV and in newspapers, and then shoppers view your ad and make in-store purchases. Simple, right? Today, consumers experience multiple channels, devices and stages during the purchase journey before deciding on a product to buy either in store or online. To successfully reach your target audience, leading furniture retailers must strategically employ digital marketing channels (e.g. search, display ads) that compliment offline channels and guide shoppers towards your store and products.

Collecting the numbers from your digital marketing campaign may leave you drowning in too much data, making it difficult to understand which marketing campaigns are important for driving furniture purchases. What you need is a framework that encapsulates all of your digital marketing campaigns, accurately measuring (1) how each campaign contributes to a furniture purchase and (2) how that contribution compares to its cost.
As you may know, the path to purchase for furniture is a long and considered one with a myriad of touchpoints, including offline and online channels that may or may not influence a purchase decision. The path may go something like this:
1. A furniture shopper will start by deciding it is time to purchase a new sofa and begins browsing online for advice and ideas. She may find your site through non-promotional content on your blog or social channels.
2. A decision on what type of sofa to buy will be made and she will use Google to search for what she is looking for (e.g. "leather reclining sofa"). She will see a non-branded paid search ad or product listing ad on Google, bringing her to your site.
3. She continues to research other sites, but is reminded of your site through a retargeting display ad.
4. She will then Google your store name and click on a branded paid search ad to find a store near her.
5. A few days after her visit, she will finally make a purchase online after receiving an email about your sale.
This path to purchase is a common one. Given so many different marketing touchpoints, how can a retailer determine the value of each marketing channel towards generating the sale? This is where attribution comes into play.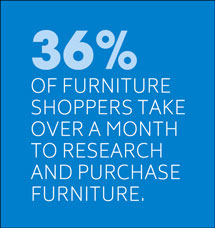 Attribution is the process of assigning credit or sales value to the marketing channels that a customer interacted with prior to a purchase. In today's omnichannel world, it is critical to get a handle on attribution and optimize how you invest your marketing dollars. Attribution provides insight into the value and ROI for each channel, which will help you allocate your marketing budget more effectively.
At Blueport Commerce, we've spent years studying the furniture shopping process to define an online marketing model that accurately measures the influence of each digital touchpoint – including organic search, blogs, social media, search advertising, display advertising, display retargeting and email – to provide an accurate and holistic view of how a customer makes a furniture purchase and the role each component of your advertising plays in guiding them to do so.
This BlueReport shares some of those insights, including actionable steps you can take to measure how your digital marketing dollars lead to a furniture purchase.
To learn more, download Blueport Commerce's Choosing the Right Google Analytics Attribution Model for Furniture.
Related Content By Author
Blueport Commerce
We help furniture retailers make furniture shopping easy. Our technology enhances – rather than replaces – the store experience. We marry the best of online with the advantages of stores, letting people shop for and buy furniture easily as they move seamlessly between channels, and buy where they are most comfortable.
RSA Insights & Intelligence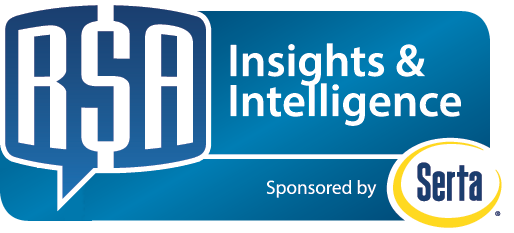 RSA Insights & Intelligence gives you, the retail sales associates, critical intelligence and insights. We make it easier for you to sell by providing actionable tips and key takeaways you can and should use for every sale. Check out our latest two articles:
* How to use an implied close
* The low cost of mattresses