Dorel Home revenue up
MONTRÉAL — Dorel Inds. first quarter revenue edged past the same period last year, with its Dorel Home segment standing out on a revenue increase of 9%.
For the first quarter ended March 31, total revenue was $646.7 million compared with $645.9 million a year ago.
Adjusted net income for the quarter increased 15.4% to $22.7 million or 69 cents per diluted share, from $19.7 million, or 60 cents per diluted share in 2016. Reported net income decreased to $8.8 million, or 27 cents per diluted share, compared with $16.7 million, or 51 cents per diluted share last year.
"Of our three business segments, Dorel Home was again a standout with revenues increasing 9% and operating profit approaching 10% of revenues," said Martin Schwartz, Dorel president and CEO. "At the corporate level, with the support of our lenders, we successfully re-negotiated our credit facilities. This resulted in a first quarter pre-tax expense of $10.2 million, or 30 cents per diluted share, related to the extinguishment of existing debt. This change will allow for better management of our long-term capital needs and will decrease our financing costs going forward."
For Dorel Home, first quarter revenue was $204 million, up 8.8% from year ago levels and the best quarter in the segment's history. Growth was driven by increased sales to online retailers in all divisions, representing 46% of total segment sales compared with 42% in the first quarter of 2016.
Looking ahead to the second half of the year, Schwartz said the company expects all three segments to exceed prior year earnings. "Dorel Home again demonstrated its ability to deliver an expanded product range to consumers with its industry leading e-commerce platform," he said. "This will continue to drive sales and earnings improvements for the balance of the year."
The Dorel Home segment includes an assortment of both domestically produced and imported furniture products, principally within North America.
Dorel Inds.
Earnings per share are fully diluted, and all figures in parentheses are losses or declines.
Quarter ended 3/31
2017
2016
% change
Revenue
$646,712,000
$645,867,000
0.1%
Operating profit
$33,933,000
$30,886,000
9.9%
Net income
$8,841,000
$16,734,000
(47.2%)
Earnings per share
$0.27
$0.51
(47.1%)
Mohawk Inds.
Earnings per share are fully diluted, and all figures in parentheses are losses or declines.
Quarter ended 4/1
2017
2016
% change
Net sales
$2,220,645,000
$2,172,046,000
2.2%
Operating income
$274,784,000
$245,672,000
11.8%
Net earnings (a)
$200,554,000
$171,548,000
16.9%
Earnings per share
$2.68
$2.30
16.5%
(a) Net earnings attributable to Mohawk Inds.; does not include earnings attributable to noncontrolling interest.
XPO Logistics
Earnings per share are fully diluted, and all figures in parentheses are losses or declines.
Quarter ended 3/31
2017
2016
% change
Revenue
$3,539,500,000
$3,545,700,000
(0.2%)
Operating income
$113,600,000
$62,400,000
82.1%
Net income
$24,900,000
($19,300,000)
229.0%
Earnings per share
$0.16
($0.21)
176.2%
Rent-A-Center
Earnings per share are fully diluted, and all figures in parentheses are losses or declines.
Quarter ended 3/31
2017
2016
% change
Revenue
$741,986,000
$835,652,000
(11.2%)
Operating profit
$1,152,000
$48,430,000
(97.6%)
Net income
($6,679,000)
$25,061,000
(126.7%)
Earnings per share
($0.13)
$0.47
(127.7%)
Related Content By Author
Mid-August news features acquisitions, Amazon and avenues of growth

More Videos
Furniture Retail Solutions

Over the past year, our editorial team has been on the road, studying retail – what's working and what challenges even the most established retailers face. Born from these studies is Furniture Retail Solutions – a multi-part series addressing common problems retailers face. Read our first two articles:
* Ergomotion increases retailer's profit potential with Motion Bedroom Furniture
* REM-Fit, by Protect-a-Bed, Outlines the Benefits of a Brand Store
RSA Insights & Intelligence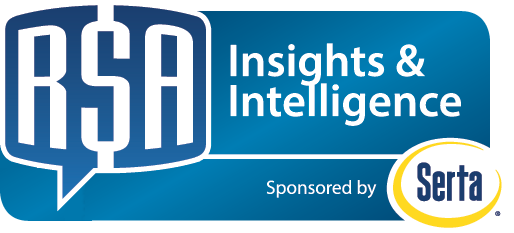 RSA Insights & Intelligence gives you, the retail sales associates, critical intelligence and insights. We make it easier for you to sell by providing actionable tips and key takeaways you can and should use for every sale. Check out our latest two articles:
* Why buying mattresses online is harder than consumers think
* How RSA can capitalize on the adjustable base boom