Furniture Retail Solutions
Reverie provides the tools and education needed to add high end sleep systems
CASE STUDY
Robert Jefferson is struggling
with the right product mix and RSA buy-in
Though retailers face multiple challenges on a daily basis, one of the biggest issues they face is what products and categories to put on the sales floor. Consumers like to have options, and they expect a good selection when they go shopping. Companies that don't deliver on a mix of categories and products often lose customers to the competition.
However, it can be hard for retailers to know which products work best on their floor. How does a retailer decide on a selection that works in their store, fits on their sales floor and offers a solid mix of categories?
This is the position Robert Jefferson is in right now, and it's struggling. After several attempts, Robert Jefferson can't figure out which categories to add to make the store more profitable.
The retailer first tried to fit as many categories as it could on the sales floor, but it was cramming too many products into certain areas. This made the store look messy, confusing and careless. Then it attempted to move products around and take some out in order to fit new categories, but it couldn't settle on anything.
Through all of this, RSAs at Robert Jefferson began to struggle. They felt lost and confused as the store was in constant flux.
They've been told to sell more, but many RSAs feel they don't have the proper training or know-how to add products to a sale. They don't want to seem pushy and insensitive, and they're worried that saying or doing the wrong thing will lose them the sale entirely.
They've also voiced concerns about the best way to position products to the customers. There are certain products the RSAs feel they need more training on, and some they're simply not confident in selling.
This pressure on the RSAs has affected their performance on the sales floor, and Robert Jefferson now has to deal with these problems in a way that benefits both the store and its workers.
The Retailer

Robert Jefferson Home Furniture is a fictional case study representative of retail concerns across the country. It is a family-owned, multi-generational retail store located in the Chicagoland Suburbs. Its two locations, in Barrington and Naperville, offer mid- to upper-price points and bring in about $8-10 million in total sales annually. Its demographic has changed considerably as housing values increase and Millennials are becoming the primary consumer. As the retail space changes, the company is learning how to deal with new challenges daily.


SOLUTION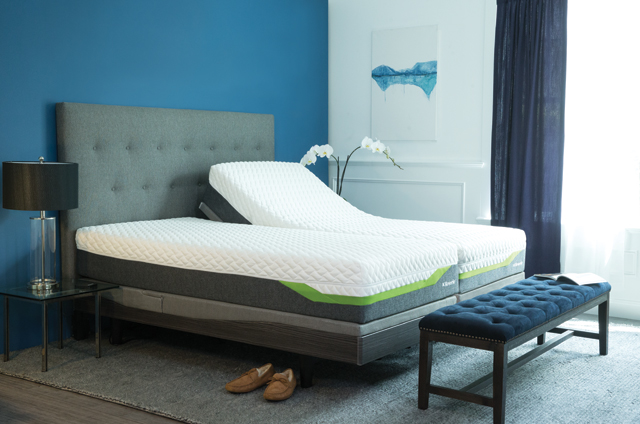 Reverie provides the tools and education needed
to add high end sleep systems
Adding Sleep Systems to your store's selection is one of the simplest ways to drive traffic, increase revenue and offer a better selection of categories without sacrificing the products your customers love. Sleep Systems can be easily placed on the sales floor with other mattresses, but their higher price point and superior quality provide a way for retailers to make more money from a single product.
Fact is, adding Sleep Systems, not only increases your product offerings, it capitalizes on the belief that comfort is never a one-size-fits-all proposition. It's our ability to recognize this consumer need that motivated us to design entire Sleep Systems customized to your specific needs for comfort. The major components include a patented DreamCell® mattress, with firmness that can be adjusted to fit the differing needs of both people who share it, paired with an adjustable power base that moves to support various positions for sleeping, reading, sore backs, alleviating snoring and more. Better yet, we've backed that collection with a Reverie Partner Network so RSAs have the tools they need to sell these products.
Thoughtful partner network
Technology can be baffling sometimes, and we want to give you the tools for success. That's why we created the Reverie Partner Network (RPN) – a program that gives our partners the knowledge and confidence to sell our beds. The RPN connects partners with training materials, product information, marketing programs, social media advice and webinars.
That means our retail partners have access to the tools to educate their team, resources to stay on top of the latest in sleep science and intelligence – all the things necessary to promote Reverie products in- store.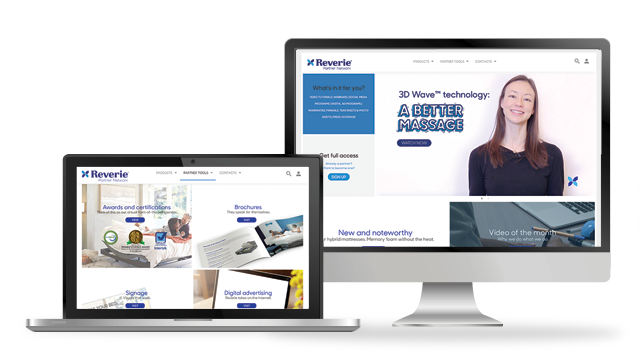 Understanding the end-consumer As much education as we offer, there's one thing retailers need to learn that's not easy to teach: stop looking at the products you sell as simply a commodity. When you stay focused on the sleep solution, it's easy to taut the benefits of the product without worrying about the consumer concern over a higher price point.
It's this customer-centric focus that sets great stores apart from stores who only want to make a sale. At Reverie, we think it's extremely important to not just sell a bed, but to sell a sleep solution. Currently our industry only provides 50% of the solution when just focusing on sleep. Being a retail partner with Reverie means you're getting sleep solution products as well as support during your journey to improved sleep.
When you want to expand your selection, consider adding high end beds to your sales floor. But remember that the customer always comes first, and the more you know about their wants and needs the more successful you will be.
About Us

Reverie is a leading manufacturer of innovative adjustable beds, mattresses and pillows to the trade and direct to consumers. The company's sales and marketing headquarters is located in Michigan while its production, distribution and customer service facilities are based in New York. Reverie manufactures select products in the U.S. and continues to be a cutting-edge leader and innovator in the sleep products industry. For more information, visit www.reverie.com.
Related Content By Author
Furniture Retail Solutions
http://www.furnituretoday.com/RetailSolutions
Over the past year, the Furniture Today editorial team has been on the road, studying retail – what's working and what challenges even the most established retailers face. Born from these studies is Furniture Retail Solutions – a multi-part series addressing common problems retailers face. But more importantly, marrying that problem to a solution other retailers, manufacturers and suppliers have successfully implemented in their own businesses.