7 mattress terms you need to know
Like any industry, there are certain words and jargon you need to know to successfully sell mattresses.
Goodbed.com, a leading mattress review platform and information resource, has an extensive glossary of mattress terms that consumers can easily understand. We'll be looking at a few of their definitions as a guide, and offering some of our own as well.
Whether it's your first time hearing these terms or you just need to brush up on your mattress vocab, here are 7 mattress terms you need to know:
1. Hybrid – /hīˌbrid/ - Hybrid is a type of mattress but it does not refer to a single mattress type. As the name implies, hybrid mattresses use a combination of springs or micro coils and specialty foams, such as memory foam or latex, to offer benefits from multiple technologies.
RSA takeaway: This is a powerful word because it suggests technology and implies a smart combination of materials. Use it to your advantage.
2. Average unit selling price (AUSP) – av(ə)rij/ /yo͞onət/ /sel o ing/ /prīs/ - The average unit selling price is the price that a unit sells for across channels and markets, and it's affected by the type of product.
RSA takeaway: Good RSAs aim to grow their tickets.
3. Articulation – /ärˌtikyəˈlāSH(ə)n/ - Articulation refers to the bending of an adjustable bed. An adjustable bed with "two-point articulation" folds in two separate places, dividing the bed into 3 sections — head, foot and middle — each of which can be elevated and/or angled to achieve the desired position. (Goodbed.com definition)
RSA takeaway: It may seem like a complicated word, but think about it in these simple terms - articulation gives consumers comfort.
4. Coil Count – /koil/ /kount/ - This refers to the number of coil springs in one queen size mattress. There are various types of coil systems, including Bonnell, continuous, offset, and encased, and each offer unique features and benefits.
RSA takeaway: Because coils may be hidden deep inside a mattress, you need to be able to educate customers about the benefits of different coil types.
5. Memory foam – /ˈmem(ə)rē / / fōm / - A type of high-density polyurethane foam known for its slow recovery time and its sensitivity to both weight and temperature, giving it a delayed resiliency and allowing it to conform very closely to the shape of your body. Available in many depths and densities, as well as different levels of firmness . (Goodbed.com definition)
RSA takeaway : Construction details build value in better beds with premium features.
6. Fatigue – /fəˈtēɡ / - Typically resulting from a softening or compressing of coils, fatigue refers to the state of a mattress when it can no longer adequately support a sleeper's weight. (Goodbed.com definition)
RSA takeaway: This is a fancy way of saying that beds wear out. Think of it this way – if you're fatigued, you don't want to sleep on a fatigued mattress.
7. Objections - / əbˈjekSH(ə)ns / – This refers to the objections RSAs will face when trying to sell a mattress. RSAs often have to deal with objections, and professional RSAs will find ways to turn the objections into agreements.
RSA takeaway: Agreements help close sales.
Were these terms helpful? What mattress terms do you think are important to know? Comment below and start a conversation!
RSA Insights & Intelligence
http://www.furnituretoday.com/RSAs
Insights & Intelligence gives you, the retail sales associates, critical intelligence and insights. We make it easier for you to sell by providing actionable tips and key takeaways you can and should use for every sale. But this isn't a one-way conversation. Tell us what's on your mind and let's start a dialogue.
Centered on retail: From truck stops to new stores and A.I. marketing

More Videos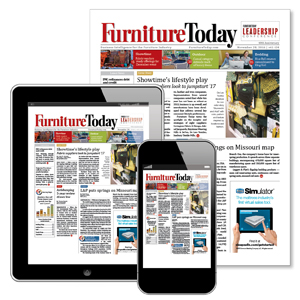 See the digital edition of Furniture/Today, which allows you to flip through the pages, click on any underlined area to visit a website or send an e-mail, search to find content in the magazine, or share pages with your friends. See the latest issue!