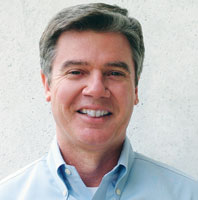 Art pays for Louis Shanks
January 20, 2010
Furniture/Today has launched a new monthly feature called "Outside the Retail Box," aiming to highlight retail success stories in areas outside of what we may consider the key traditional furniture-store categories.
The first installment in this week's paper (Jan. 18) features Louis Shanks of Texas and the art gallery it created a few years ago in its largest Houston store. The 3,500-square-foot space has been so productive and successful that Shanks has expanded the concept with small gallery "pods" in all of its stores and has another full gallery in the works at its San
Antonio store.
The art comes exclusively from Renaissance Art Associates and owner Ian Cruickshank. Shanks has been working for some 16 years with Cruickshank, who in turn works with artistes from around the world. With just a few strokes back in 2007, Shanks and Cruickshank created an all-in-one art gallery, a custom frame gallery and a custom photo-to-art studio, where customers could have their favorite photos transformed into oil paintings.
As Louis Shanks CEO Amor Forward put it to me regarding that last popular feature, "Now you've got your favorite horse, your favorite dog, your favorite kid, your favorite country lane," reproduced just the way you want on canvas.
With the gallery, Shanks has more than tripled its oil painting sales and turned this often tough-to-master category into a real margin winner.
Cruickshank said most retailers tend to lump art in with all their other accessories and wall decor, where it gets lost. But he managed to convince the Forwoods to give him a little remote, unproductive space, and with the right placement and presentation, he showed them what art could mean to Shanks' bottom line.
The build out is minimal, he said — white walls, dark floors and track lighting in  less than 4,000 square feet. The promotional possibilities, meanwhile, are extensive. Shanks holds special events every month to two months — wine and cheese gatherings featuring landscape artist Tim O'Toole and his works, for example, or focusing on a particular class of artistic work. A while back it highlighted 18th and 19th Century antique paintings, where one work by Western painter W.R. Leigh was priced at more than $1 million. (It didn't sell, Cruickshank said, but he did get two buyer leads as a result of the program).
For photos from these events and other gallery shots, click here.
Shanks' designers and sales associates can also take their clients to Cruickshanks' own gallery in Houston (which features some of Shanks' furniture, too) to show their clients still more art and earn the commission if they sell anything.
One thing that Cruickshank believes is unique about the gallery at the Louis Shanks store is the comfortable seating area and large flat-screen monitor that links to his Web site, arthub.com, where consumers can browse all 30,000-plus paintings in the Renaissance Art inventory.
The Forwoods must like it, too. That's the "pod" feature Shanks has rolled out to its other stores.