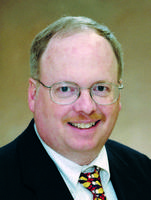 Fendrich ignores Simmons' struggles
June 19, 2009
Simmons President Steve Fendrich missed the mark with his recent comments about the  financial performance of his struggling company.
Simmons released results for its quarter and year ending Dec. 27, and the figures were not pretty. Net sales for the quarter dropped 23.8%, while the company had a net loss of a whopping $487.4 million. For the year, net sales were off by 8.7% and the company reported a net loss of $492.2 million. While $547.6 million in non-cash goodwill and trademark impairment charges accounted for the net loss, it was still one of the largest losses in the bedding industry in recent history.
As if that news wasn't bad enough, Simmons also revealed, in a footnote buried on the third page of its press release, that its independent accounting firm expressed "substantial doubt about Simmons' ability to continue as a going concern." Analysts say the company is likely to file for Chapter 11 bankruptcy protection. Simmons, which is in the midst of a financial restructuring expected to give the company a new owner, has said that a bankruptcy filing is not the company's intention.
Fendrich did not directly address the huge losses and the going concern qualification - rather large omissions, it seems to me. Rather than deal with those unpleasant facts, he asserted that Simmons is making "progress" in its financial restructuring and "continues to perform with innovations in all aspects of our business." And he also said he is "encouraged" by Simmons' overall financial performance in 2009.
In addition, Fendrich said that Simmons believes it gained market share in the fourth quarter. But that is based on comparisons to a monthly industry survey that does not accurately capture overall industry performance. And Simmons' performance in the fourth quarter (domestic segment net sales declined by 22.3%, with a 22.5% decrease in conventional bedding unit volume) doesn't sound like much to brag about, in our book.
It's understandable that Fendrich would want to put a positive spin on the Simmons results; plenty of bedding producers take the same approach. But he only hurts his credibility by ignoring the bad news at Simmons.