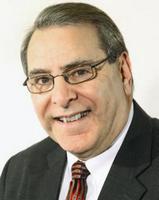 HGTV's Angelo Surmelis is headed your way!
February 18, 2009
 At the recent Las Vegas market,  I had the chance to spend some time with HGTV's Angelo Surmelis, designer and host of the network's Rate My Space.
While Angelo certainly is not the first TV-persona to develop a furniture line (or is likely to be the last), he does bring a neat proposition to the table: upscale looks at downtown prices.
He has partnered with Handy Living, a company that has mastered the art of flat-pack production.  Together, they are looking to initially target the line to leading pure-play Internet retailers such as CSN Stores, a smartly run online retail conglomerate.
After spotting Angelo in Building B, I whipped out my trusty Flip video recorder and conducted this interview.  Enjoy!