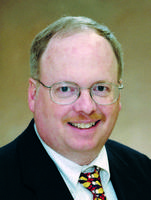 Foamex, Orders, Rizzo highlight ISPA's Expo
March 13, 2006
This week we present a special Expo 2006 edition of the Perrys, my awards for notable happenings in the world of mattresses. These awards recognize special achievements at the International Sleep Products Assn. show in San Antonio earlier this month.
* Most dynamic product category: Foam. Strong showings were made by Foamex, Latexco, Latex International, Carpenter, Kaymed and Hickory Springs, among many others. We see plenty of foam-inspired excitement on the horizon.
* Most eye-catching foam merchandising effort: Foamex, for its three new foams. The marketing materials included strong visuals and strong feature-benefit stories.
* Hottest product category (pardon the pun): Fire-resistant materials and services. There were almost 50 companies listed in the show directory as offering FR products of one sort or another. This was a topic much on attendees' minds, as it should be. A federal mattress FR standard goes on the books in only 16 months.
* Most inspiring speech: David Orders, immediate past ISPA chair. Reviewing a tough year for the trade group, Orders made a strong case for industry unity. He cited the 1980 U.S. Olympic hockey team, which rose above individual differences to build a cohesive, never-say-die team, and ultimately emerged victorious. "Statesmanlike" was how one veteran ISPA member described the speech. We agree.
* Most interesting session: A retail panel hosted by former Simmons executive Don Hofmann. The retailers would like to see shorter warranties, better sales reps and fewer line changes. Their comments are certain to spark plenty of discussion in the industry.
* Best armadillo race: ISPA. This was a highlight of ISPA's well-attended networking party. Armadillos, in case you don't know, are very active creatures. To race them, you don gloves, grab the tail and head for the finish line. ISPA President Dick Doyle boldly tried his luck in one race — and won.
* Funniest (and also most profound) speech: Comedian/business coach Steve Rizzo. He provided plenty of laughs, and insights, in his keynote address. He explained how humor can help us all confront change in our lives and not become overwhelmed by it.
* Best industry: The bedding industry. I'm always reminded how special our industry is when I attend an ISPA expo. I meet literally hundreds of friends and soon-to-be friends, catch up on the latest insights, see exciting new products, and enjoy the warm camaraderie of mattress men and women.
Thanks to Dick Doyle and the entire ISPA family for their Texas-sized hospitality. We all shared plenty of good times in San Antonio.  (to add public comments click on "Add your Comment" below, or to email Dave directly click here.)