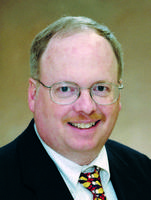 F/T's bedding conference will feature heavy hitters
November 22, 2005
This week, just in time for Thanksgiving, we offer a tasty treat for you: Details of our first Furniture/ Today Bedding Conference.
I've spent the past several weeks putting the agenda together. We've got several heavy hitters from the retail, manufacturing and supply sides of the business on our program. Significantly, this will be an all-industry event. If you serve the bedding industry in any capacity, you are cordially invited to attend. Consider this column your personal invitation.
We will be gathering March 29-31 at the new Ritz-Carlton at Las Vegas Lakes, a fast-growing resort community just outside Las Vegas. I toured the area during a recent trip to Las Vegas and was amazed at what I saw. Think of the luxury and elegance of an Italian lake community.
The conference is being sponsored by Furniture/Today and the Home Furnishings International Assn., the strong group of home furnishings retailers headed by President Mary Frye. She and her group have been long-time supporters of Furniture/Today. We are pleased to be working with them on this new venture.
The theme for the event is, "Bedding and Beyond: How to get your share — and more."
One of the highlights will be a dinner honoring Six Retail Bedding Giants, people who have made their mark in the bedding industry. We are now accepting nominations from the industry for those awards. If you want to nominate a retailer or two, send us an e-mail at dperry@reedbusiness.com and tell us why your nominees are noteworthy.
We are honoring bedding retailers in three size categories: 10 stores or less, 11 to 20 stores, and more than 20 stores.
Our business sessions will include presentations by a number of top bedding retailers, including Len and Debbie Gaby of Sleep America in Phoenix, Barrie Brown, CEO of Mattress Giant in Addison, Texas, and Tim Sommer, bedding coordinator at HOM Furniture in Coon Rapids, Minn.
We also will be hearing from Tempur-Pedic, the fast-growing visco-elastic bedding producer and retailer, and from retail display gurus Martin Roberts and Connie Post.
Practical advice for retail sales associates will be provided by bedding consultant Ron Wolinski, vice president of the Profitability Consulting Group. And a panel of top U.S. bedding producers will tackle hot topics confronting the bedding industry.
As you can see, we're covering all the key bases.
I'll keep you posted on details of the conference. And I wish you a Happy Thanksgiving this week. I'll join you on that second piece of pumpkin pie — with whipped cream, of course.     (to add public comments click on "Add your Comment" below, or to email Dave directly click here.)