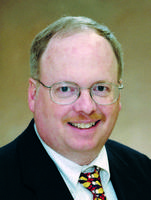 F/T consumer research notes surprising high-end strength
March 7, 2006
If knowledge is power — and we all know it is — then Furniture/Today's proprietary market research in the bedding category is mighty indeed.
I've been looking over some of our more interesting data in preparation for a talk I'll be making at our upcoming Bedding Conference. (Personal invitation follows: I would be delighted to see you at that event, set for March 29-31 at the Ritz-Carlton in Lake Las Vegas, Nev. Click here to register online.)
Our researchers have discovered some very compelling facts that testify to the growing power of the high end. We found that in just five years — from 2000 to 2005 — the high end of the market — which we define as beds selling for $1,000 and up — has grown to account for the majority of bedding sales.
In 2000, our consumer spending data revealed that the high end accounted for 37% of total dollars spent. In that year, the middle of the market — beds retailing from $400 to $999 — accounted for 47% of total dollars spent. The low end, beds under $400, accounted for just 16%.
I have to admit that that picture of the market is one that I have continued to think represents the reality in the bedding marketplace. But our research says otherwise.
The consumer research that we conducted says that in 2005 the high-end of the market has grown to account for the majority of sales — with 56% of all dollars spent going to that market. That is a whopping increase of 19 percentage points. In contrast, the middle market lost 14 percentage points, to account for "just" 33% of dollars spent in 2005. And the low-end market lost 5 percentage points, accounting for an 11% share in 2005.
Those are astounding changes, so sweeping as to make you shake your head in disbelief. I've encountered a doubting Thomas (not their real names) or two as I've discussed this shift with bedding insiders.
I readily admit that I've been too focused on the unit side of the equation. Our research says that 24% of the households buying a bed spent $1,000 or more in 2005 — a gain of 10 percentage points since 2000. The middle market accounted for 38% of the bedding purchases by household in 2005, while the low end also had a 38% share.
That has led me to think that the high end accounts for about 24% of all sales. But that is a unit figure, measuring the percentage of households buying a bed at $1,000 and up. As we all know, the dollars spent there are disproportionately high. One household spending $2,000 on a bed equals four households spending $500 on a bed.
The dollar spending figures, as unveiled by our consumer research, say that the high end is far and away the single strongest category. Very interesting stuff. More details at our Bedding Conference in Las Vegas. See you there.  (to add public comments click on "Add your Comment" below, or to email Dave directly click here.)