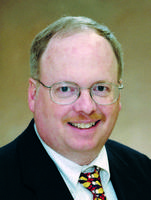 20 years later, Spears has realized growth plans
December 4, 2006
It was a landmark day for Spears Mattress, a day made possible by 13 years of hard work, and a day when the future looked as bright as the past.
On that day, brothers Terry and Ed Spears hosted delegations of local and state officials who had come to Rome, Ga., to help celebrate the opening of the company's massive new bedding factory. Much of the 350,000-square-foot plant's space was reserved for future growth.
Among the guests that fine November day 20 years ago was an up-and-coming reporter from Furniture|Today.
Yes, your faithful bedding editor was in Rome to cover the festivities. And that very same editor returned to Spears Mattress almost exactly 20 years later to see what had changed with the regional bedding producer.
I wish I could tell you that I recall all the details of my first visit to Spears, but I don't. Thankfully, Terry Spears refreshed my memory with a framed copy of my original story, which has been posted proudly on the wall in the Spears' offices for two decades.
I had written that the new factory was one of the largest bedding factories in the nation. I hadn't seen many factories when I wrote those words. Now I have, and can fully appreciate the significance of that factory, most of which is now in use.
Just a few months before my return visit to Spears, I had seen even larger bedding factories in China. I asked Terry if he's worried about Chinese bedding producers.
"You are always concerned about competition," he responded, "but we are not zeroing in on China. We have the price points to compete domestically and internationally. And we can service our dealers."
Spears is a key Englander licensee, a brand it has been building for almost 20 years. Terry sees strong growth for Spears and for Englander in the years to come. He had the foresight to design his factory for future growth, a prospect that has been realized. Now he can produce at the levels of some Chinese bedding plants.
Could the Chinese learn anything from U.S. mattress makers? "Maybe we could teach them to sell premium beds," Spears responded.
Winter was closing in on Rome when I visited the other day. Many things had changed over the years, but Terry Spears' mattress plant was still humming along nicely. It is an impressive plant these days, even more so than it was 20 years ago.
The dream of major growth at Spears Mattress has been realized. Nice job, Terry.
And thanks for that Award of Excellence plaque you gave me on my return visit. I appreciate the honor.