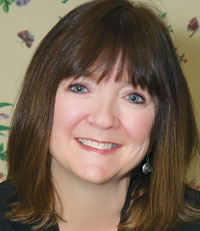 Much Ado About Color
November 14, 2013
HIGH POINT-As I write this, the October High Point Market coverage has wrapped up, and coverage of Showtime, the semi-annual textile market hosted by the International Textile Market Association, is underway. Previews of new fabric introductions are daily happenings these days, and mail delivery at the office is like early Christmas with Belgian linens and a particularly beautiful Portuguese plaid in-house and waiting to be photographed.
There is also a new "old" book on my desk right now that illustrates some of the same color palettes seen at 2013 markets. Titled Color for Interiors: Historical and Modern and written by Birren in 1963, the book is a recent score at a local antiques mall and it qualifies as a design nerd's find of significant proportions.
Here's why.
Birren's Color for Interiors includes 238 paint samples that have been combined in historic color groupings like Ancient Egypt, Renaissance and Provincial. The groupings include hues like deep Luxor green, Henna red, medium cobalt and bone ivory for the Egypt palette; scarlet, olive green and pale purple for Ancient Greece; and Deep Pompeii green, rich coral and bright copper for Early Roman.
There is also Metallic gold, a strong tone for the Renaissance as seen not only in oil paintings, but in architecture and décor as well. Then during the reigns of Louis XIV and XV, Birren writes that "notable are the pastels introduced and glorified by Madame de Pompadour"-colors like French lilac, Medici blue and apple green.
There are many more pages with paint samples and descriptions, including color page stories for industrial plants, stores, offices and even food service. And with each palette group, Birren explains why the colors are in their respective categories and why they work within the framework of their era.
It's all about the psychology of color.
Always an important component in architecture and interiors, color as described by Birren is a "functional element in modern design." Today, upholstery suppliers, retailers and designers use color to tell their own stories through fabrics, finishes and accents, and it can be more than a little time-consuming to navigate through the swirling waters of hue. But there is a source that looks at color with a perspective similar to Birren's in 1963-the Color Marketing Group, a 51-year-old nonprofit that provides forecasts about color directions and design trends based on diverse influences like social issues, politics and the economy.
We'll be talking more about evidence-based design in the future as suppliers try to maximize their design efficiency to create products with purpose. And while color is often considered the fashion element in the furniture industry, the Color Marketing Group offers important insight into current color directions, not trends directives. That's the kind of information that puts the furniture industry ahead of runway trends-an important step when you consider that while consumers might buy an expensive new coat or scarf each season, they aren't likely to replace a sofa every year.
CMG nails it in their tagline-Color Sells...and the Right Colors Sell Better. Check out the Color Marketing Group to learn more.