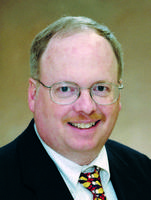 Simmons, King Koil, PureCare offer first look at Vegas intros
January 14, 2014
We have now gotten the first public glimpses of some key Las Vegas Market introductions, and the views are compelling. More personalized sleep products are coming.
The biggest news released thus far comes from Simmons, which is introducing its new ComforPedic iQ specialty sleep line at a lavish launch party in Las Vegas the night before the market's official opening day.
The ComforPedic iQ line uses encased foam cylinders that respond to the sleeper's movements, automatically adjusting to provide support and comfort, without the use of motors, buttons or other electrical devices. The line has been clinically tested, and comes with a major endorsement - that of Dr. Andrew Weil, a leading figure in the field of integrative medicine. This is a strong offering.
Dr. Weil will be speaking at the launch party, held inside the unique, curving walls of the Cleveland Clinic's Lou Ruvo Center for Brain Health, adjacent to the World Market Center grounds.
Las Vegas events like this are unusual for bedding producers, who know the city's abundant entertainment options offer tough competition. A few years ago King Koil staged a major launch event in Las Vegas, and now Simmons is promising "an extraordinary and unforgettable event." Note: This is an invitation-only event.
Speaking of King Koil, that producer released an overview of its Las Vegas offerings. President Dave Roberts says his company aims to gain share in 2014 with another aggressive round of introductions, which include a high-end Sleep Couture innerspring line topping out at $5,000, a World Luxury encased coil series retailing from $699 to $1,499, and a Z Tech innerspring line retailing from $399 to $999 that targets Millennials. And there will be more two-sided bed introductions, too. There is a lot going on at King Koil, as we learned on our visit to that company last month.
Last week we reported on the King Koil offerings, and we also had details on the rebranding of Fabrictech, a growing sleep accessories supplier that is moving to the name of PureCare, one it has been using on some of its product lines.
We visited with the Pure-Care team late last year. That company has written an impressive growth story with strong product offers and standout marketing programs. At the Las Vegas Market, PureCare is introducing a new personalized pillow line called PureCare One. Personalized sleep is a nice benefit to offer, and the new pillow line looks to be a winning entrant in that category.
Those are just a few of the new mattresses and sleep accessories that bedding buyers will find in Las Vegas later this month. Next week we will look at some of the bedding newcomers in Las Vegas.