Bedding Today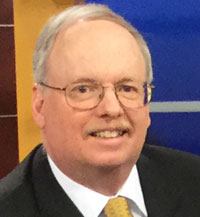 Expanding High Point bedding scene adds Rush, Xsensor, Vi-Spring
April 3, 2014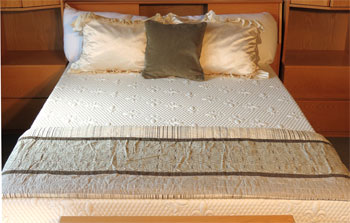 This is a gel memory foam mattress offered by Rush Mattress.
I've been attending
High Point Markets
for more than a quarter of a century and I know that each market offers something new. And, as one of my industry friends once told me: "New always trumps old."
So this week we welcome three bedding companies making their High Point Market debuts.
First let me rush into an introduction to Rush Mattress, a new foam bedding company established by bedding veteran Harry Goodman and veteran manufacturer Mike Rush. Goodman, who spent several years at Sleepy's, says the new company "is dedicated to high quality, great value and total flexibility. The lines we've pre-made are just examples of what we can do. The fabric, foam and price points of every line will be tailored based on the needs of the retailer."
The beds are made in the U.S. and are priced to sell, Goodman said. The beds will be made of memory foam, reticulated memory foam and gel-infused memory foam. Rush Mattress is showing at 118 N. Wrenn St., where the company also has its offices.
Also joining the High Point mattress scene is Canadian-based Xsensor, which has been showing at the Las Vegas Market. Xsensor says that for more than 15 years it has developed pressure-imaging technology that delivers practical, real-world benefits of personal comfort and patient safety.
In High Point, Xsensor is showing its Reveal mattress recommendation system. This pressure-imaging technology was designed exclusively for retailers to let them easily and quickly help their customers find the most comfortable and supportive mattress for their bodies, the company says.
Reveal is offered in kiosk and mobile systems, and is generating some good reviews from retailers using the program, Xsensor officials say. Among the benefits they cite: increasing store traffic, increasing closing rates, increasing average unit selling prices, reduced product returns, and increased customer satisfaction. That's an impressive list.
Xsensor is showing at Plaza Suites in booth 1-517.
The third High Point bedding newcomer is a long-established brand: Vi-Spring. The British company, which has a U.S. base in Las Vegas, says it ranks as "the world's leading luxury mattress manufacturer."
Vi-Spring emphasizes natural bedding materials such as Shetland Isle and British fleece wool, horsetail, cashmere, mohair, bamboo and silk. Its beds use a six-coil spring that gave the company its name (the Vi comes from the Roman numeral VI).
Vi-Spring is introducing new luxury positioning of its brand this year and a new North American lineup, which includes the company's Signatory Superb model.
I've seen the Vi-Spring line on a number of retail floors, including in the luxurious bedding department at Harrods in London. These are beautiful beds.
Vi-Spring is showing at 200 N. Hamilton in space 331.
We welcome these three High Point bedding newcomers and wish them well.