An Inside Look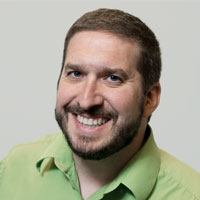 Highlights from the #FloorTour
August 25, 2016
I recently hit the road to visit a half dozen rug manufacturers in South Carolina and Georgia to learn more about their operations, business practices, and in one case, to cover the groundbreaking of a new world headquarters.
Stories from this excursion will soon be found at Furniture/Today and at Home Accents Today. In the meantime, I'll have plenty of photos and thoughts from the trip on social media. You can follow all the action via the hashtag #FloorTour.
Day 3: Pair of machine-made majors
The final day of the #Floor Tour involved visiting a pair of machine-made rug heavyweights.
Wednesday morning, I visited Oriental Weavers' Dalton facility and got to see rugmaking in action, beginning from the extrusion process and the creation of bulk continuous fillament (BCF), the base fiber of polypropylene. The BCF is twisted and heat-set, creating the yarns that go into the rugs.
One of the yarn innovations you keep hearing about in this industry is space dyeing, and at OW, I got to see that process in person. An undyed yarn is fed through a dyeing machine with separate dyeing stations (in this instance, there were four). As the yarn passes, its undyed segments are hit with one of the four colors, creating a yarn with four different shades. When the yarns are used in rugmaking, the space-dyed yarn creates variations of color, creating added dimension and shading effects.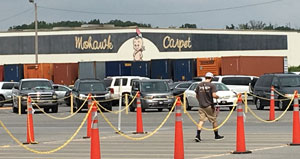 Mohawk's mascot, drawn by Walt Disney, can be seen from Interstate 75.
The tour concluded with a visit to
Mohawk
Home in Sugar Valley. One of the more interesting things to learn at the outset of the tour is that the facility is landfill-free.
The company is throwing its weight behind innovation in fibers, specifically its EverStrand (recycled drinking bottles) and SmartStrand (made from biofuels) as alternatives to polyester and polypropylene.
After visiting Mohawk's factory, I got a chance to see its distribution center off of Interstate 75 in Calhoun, where the rugs are finished, bagged and shipped. On the face of one of the buildings is the company's mascot, which officials say was originally sketched by Walt Disney.
Day 2: Breaking ground and visiting facilities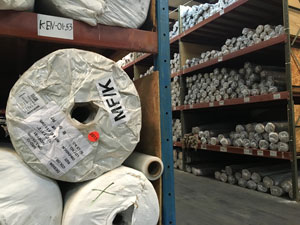 An interesting visual comparison of a roll of broadloom versus rolled rugs inside Kaleen's Dalton, Ga. warehouse and distribution center.
The morning started with a visit to what will eventually become Jaipur Living's new corporate headquarters and distribution center.
President Asha Chaudhary talked about the company's growth since its beginnings with two looms in 1978. The company has grown so much in recent years that this facility has become necessary. Its current home in nearby Norcross simply isn't enough for the metro Atlanta manufacturer of rugs, pillows, poufs, throws and more.
"We stand here today literally on top of our future," Chaudhary said in her remarks, leading up to the ceremonial groundbreaking.
You can read more about the groundbreaking here.
Next was a visit to Surya's brand new, 1 million-square-foot corporate headquarters and distribution center that opened in May.
Openness and collaboration are clearly important to the company, as one can see via the open floor plans and comfortable common areas. There is a gym with showers and a pair of roomy break areas in the facility as well as an immense warehouse/distribution center.
One of the more interesting aspects is now most of the company's Georgia-based employees are under one roof. Previously, its design team was housed in Americasmart. Officials say the ability to converse and plan with the team on a more regular basis is a key feature of this new home.
Finally, Tuesday's travels wrapped up with a visit to Kaleen Rugs in Dalton.
In touring its distribution center with COO Monty Rathi, the efficiency of operations stood out. All of the SKUs are arranged via a bar code that tells the DC team all of the necessary information, including size, color and number of pieces in a particular bin. That helps make for a smooth operation.
Rathi said at any particular day of the year, Kaleen will have some 100,000 rugs in stock in its facility here. Kaleen also has broadloom in the facility, which created one of the more interesting visuals when comparing a roll of broadloom with a rolled rug.
Day 1: Orian Rugs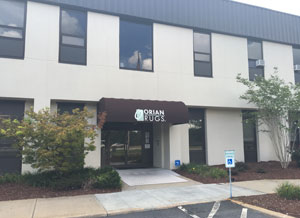 Northwest Georgia is loaded with rug manufacturers, rug importers, warehouses and more as this industry has set its deep roots here.
But it's not the only place in the region to find floor coverings.
Just a few miles away, along Interstate 85, is Orian Rugs, a vertically integrated manufacturer that extrudes polypropylene in-house, turns it into yarn, makes rugs and ships them all from Anderson, S.C.
I visited Orian Rugs on Monday afternoon and got a tour of the facility. I got to see polypropylene pellets extruded into yarn, saw the yarn twisted and then heat-set before it was spooled and then put on Van de Wiele looms and turned into rugs.
During the tour, Jeff Hughes, Orian's VP of product development and design, said the Anderson, S.C.-based producer is responsible for around 1/3 of all the woven rugs produced in the U.S.
--
Additional highlights from the tour can be found on Facebook, Twitter and Instagram by following me at @tlesterwrites.