On the Slant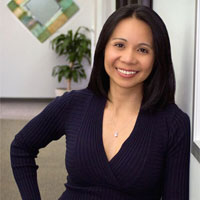 Mississippi or Bust
August 30, 2016
Why would I want to go to north Mississippi?
That's what I would have said if someone asked me if I wanted to visit the area before I started working in the furniture industry and covering upholstery.
Sure, I've owned and loved upholstered furniture for as long as I can remember, but I never thought about where most of it comes from. But recently, I had the opportunity to see and feel what it is to make upholstered furniture and to gain an appreciation for U.S. manufacturing.
Franklin Corp., Houston
There is making furniture, and then there is making furniture the Franklin way.
I had the privilege of a personal tour of the vertically integrated Franklin operation from Chuck Tidwell, vice president of merchandising and product development.
From watching the precision of CAD designers, the strong hands of the tool and die makers and machinists, and the skilled eyes and hands of sewers, upholsterers and QC specialists, I gained a new perspective and appreciation for what it takes to make our furniture and what it means to be American-made.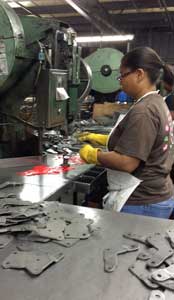 One of the 1200 Franklin employees assembles mechanisms in the motion factory.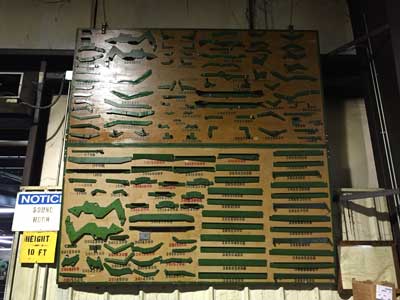 Each side of a recliner mechanism consists of 29 parts.
Just a few of the things that the geek in me enjoyed on this tour:
Every recliner and motion piece is physically tested by an individual in addition to a full battery of many other tests.
American-made virgin fiber premium cotton, picked and blown on-site.
It takes 29 parts to make one side of a recliner mechanism; each part requires its own die, which costs $5,000-$10,000 per die.
100 tons of cold rolled steel per week
At about a million dollars, the 330-ton Niagara die press can operate up to 70 strokes per minute.
Proprietary formulation for foam fabrication and profile-cut foam CAD designers place patterns digitally for a 90-92% yield.
Franklin employs about 1,200 people in Houston with a population of 3,000.
Emerald Mississippi, New Albany
Newest to the hub of upholstery manufacturers in North Mississippi, Emerald Mississippi has launched domestic production for the Washington-based Emerald Home Furnishings that has been importing furniture since the early 1990s.
On Tuesday, Aug. 16, a ribbon-cutting ceremony officially marked production of one line of stationary upholstery at the 200,000-square-foot facility. The nearly 40 employees at the new plant paused their work that morning for the event that included speeches and photo opportunities.
David Beckmann, president of Emerald Home, and Terry Treadaway, general manager of Emerald Mississippi, shared their vision and the overall importance of being part of domestic manufacturing.