In the Houzz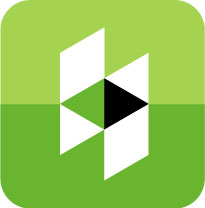 Decorating Trends: A new Houzz survey shows what homeowners want
December 28, 2016
By Mitchell Parker, Houzz
If you ever get frustrated that your home doesn't quite look how you've always dreamed it should look, then consider this: The next time you're standing in a room of 100 people, know that 98 of them share your frustration. That's according to a recent Houzz decorating survey, for which more than 1,700 people shared their decorating intentions — and, yes, frustrations. Of those surveyed only 2 percent felt they had achieved their ultimate vision for their home. And on average most of us feel we are only about halfway to fulfilling our vision of home.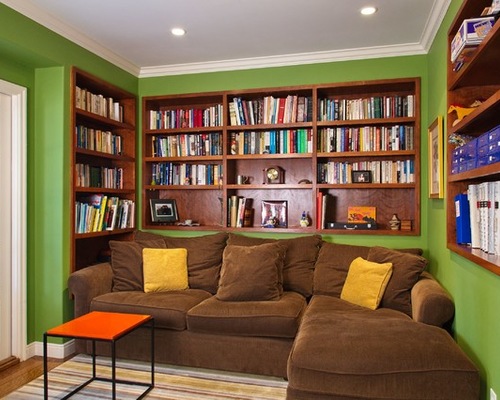 Levitch Associates, Inc.
Young and restless
So just what are our decorating intentions? Well, that partly depends on age. According to the survey, the younger you are, the more likely you are to choose a bold wall color in your home. Interior designer Sallie Elliott of Inspired Interiors says that's true for her clients. She recently worked on an interior for a young couple with a baby. Their accent color was lime green. "Even the pots out front were huge, ceramic, lime-green pots," she says. "I think younger couples are more willing to go that bolder route."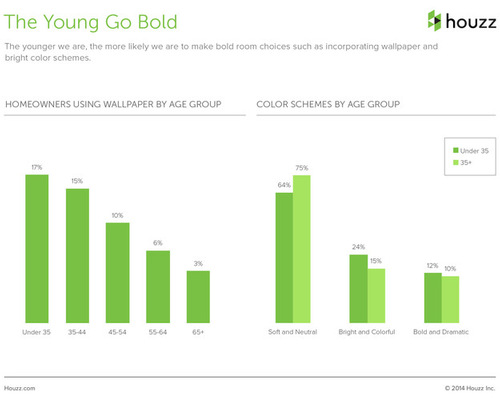 The survey also found that if you're younger than 45, you are more than twice as likely to use chevron patterns in your home than those older than 45. And while many people might think wallpaper is only something their grandmothers had, the opposite is true today — 17% of those younger than 35 said they plan to use wallpaper in the home, versus only 3% of people older than 65.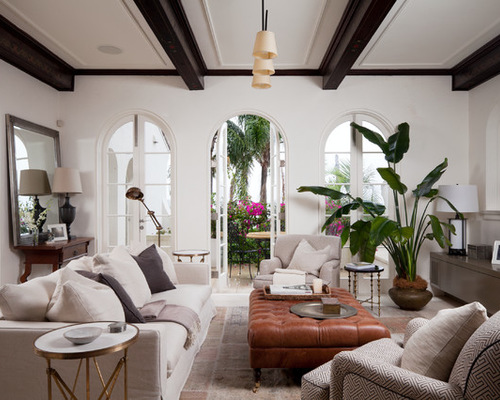 Salt Interiors Joinery
Mars vs. Venus
Age isn't the only benchmark. Gender apparently drives a lot of decorating decisions too. For example, if you're a man, trends seem to affect you more than if you are a woman. A quarter of the men surveyed said trends dictated their decisions, versus 14 percent of women.
But dudes aren't paying attention to trends for the reason you might think. Elliott says men probably aren't doing it to be fashionable; rather they're using that information with future resale value in mind. "A trend could be a classic or it could be something that's going to be dated in two years, so they want to know if it's a trend that's there to stay and how it will affect selling the home," she says.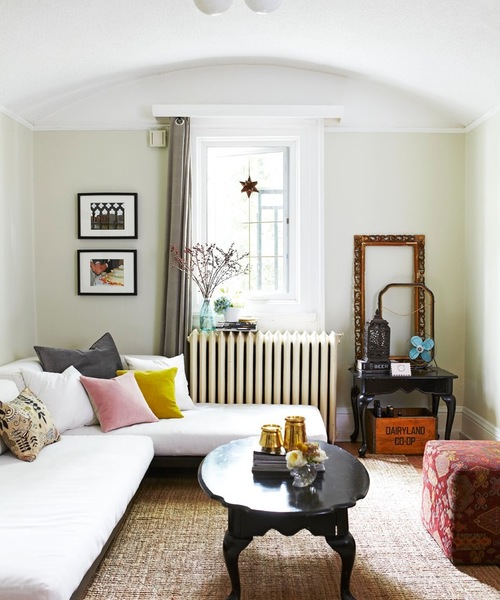 Valerie Wilcox: Photographer
Go pro
Indeed, with so much to consider when it comes to decorating a home, it's no wonder many choose to turn to design professionals for help. Of those hiring a professional for their project, 33% plan to hire an interior designer or decorator to help them from start to finish. Meanwhile, 32% said they would seek a few hours of consultation, 23% said they would hire a professional for a design plan, and 12% said they would use online e-design services.
The latter is a growing trend among homeowners seeking decorating advice. Many design professionals now offer online consulting services in addition to full design services. Catherine DiVirgilio started her e-decorating company, Blondiesloft, three years ago. She operates out of Madison, Ala., but takes on clients all over the U.S.
For $145 per room, she offers inspiration boards, design consulting and DIY tutorials, all exclusively online. She has her clients send her photos of their room, then she makes suggestions on furnishings and decor. When she finds a piece of furniture she thinks will work, she has her client use painter's tape to measure out the piece in the room and send her a photo. If the scale looks right, she gives the go-ahead to purchase the piece. "This year I'm seeing people finding me left and right," she says.
Interior designer Carla Aston also offers some online services; she says hers are more expensive compared to most — $75 for a virtual 20-minute consultation; $600 to $1,600 per room for full e-design services. "I price it pretty high because it's distracting from my main service, but it offers introductions to possible larger projects," she says.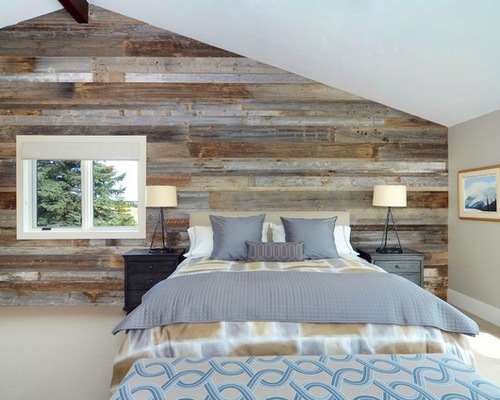 Bruce Johnson & Associates Interior Design
On the wall
When it comes to decorating, designers spend a lot of time figuring out what to put on the walls of homes. According to the survey, the most popular thing to put on walls is paint (well, duh); 91% of respondents said they're planning to cover their walls with paint, followed by 22% who said they will fill their space with art prints; 17% said they would use original art; another 17% said they'd use crown molding; and 16% will cover their walls with family photos.
Elliott, meanwhile, says she's seeing a big increase in requests for reclaimed-barn-wood accent walls. "It can soften a modern room or even soften a very formal environment," she says. Decorative wall tiles are also becoming increasingly popular among her clients.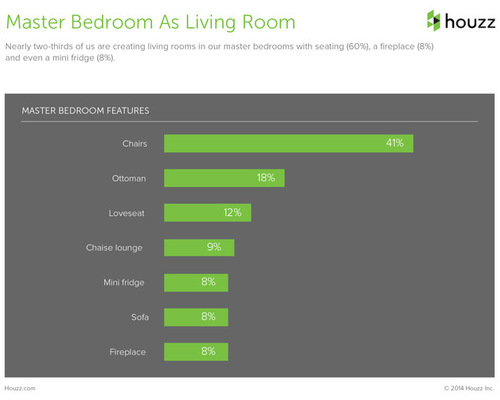 Lounge lair
Walls aside, master bedrooms tend to get a lot of decorating attention. One interesting thing the survey found is that nearly two-thirds of people are creating living rooms in their master bedrooms, with 60 percent saying they plan to add seating and 8 percent saying they will add a sofa, a fireplace and even a mini fridge, respectively.
Elliott connects the request for loungier bedrooms with the rise in open floor plans. "People are getting rid of formal living rooms and dining rooms for an open concept, and when they want to get away from all that activity, a seating area in the master bedroom for private reading time becomes more important," she says.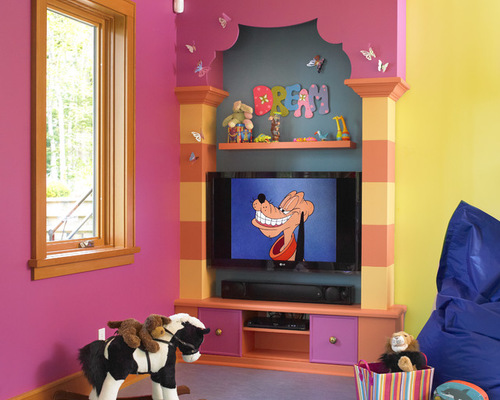 The Sky is the Limit Design
Screen time
Loungey bedrooms aren't just for reading, though. The majority of respondents (52%) said they're planning to add a TV in their master bedroom. In fact, the TV seems to be an important addition to many rooms. According to the survey, 35% of people will add a TV to a guest room and a kids' room, respectively, and 16% will make sure they don't miss another episode of their favorite show while eating in their dining room.
But Aston says more and more of her younger clients are doing away with TVs altogether, preferring laptops, phones and iPads for viewing. "They'll all sit around on their different devices watching something different," she says.
With all the distractions, maybe that's why we're only halfway to completing our dream homes.