Bedding Today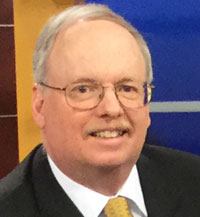 Top mattress tweets in HP: MyPillow, RSAs, Bedgear
May 9, 2017
Traffic was light in bedding showrooms, but the Internet was humming at the recent High Point Market.
I unleashed a torrent of tweets, more than 60 in total, and included short videos with about one-third of those tweets. A look at my Twitter analytics (a great tool) reveals these top mattress tweets, in order of impressions:
"Quick chat with Pillow Prince Mike Lindell." This tweet was easily the top scorer, generating thousands of impressions and hundreds of engagements. The MyPillow CEO, a familiar face on television thanks to the company's heavy advertising campaign, was making his first visit to the High Point Market.
"No, I don't nap at markets, but if I did, this cozy nook at Bedgear would be a great spot. Cool new travel accessories." This tweet was accompanied by a picture of me wearing Bedgear's new travel sleep mask, which fits over glasses. This company continues to impress with its stylish offerings and snazzy displays.
"Futons are hot at Gold Bond, as I learn in this quick video chat with Skip Naboicheck." We don't write much about futons these days, but this strong Twitter response suggests that more coverage is warranted.
"Hugh Landes of Vispring talks about selling up by selling down, part of our RSA focus." This was one of several videos that offered quick tips to mattress retail sales associates. We are spending more time on RSA issues in print and online, and our readers are obviously interested in more RSA content.
"Bob Naboicheck of Gold Bond offers advice to RSAs: You have to ask for the sale." Naboicheck, Gold Bond's president, has been training RSAs for years, and he appeared in a short video. That asking for the sale point seems obvious, but many times RSAs skip that vital step.
"Here's a quick look inside a Vispring mattress." This video was nothing fancy — a quick look at a cutaway of a Vispring mattress — but it did give our viewers some of the inside story on this luxury British bedding line.
"Good visit with Paul Kahl of Sleepwell. New adjustable base designed with Ergomotion." Ergomotion, by the way, was showing right across the hall from Sleepwell. Adjustable bed bases are a hot category, but you probably already knew that.
"Fun video at Gold Bond, which has a social media contest." The video showed the wheels spinning on a slot machine. Again, this was nothing fancy, but there is a mesmerizing effect of watching wheels spin. You are getting sleepy …
"Kingsdown's Frank Hood talks about the company's new Vintage Collection additions." This premium line is being expanded with more natural bedding materials.
"Mike Zippelli of Classic Brands talks about the importance of $399 memory foam beds." Retailers can't ignore that price, Zippelli said, because online retailers have strong offerings there.
To see these tweets, check me out @DT_Perry. You can follow me, and I'll follow you.