Bedding Today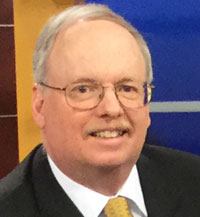 Evolving bedding coverage takes a strong turn to video
October 31, 2017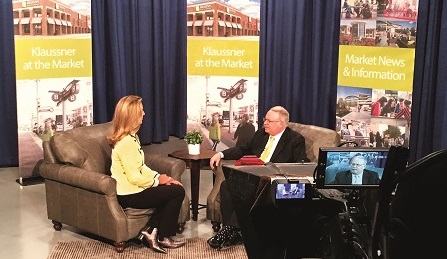 Elena Russo interviews David Perry for the Klaussner at the Market show.
I started my work for the recent
High Point Market
seated in a chair in Studio B at FOX8. There I was attended to by a makeup artist who was facing her worst nightmare: Getting yours truly ready for a turn in front of unforgiving TV cameras.
Being the expert that she is, she dabbed and brushed and magically erased (some of) the ravages of time, helping me present my best face, such as it is, to the furniture world.
The studio interview focused on the growing bed-in-a-box category, one that gained even more strength at the recent market. It aired on FOX8 on the Klaussner at the Market program, which ran on Saturday and Sunday mornings during market.
That was the first of my 20 video shoots at my media-focused bedding market. The videos appeared on TV, on our website, where they were shot for the PBM News Desk, and on my Twitter (@DT_Perry) and Facebook feeds. And they are a reflection of the ways we are changing our bedding coverage to adapt to a changing world.
Although my face and figure are ideally suited to radio, I recognize that I'm the face of our bedding coverage, and that readers and media consumers want to get my take on industry developments. While the FOX8 interview was focused on me, I usually shared my videos with industry leaders, letting them tell their stories and talk about their products.
That meant that Joe Carman V, director of e-commerce sales at Emerald Home Furnishings, could tell me about his family's long history in the mattress business, and Kevin Damewood, executive vice president of sales at Kingsdown, could talk about why Kingsdown came out with a new all-latex bedding line.
It also meant that Bill Hammer, Shifman's president, could talk about how his company revamped its high-end Masters Collection, and James Keen of Hypnos could talk about why retailers should carry a $25,000 Hypnos sleep set.
And it meant that Mike Zippelli at Classic Brands and Mark Akerman at Enso Sleep Systems could share their insights on the rapidly growing bed-in-a-box segment.
You can find those videos on my Twitter and Facebook feeds, and you will see some of them on our long-running Bedding Insights series, sponsored by our friends at Symbol.
And while you are looking at my social media posts, you can browse through about 70 Tweets that I sent out during the market. My Twitter audience is growing. I welcome you to join the crowd.
If you want to see live action (well, it was live at the time), look for those videos. They will take you to some interesting bedding showrooms in High Point that I visited during market.