From Fabric to Frame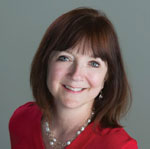 Furniture fantasies run the gamut
August 19, 2013
I'm waiting on the mail. Any day, "Retro Style: Class, Gender and Design in the Home" is scheduled to arrive, and I can't wait.
As a self-described design nerd, I love learning about the influences that compel individuals toward particular design aesthetics, and as a fan of modern style, I want to see what Dr. Sarah Baker has to say about the furniture junkies who never tire of Eames, Nelson and Baughman.
The correlation between the furniture that a consumer buys and the feelings that a piece of furniture evoke cannot be ignored. As I write this, market product photography is scattered around the newsroom, and we're looking at high-end, promotional and "in-between" introductions. As we pore over the images, I find myself attaching a mental lifestyle to just about every product I see.
Bobby Berk's tangerine sofa? Yes, that's part of my urban loft dream. Marshfield's Doris group with reversible back and side cushions? Perfect - today I'll go neutral, but tomorrow, I'm going to flip those babies over and add some drama when my friends come over for dinner. And that Tommy Bahama Aviano outdoor group? Well, that will be fantastic on the patio overlooking the pool while we're sipping margaritas.
Now I don't have an urban loft, an outdoor patio, or even a pool. My schedule keeps leisurely dinners at a minimum, and my dogs make chew toys out of pillows. But regardless of those details, these lifestyle daydreams are triggered by the furniture I'm seeing, and they offer a momentary glimpse into the life I like to think I could lead, if I had the right sofa, chair or chaise. Call it furniture fantasy.
In an Apartment Therapy and Furniture/Today survey published earlier this year, 97% of respondents said that it's important for the furniture within their home to "reflect their personal style and creativity." And of course, part of the job of the suppliers and retailers is helping the consumer figure out what that personal style might be.
At the Las Vegas Market last week, and at the High Point Market this spring, there was no shortage of style inspiration in upholstery. Along with new products, customization options and numerous fabric choices were standard features. And since 76% of the survey respondents said they prefer an eclectic, unplanned look for their homes, this type of diversity is a good step forward for the industry.
Additionally, designers have become an important part of the furniture story at market, and that's also a great step forward. Why? Because designers have always embraced eclecticism.
Do you have a design guru at your company? If you don't, ask yourself why. There is light at the end of the recessionary tunnel, but not everyone will make it out. A talented designer can help steer the company train in the right direction.