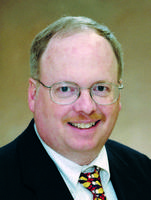 Hinshaw's bedding return highlights busy Vegas market
July 29, 2013
He's back! Less than a year after announcing his retirement from Kingsdown, where he was CEO for 31 years, Eric Hinshaw is returning to the mattress industry.
He will be in the Carolina Mattress Guild showroom in Las Vegas at the World Market Center, B-946, talking about his new venture with CMG.
Bedding veterans Neal and Kathy Grigg, the owners of CMG, just announced that their company is joining forces with Hinshaw to launch a new luxury bedding division of CMG called Carolina Knights. Hinshaw will be president of the division. Neal Grigg remains president of CMG, which remains a family owned and operated business.
This is one of the biggest bedding stories that we are following as this bedding-rich market gets under way for its summer run, which is subtitled: The Joys of Air Conditioning.
News of Hinshaw's return broke last week just before we started packing our bags for another Las Vegas bedding pilgrimage. I have to admit: I didn't see this one coming.
But I probably shouldn't have been too surprised, because one of the basic facts of life in the mattress category is that once the men and women of Mattressville really get the bedding bug, they are hooked for life. It is rare to see bedding veterans decide they would be happier in another industry. Much more common is to see bedding vets changing companies, something that many have done repeatedly.
Eric Hinshaw is in a different category from most, because he spent so long at Kingsdown. His 31-year tenure as CEO is one that no major bedding leader on the manufacturing side of the industry today can come close to matching.
He said he wants to get back into the bedding game because his new venture with CMG gives him the opportunity "to be a part of bringing better sleep to the world through exclusive design and innovation, which has been my passion for most of my adult life."
Kingsdown struggled in Hinshaw's final years there; our market share reports showed sales declines at Kingsdown in 2011 and 2012. Now, with the Griggs, he's got a fresh start at CMG.
There's another fresh start in Las Vegas this week: The launch of gel bedding producer ZZZest, headed by gel bedding veterans Tony and Terry Pearce. That looks like an interesting product line.
New ventures keep the mattress category a vibrant one. I wish the newcomers - and the veterans - a successful summer market. There should be a lot of bedding activity in Las Vegas this week.