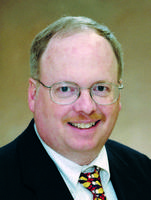 Sealy's Rogers in spotlight at ADL's awards tribute
July 10, 2013
Sealy CEO Larry Rogers found himself in an unusual situation the other day: In front of a room of his peers, illuminated by a spotlight.
Unlike many bedding execs, he is not a man who likes the bright glow of publicity.
It took a special cause to bring the Sealy veteran to the head table in a packed ballroom at the Grand Hyatt Hotel in New York City. And it was a worthy, vital cause, one that the industry embraces each June, when home furnishings executives gather to show their support for the Anti-Defamation League.
Rogers and Art Van CEO Kim Yost were named winners of ADL's American Heritage Award. The dinner honoring them was a major success, bringing in $750,000 to support ADL's work combating hate in all of its ugly forms.
It also brought a flood of tributes from industry leaders, including Sealy dealers, Sealy suppliers and even Sealy competitors. Beautyrest, Simmons' flagship brand, saluted Yost and Rogers for their "great leadership" in an ad in the tribute journal, and then added: "You are truly Living Life Fully Charged." That, of course, is the Beautyrest tag line. It's not one that a Simmons competitor would want to embrace.
The biography of Rogers in the journal made some interesting points. "For someone who has spent most of his life in the mattress industry, Larry is truly a man who never rests," his bio said. That point was underscored by the observation that in the five years that Rogers managed Sealy's international business, one of the final posts he held before assuming the Sealy CEO post in 2008, he traveled more than one million miles.
Rogers was introduced by Yost, who has known Rogers for three decades. He offered this three-word appraisal of his longtime friend: Distinguished, driven and integrity.
In his acceptance speech, Rogers shined the spotlight on others, as he does in his work at Sealy. He described Donna, his wife of 42 years, as "the compass in my life," and thanked his Sealy colleagues, Sealy dealers, and even the company's vendors, a group that he said doesn't always get the appreciation it deserves.
He singled out Mark Sarvary, the Tempur-Pedic exec with whom he partnered to bring Sealy and Tempur-Pedic together.
It was an understated but meaningful and gracious acceptance speech.
An A-list of bedding and furniture executives turned out for the ADL dinner, getting an update on the important work that ADL is doing these days.
In its ad in the tribute journal, Sealy said it supports ADL's mission "to fight bigotry and promote justice." And it offered this insightful quote from Bono: "To be one, to be united is a great thing. But to respect the right to be different is maybe even greater."
Congratulations to Larry Rogers and Kim Yost for their ADL honors. Once again the home furnishings industry showed its big heart at this important event.