Bedding Today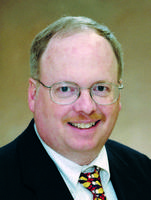 Intriguing new products at High Point include hybrid, latex
April 24, 2013
Some three dozen bedding producers are open for business during the spring High Point Market. There are several brand-new products I'm looking forward to seeing.
There are more than 8,000 reasons to see Therapedic's new Crossover bed, the top model in the revamped Agility line of hybrid bedding. The Crossover, retailing at a lofty $2,999, has six layers of micro-coils - more than 8,000 in all. It offers a luxurious sleeping experience, the company says.
Pure LatexBliss is entering the adjustable bed base arena with a product it modestly calls "the World's Best Adjustable" foundation. The latex bedding producer says this base is unique because it contains latex. And not just a thin layer of latex, mind you, but a full four inches of Talalay latex.
Speaking of latex, Shifman Mattress is introducing an unusual two-sided latex line. What isn't unusual is that Shifman is sticking with its message that two-sided beds can help eliminate body impressions, which it sees as a problem in the industry.
Paramount Sleep is introducing a gravity-defying sleep set, that producer says. Its new iGravity bed combines gel foam with the iGravity Coil Chamber. This is something iWant to check out, if you know what iMean.
Symbol is emphasizing personalized, adjustable comfort with its new Comfort 4U line, which features memory foam, gel foam and latex foam. Adjustable comfort is a good marketing handle.
Gel is also the story at high-end bedding producer Stearns & Foster, which adds ClimaSense gel memory foam to its Estate Innerspring Collection.
Gold Bond, which touts a strong value story in its bedding, is targeting promotional price points with its new Classic Collection. Retails range from $399 to $549. That producer is also showing its line of futons, a category that it says is growing rapidly.
Classic Brands has expanded its E-Commerce Collection, adding three new goal foam mattresses to round out the assortment. The beds carry no branding. Retailers can add their own branding, or they can sell the beds with no branding.
Last, and certainly not least, Jamison celebrates the glories of spring with its new English Garden Collection with fabrics inspired by botanicals, colors and designs found in classic English gardens. Three versions of a new fabric-encased coil are offered.
Note to Jamison execs: Spring has played coy in High Point, teasing us with blustery weather and only recently appearing to arrive for good. If your new English Garden Collection can guarantee beautiful spring weather for market, we will all appreciate it.
**For the latest news on the High Point Market, click here to visit our online channel.