From Fabric to Frame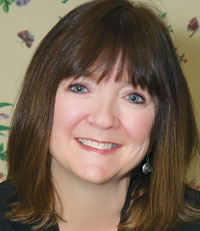 Good design spreading on international scale
March 4, 2013
A few weeks ago I spent five days in Milan, Italy, attending a press trip sponsored by Cosmit, the organizers of the annual Salone Internazionale del Mobile furniture fair.
During the trip, a group of international journalists met with the Cosmit board and its new president, Claudio Luti, also president of Kartell and a founding partner of Versace, to learn more about plans for April's Saloni.
We also visited the studios of several renowned Italian architects and designers who participate in the fair, including Piero Lissoni and Antonio Citterio. French architect Jean Nouvel was also present and offered information about the "Project: office for living," which examines the possibilities for 21st century work spaces.
While preparing for Milan, I reflected on some of the notable innovations we've seen recently, both in Las Vegas and in North Carolina. It started in January at the Ultra-Mek factory in Denton, N.C., where Furniture/Today editors learned about the creation of a three-way mechanism that allows Thayer Coggin to reproduce original Milo Baughman designs. And it continued in Las Vegas, where suppliers like Chris Bruning of Groovystuff created an indoor/outdoor table made from recycled barrels, where the Shahrooz showroom filled with acrylic upholstered furniture stopped pedestrians in their tracks and where Lexington Home Brands continued to blur the delineation between beautiful indoor settings and exterior living spaces.
One of the oft-heard statements voiced in Milan was that Italian design is at the top of the creativity list when it comes to product development. And while that is indeed true, there is also a new groundswell taking place, one in which designers in every corner of the globe are stretching the parameters of their creative boundaries and producing the icons of the next generation.
In Australia, four young designers were recognized earlier this month as the best in their categories for The Edge competition. In Spain last fall, a dedicated section was devoted to student design at the Habitat Feria Valencia, and Habitat organizers reported that it was one of the most attended and discussed exhibits of the fair. Whether it was Ben Brayshaw's Clam chair or Ash Allen's Dollop light at the Edge or the unique swirl outdoor table group in Valencia, the exhibits underscored the fact that there are a lot of new faces coming into the industry, and they are making their mark without any preconceived considerations of what worked in the past.
A growing number of international shows now include design competitions as part of the schedule of events.
Milan is a must-see for design, both new and established, but other fairs are entering the mix as well. This benefits the entire industry and commands international attention as furniture suppliers and dealers attempt to reclaim their piece of the consumer's discretionary income pie.