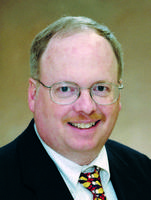 Critics just don't get it: Consumers like 'hybrid'
February 13, 2013
Sealy is talking about hybrid sleep sets. And that makes hybrids a bad word to some of Sealy's competitors. Welcome to the rough and tumble world of mattress marketing.
Sealy made news two weeks before the Las Vegas Market with its announcement that a hybrid line of sleep sets tops the new Posturepedic lineup, Sealy's flagship offering. In that story, we noted that Sealy says its hybrid design combines "the two best sleep technologies," with a half-spring and half-foam construction. We quoted Sealy CEO Larry Rogers as saying that the company that defines hybrids has the opportunity to take the leadership position in the category.
We got some pushback on that reporting from competitors who said Sealy did not invent hybrid sleep sets. Well, we never said Sealy invented hybrids. We did say that Sealy is seeking to assert a leadership position in the category by defining hybrids.
Simmons CEO Gary Fazio took a shot at Sealy's positioning on hybrids in a market press conference. Simmons, he asserted, was the first company to come up with a hybrid.
He cited the NxG Beautyrest line, which combined Pocketed Coils and NxG memory foam and debuted in 2008.
In a 2008 Furniture/Today story on the NxG Beautyrest line, Simmons said it was offering "the ultimate in hybrid sleep performance."
But the issue here is not who invented hybrids. The key point is that "hybrid" is a word that resonates with consumers.
The consumer research we published in the Las Vegas opening day issue shows that consumers are thrilled with their hybrid beds, which we defined as specialty foams and innersprings. Hybrids had a higher satisfaction score than any other type of sleep set, our research found.
Those results clearly indicate that hybrid is a powerful mattress word for consumers. That's a point I made a number of times in conversations with bedding executives in Las Vegas, some of whom are baffled by the current talk about hybrids.
"Hybrids have been made for the last 80 years," one exec said to me. "I don't understand what we are talking about now. This is not a new product category."
Well, it actually is a new product category, if we treat it as such. Consumers obviously like the word, which has a nice high-tech association from the auto industry.
Sealy is using "hybrid" on its Posturepedic sleep sets and in its retail display materials. Ashley is also using the term in its new ZZZ's by Ashley sleep shops. Both of those companies are seeking to build on consumer awareness of hybrids.
I don't understand why our industry would not want to embrace a term that clearly resonates with consumers. I think the hybrid critics out there are missing the point. Consumers like this word. Why fight that?