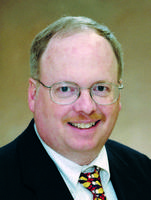 'Fifty Shades of Beige' column sparks strong reader response
December 18, 2012
We struck a chord with our "Fifty Shades of Beige" blog last month. As you will recall, that column mentioned the racy and popular "Fifty Shades of Grey" books - and the boring sea of beige mattresses that floods mattress floors across the land.

We've been flooded with comments on that blog, with many of you sharing my despair at the lack of color in mattress ticking these days. This week, in the spirit of holiday sharing, we offer some of your comments.

A couple of readers talked about the importance of top-of-bed display materials, an area that is getting increasing attention from suppliers and is, I cheerfully admit, adding some color on sales floors. 

"My challenge has been looking for ways to spice up a sales floor dominated by beige," one retailer wrote. "I am doing so with bright regal colors in shams and foot protectors. That's about the best we can do."
"The variety of colors and textures that add consumer appeal is now being addressed through the ever more creative top-of-bed displays," one supplier wrote. "The mattress industry has found the solution where they can dramatically dress up their floor samples, the beds that consumers first see when they are in the store, and yet still minimize the potential negative reaction they fear in the bedroom if they choose bold fabric designs."

That possible negative reaction is the fear that bold colors will show through the sheets. But that point was debunked by one of my female readers. "As for colors showing through the white sheets," she wrote, "everyone I know wouldn't think of not using a mattress pad. So that, my male friend, does not make any sense." Thanks, my female friend. Your point does make sense.

Another reader recalled the vibrant damask colors produced by Burlington, Culp and Blumenthal in the 1980s. "It's time to go 'Back to the Future,'" this veteran mattress man said. He's right; we often find inspiration for "new" strategies from some of the best "old" ideas.

A retailer told us he's going to put a gray mattress on his floor soon. "I don't know if we're a trendsetter," he said, "but we do expect to attract a lot of people who will want to get in to our bed!" I like that idea. Fifty Shades of Gray Ticking would be better than Fifty Shades of Beige Ticking.

As we wrap up our blog work for another year, we offer Fifty Shades of Thanks to all of you readers. It's my great pleasure to share this space with you each week to celebrate our successes, to challenge conventional thinking, and to highlight the fascinating products and people that make ours such a dynamic industry.

I wish you a safe, restful and enjoyable holiday season. See you here next year!